SAP Business One helped The Fruit Company save time, energy, and money by making every department more accurate and efficient with a cutting edge SAP food and beverage solution. Watch their SAP B1 success story.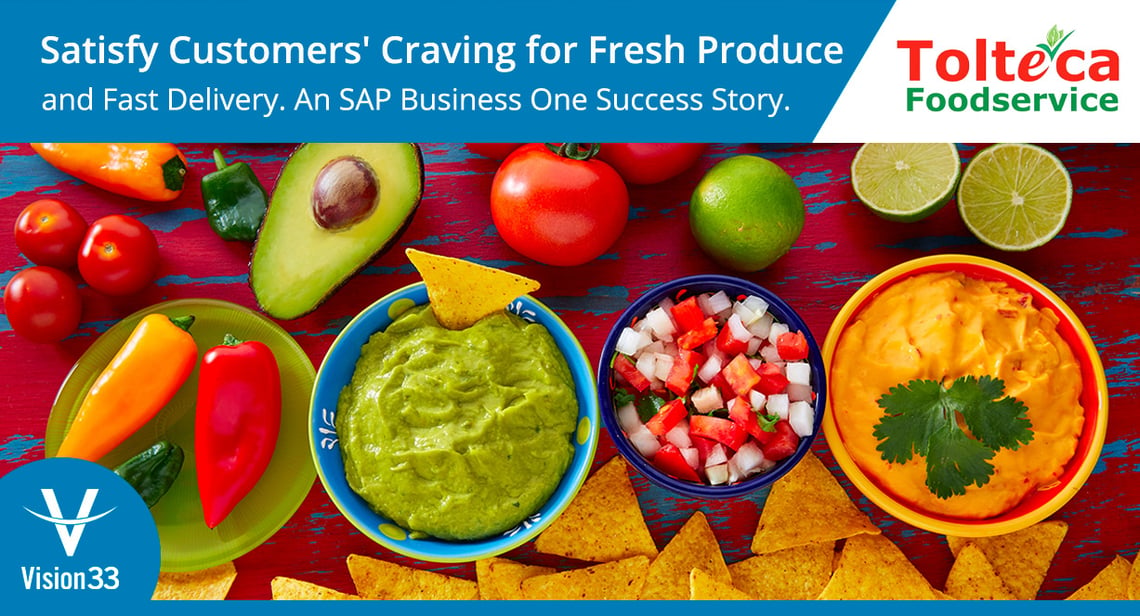 Food and Beverage Industry Challenges
Fresh, wholesome, and vibrant are a few words that come to mind when you mention the family-owned wholesale distributor, Tolteca Foods. Since 1995, Georgia-based, Tolteca, has been a one-stop-shop for Mexican restaurant owners who use mouth-watering ingredients like avocados, cheese, tomatoes, and tortillas in their delicious recipes. Perpetually toeing the lines of innovation and improvement, Tolteca needed a holistic business management system to compare year-over-year sales growth and spot inventory trends, that's why the reached for SAP Business One.
As a successful food and beverage distributor in the southeast, Tolteca serves over 600 customers in Tennessee, Alabama, Mississippi, Georgia, and North and South Carolina. Because Tolteca's customers often have only a week's worth of product storage capacity, Tolteca needed the standardization to process orders quickly and accurately. With an operational space of 50,000 square foot warehouse this was no small feat.
The company's inventory of over 2,000 products had quickly outpaced their accounting system's reporting capabilities, and risks of manual data entry error and a lack of control over perishable products' expiry dates meant Tolteca needed a system that would grow with them.
Enterprise Resource Planning (ERP) Solution - SAP Business One
Maria M. Gutierrez, Tolteca's Operations Manager, says, "We wanted a business management solution that would enable us to grow not just today, but into the future."
Tolteca needed something more than accounting software, they needed an integrated business management solution, which is why they chose ERP. To get software with superior technical capabilities and the ability to adapt to new technologies, Tolteca partnered with Vision33, an SAP gold partner with the largest team of SAP Business One consultants globally. Vision33 implemented a cutting edge SAP food and beverage solution built upon SAP Business One ERP solution.
Watch our customer spotlight on Tolteca Foods to hear what else they have to say about SAP Business One and its ability to provide visibility into their inventory, support for consistent growth, and steadily rising profits.
Sign up For an SAP Business One Demo Today
Interested to learn more about SAP Business One? See for yourself why over 1 million businesses in dozens of industries trust SAP Business One to drive profitable growth for their businesses. Sign up for a free demo today.