Carl Lewis, Chief SAP Business One Ambassador, discusses measurable performance gains with SAP Business One, version for SAP HANA. Read the article.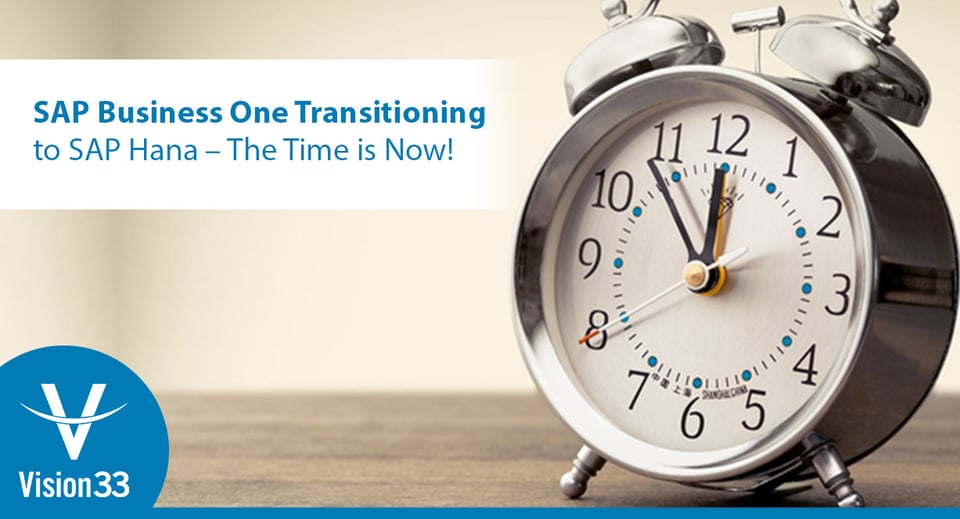 The time has come for SAP Business One customers who have been running their ERP solutions on Microsoft SQL to make the bold move to SAP HANA.
Given what I personally know about the differences between MS SQL and SAP HANA, it's imperative that we understand this move for what it is: A very, very meaningful change. You may notice that I do not refer to this as an "upgrade." While there will be elements of an upgrade in this overall project, there will be more work required, more modifications to digest, and a steeper learning curve. It will also require more significant investments to be made in consulting services and very strategic investments related to infrastructure, be they on-premise or in the cloud. I firmly believe that this is not just a tactical project to keep systems up to date – this is a strategic business decision. A decision to remain relative and not be left behind in an increasingly competitive world of global business. Here are two reasons why the time is now:
1. The Value Proposition
First and foremost, it is no longer possible to look at the SAP Business One, version for SAP HANA side-by-side with the MS SQL version of SAP Business One and see them as equals; they're no longer the same product. The SAP HANA version delivers an array of new features and deliverables that SAP has made available only to businesses running their solution on SAP HANA. These features will not be replicated in the MS SQL version.
These features add significant value to the organization, focusing primarily on analytics such as Dashboards, KPI's, Interactive Analysis, and Microsoft Excel-based Ad Hoc Reporting – all of which are customizable. In addition, the feature set is expanded beyond the MS SQL version with Enterprise Search, Cash Flow Forecasting, Inventory Forecasting, Advanced Delivery Management, Mobile Sales App, and the soon to be released Mobile Service App and Chat Bot. This added value is now beyond obvious. So much so that Vision33 saw a shift in sales of MS SQL-based systems vs. SAP HANA in 2017. SAP HANA-based systems now account for 75% of all recent sales of SAP Business One.
2. The Promise of Productivity
We are in the age of Big Data. We work in a time in integrated systems where the Internet of Things (IoT), Machine Learning, and Artificial Intelligence have already begun to shape business on a global basis. Even the smallest of businesses must connect to this global experience and will face the impact of ever increasing numbers of transactions and all the associated record keeping. Database sizes will grow exponentially and ERP Systems like SAP Business One will be the storage locations for all a company's data. It is the fulfillment of the phrase ERP as a platform.
This requires an in-memory database that like SAP HANA reads data many times faster than traditional ERP databases that stored data on hard drives. Real-time analytics and up-to-the-moment business decision making require the speed that SAP HANA delivers.
"While SAP has not yet re-written the SAP Business One code to take full advantage of the SAP HANA Service Layer, they have announced their full intention to do so."
This also requires the ability to transact data faster, import data faster (like EDI), and integrate systems into one central data repository without impacting the systems performance for routine users. Everything must be real-time! While SAP has not yet re-written the SAP Business One code to take full advantage of the SAP HANA Service Layer, they have announced their full intention to do so. It will be a multi-year endeavor with tremendous payoffs to those who are operational on SAP HANA.
A recent investigation by one of the few SAP Business One customers who have already made the transition to SAP HANA will demonstrate. I asked my friends at HTRI (Heat Transfer Research Institute) to help me share with other customers the promise of the SAP HANA Service Layer. I proposed a project to import 10,000 Business Partner Master Data Records into an SAP Business One Database. My buddy Daniel Phelps from HTRI did this in five separate tests. We normalized the data by projecting (based on how long it took to import 10,000 records) how many records could we import in one hour.
While these results are not different than what one might hear directly from SAP, it's significant that the test was conducted by a SAP Business One customer:

Here are the results – clearly the SAP HANA Service Layer delivers far greater capability for real-time, high volume transactions. SAP HANA is fulfilling the promise of productivity. It is a platform for the future!

* Please note that it is very hard to create systems (SAP HANA vs SQL) that are 100% similar in every respect. Our investigation led us to believe that we could potentially achieve results as high as 160,000 records inserted per hour with additional threads.
How Do You Get There? Three Paths to SAP HANA
Path 1: Do It Now - Go for it
There are SAP Business One customers who should make this move immediately. They are simpler than some and may have no add-ons for SAP Business One, or maybe just one or two small add-ons that bring convenience to business processes. For the most part they run SAP Business One out-of-the-box. They do not, for instance, have a large manufacturing or Warehouse Management add-on. These candidates have SAP Business One implementations with a distinct sense of simplicity. Customers who meet this criterion should stop procrastinating and at their next upgrade opportunity make the move to SAP HANA. Yes, some Queries, Crystal Reports, and Formatted searches will need to be modified and adapted to the SAP HANA Syntax, but there is a database conversion utility that for a simple straightforward implementation will do the job to a very high degree.
"… there is a database conversion utility that for a simple straightforward implementation will do the job to a very high degree."
At the same time these customers should be making an infrastructure decision. You can place your new SAP HANA system on-premise or in the cloud. There are many cloud providers certified by SAP to properly source your SAP Business One Server(s). My own company uses Amazon Web Services for our global deployment of multiple SAP Business One databases and we advocate Amazon Web Service (AWS) to our customers. I recommend that SAP Business One customers consult with their reseller regarding their specific cloud recommendation. This type of transition project is not at all unlike a normal SAP Business One upgrade to a new server configuration. You should do it now.
Part 2: Analyze Carefully - Then Flip the Switch - B1A then B1H
The illustration below gives you an idea of this approach. Even if you run several add-ons and have multiple integrations and customizations the B1A (SAP Business One Analytics) approach provides time to make certain that all your business processes are working on the SAP HANA side before you flip the switch to B1H (SAP Business One on SAP HANA – fully transactional). In this approach, the Linux server is installed and about 80% of the MS SQL data is replicated to the SAP HANA Server database. Lookups, queries, reports and more can use the new in memory database to increase productivity. You are also able to take advantage of many (but not all) of the SAP HANA Analytics features. Your add-ons are still operational and running on the MS SQL side of the equation. This gives the company time to test everything completely against the SAP HANA database while immediately delivering some of the SAP HANA value to users. Best of all, it takes just one day or less to be operational. When ready you just flip the switch and move to fully transactional SAP HANA system, but in the meantime enjoy:
Some immediate features and benefits
Time to modify queries, Report, Formatted Searches
Time to prove addons are compatible
Time to move integrations (such as EDI) from the DIAPI to the Service Layer
Time to deploy new SAP Business One and SAP HANA specific features
Reduce the risk and potential disruption
Reduce the frustration of slow reporting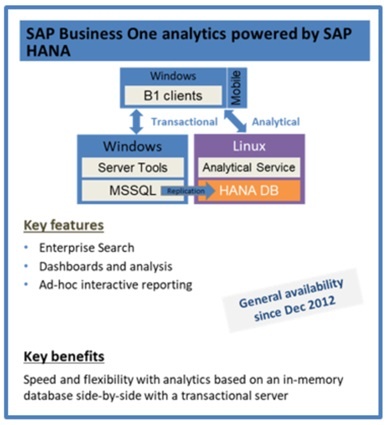 Path 3: Reinvent and Redeploy
Customers fitting best into this approach see themselves as more complex. They may be larger SAP Business One implementations with multiple databases, multiple add-ons, many customizations and integrations or perhaps a customer that wants to reinvent their SAP Business One deployment – the right way. Experience is a great teacher. Some SAP Business One customers have been running the software for over a decade. The way they architected and configured the system ten years ago might not be the way they would do it today. The chart of accounts they designed back them is no longer adequate, so this is an appropriate time to change it. Use the knowledge gained about how SAP Business One works to reinvent and redeploy. Did you know that since 2009 SAP Business One has added released seven new versions? In just under a decade there have been 300+ new features function additions to SAP Business One.
"In just under a decade there have been 300+ new features function additions to SAP Business One."
My own estimates are that although many of these changes are behind the scenes efficiencies that 137 of these changes directly impact the user experience and that 30 of them are what I consider major modifications. There's a high chance that some work-arounds can be eliminated along with some of the once believed, imperative add-ons as well.
A 100% new SAP Business One, version for SAP HANA (B1H) system should be installed. This again requires a strategic decision regarding on-premise or cloud deployment. You should redeploy SAP Business One on this new platform taking full advantage of the new technology, along with feature and benefit enhancements delivered by SAP. Perhaps even more importantly these users will leverage their experience to configure SAP Business One better than ever before. Once everything is built, configured, integrated and fully tested in the new system, the last thing you do is copy over the existing database and start using the new fully transactional SAP Business One, version for SAP HANA. Here's what to focus on:
Fix what's wrong with your current configurations
Make it better
Leverage your SAP Business One experience
No rush – Just get it right
Ensure lots of user acceptance testing
Reduce Add-ons if possible
Take advantage of B1H features and benefits
Take advantage of SAP Business One new features
Make SAP Hana required edit to Queries, Reports, Formatted Searches
Ensure required add-ons work 100% in SAP HANA
Update integration (like EDI) to the SAP HANA Service Layer
Conclusion
You may be asking the question, "Why should I stay with SAP Business One? Maybe I should shop around for other solutions? After all, it's been a decade already." Keep in mind, you already own some of the best ERP software in the world. Did you know that Gartner reported SAP Business One as a Front Runner for manufacturing Software in 2017? As a SAP Business One customer, you already own and know how to use what many people believe to be the best of the best – that's value you can't easily replace. However, as many years as it has been since you made the decision to purchase SAP Business One, you did make a great decision. I recommend you stick with it.
"Did you know that Gartner had reported SAP Business One as a Front Runner for manufacturing Software in 2017?"
The fact that you already own the software licenses is also no small matter. If you were to go shopping for a new solution you would find that the cost of deploying a new solution would be far greater that the transition from MS SQL to SAP HANA. You would also lose all the leverage made possible by way of the experience your organization has gained from SAP Business One. Experientially, you would be starting over at ground zero. The numbers below are nothing more than estimates but give you an idea regarding the value of owning the SAP Business One solution. They are intended to help you understand the value of your current software. If you were to choose to go out and shop for a new solution you could expect to pay at least twice (maybe 3 to 4 times more than) the cost to transition to SAP HANA: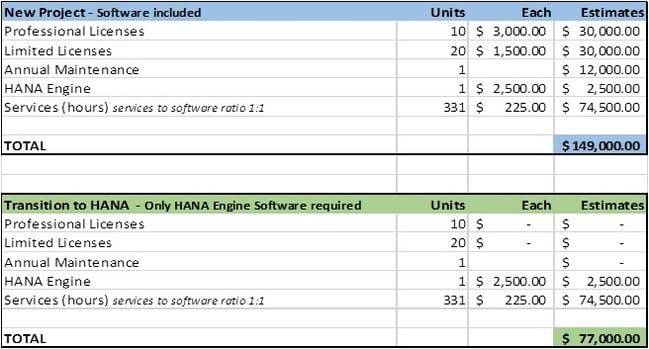 *These estimates should in no way be used as an official cost estimate for your transition project. Make sure you get an individual offer.
So, given the fact that you already own some of the very best software in the entire world, and that SAP will continue to help their customers take the lead, you are in a great place.
You just need to get on with it. Start planning your transition to SAP HANA today. Reach out to your SAP Business One Partner and start planning – the time is now!