In this article, we cover SAP Business One version 10 enhancements to project management, inventory, and production. Read more.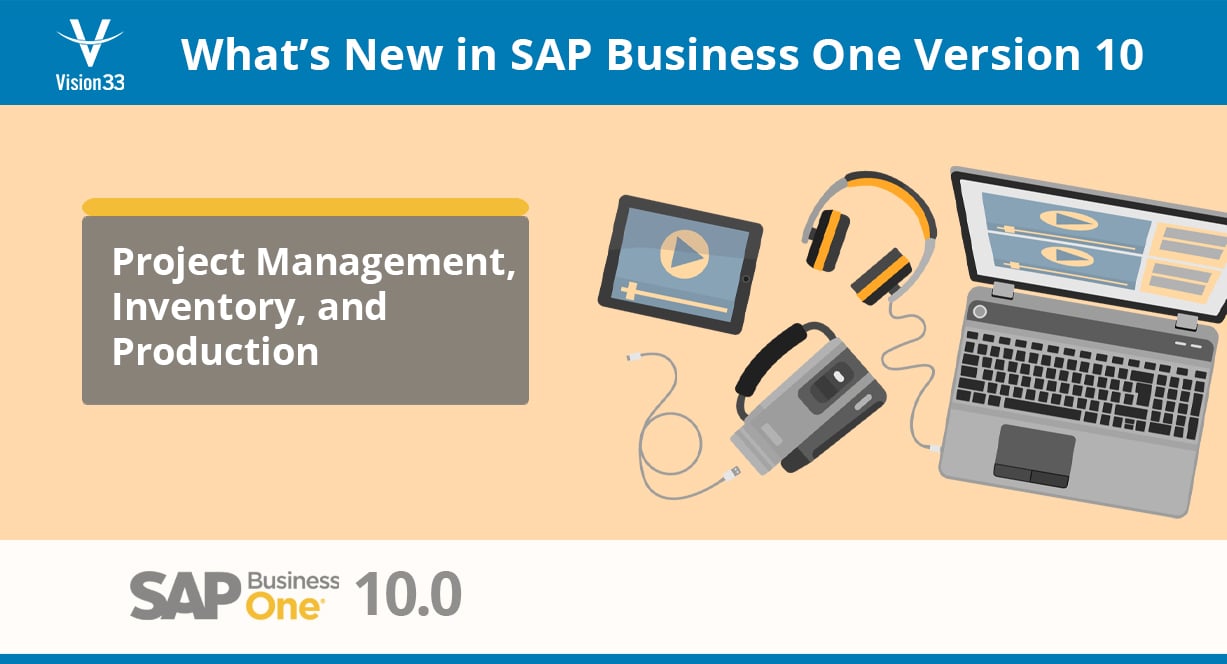 SAP Business One version 10 is the latest edition to SAP's enterprise resource planning (ERP) solution for the midmarket. Vision33 has highlighted feature enhancements from the new version over the past few weeks, and today we're focusing on the feature enhancements in the project management, inventory, and production modules.
Gantt Charts
SAP Business One version 10 gives users access to an interactive Gantt chart. The chart allows project phases to be moved, extended, or shortened interactively. Users also have access to added fields representing project due date and finish date. These additions improve project management by allowing easier visual planning of tasks.
Improved Series & Batch Numbers Management
In version 10, serial number management and batch management now include updating on A/R reserve invoices and inventory transfer requests. Version 10 also adds a serial number/batch management update form to the destination warehouse code and destination warehouse name. This means more document options when updating serial numbers and batches. With more options, users have better reporting on warehouse codes and names for inventory transfer transactions.
Another boon to inventory and distribution functions in SAP Business One version 10 is changing the unit of measure (UoM) group in the item master data. When users set identical conversion rules as the original UoM group, they can activate the feature by setting UoM in the UoM group to 'active.' This flexibility allows users to change UoM group relationships for item master data.
Enhanced Bills of Materials (BoMs)
Bills of materials (BoMs) help manufacturers make decisions about their manufacturing process. SAP Business One's manufacturing solutions offer accurate BoM reporting for product assembly. In fact, one reason SAP's midmarket solution is so compelling for manufacturers is that they continue to improve on the BoM despite its already robust features.
In version 10, item description in the item master data connected to a BoM parent item will be reflected in the BoM product description. The item and resource descriptions are editable in the BoM and production order components. The item description can also be updated through the DI API (data interface application programming interface).
These additions save time by updating item master data record descriptions through an associated BoM and flexibly handling item and resource descriptions in BoMs.
Item master data records are accessible from the parent item number via a new drill-down feature that creates a direct bridge in system navigation.
What Else Is New in SAP Business One version 10?
For more information, check out the Vision33 TOTAL Care Wednesday Webchat video where Carl Lewis shows off SAP Business One version 10 Patch Level 02 and its enhancements to the project management, inventory, and production modules. Lewis discusses changes users should know and provides a short video demonstration for each segment.


This resource is hosted in our Vision33 Resource Library. Gain free access to this resource by signing up. You will also have access to Vision33's extensive enterprise technology library of training materials for SAP Business One. Inside you'll find ERP tips and tricks, video demonstrations, product brochures, and many more enterprise technology resources. Select from ERP functional areas to expand your knowledge of specific solutions like SAP Business One as you grow your business. Signup today.