Meet modern consumers' expectations of fast and convenient service with SAP Business One and handle return material authorizations (RMA) like a pro.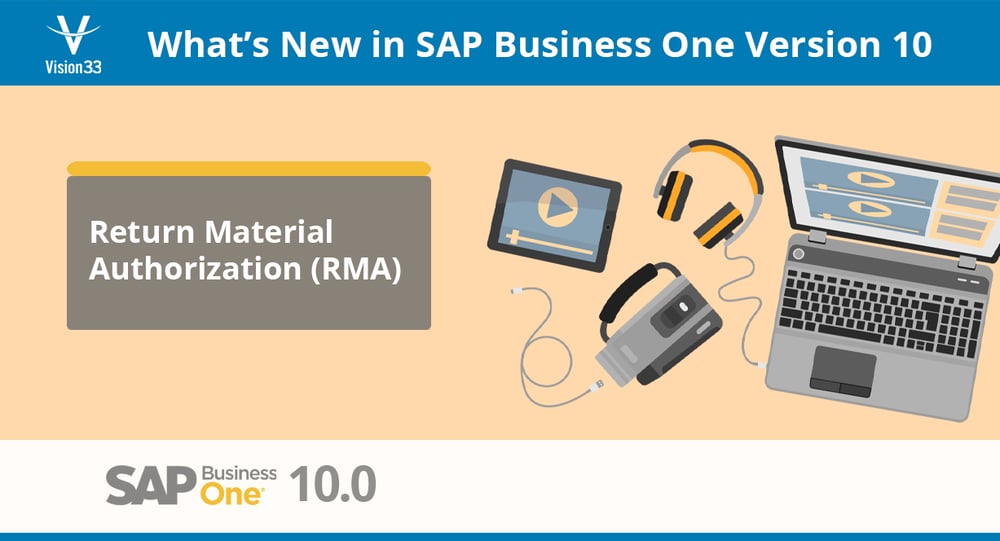 The pandemic caused eCommerce sales to rise dramatically – people spent 32.1% more online with U.S. merchants than during the same period the year before, according to a Digital Commerce 360 analysis of U.S. Department of Commerce data. Unfortunately, increased eCommerce sales lead to increased product returns and the occasional need to cancel a product return that's already in progress.
Is your business prepared to meet modern consumers' expectations of fast and convenient service? If you power your eCommerce channel with SAP Business One, you can handle return material authorizations (RMA) like a pro.
Return Materials Authorization (RMA) in SAP Business One
SAP Business One's RMA function empowers users to handle returned products. Users can accept the returned goods and add them to the inventory count or route a damaged product for refurbishment. RMA ensures greater efficiency and customer satisfaction because it speeds up the authorization process and ensures inventory accuracy.
A business may not need a product return because of shipping mistakes or damaged goods, but customers may still want to initiate a return. SAP Business One provides a formalized return request process and tracks it in the system.
Changed Their Mind…Again? How to Cancel a Goods Return Request
After initiating a return, a customer might change their mind and want to keep the product.
You'll need to cancel the goods return request you've initiated via the RMA process. A new enhancement in SAP Business One version 10 allows users to cancel the goods return within a few simple steps.
Delivering Quality Customer Service
With more eCommerce sales, it's smart to determine your business's readiness to handle the increased transactions and customer returns. Having a standardized method to manage these returns (or return cancellations) will ensure customer satisfaction and encourage repeat business. To learn more about RMA in SAP Business One, watch Vision33 TOTAL Care host Carl Lewis in the return materials authorization highlight video.
This resource is hosted in our Vision33 Resource Library. Gain free access to this resource by signing up. You will also have access to Vision33's extensive enterprise technology library of training materials for SAP Business One. Inside you'll find ERP tips and tricks, video demonstrations, product brochures, and many more enterprise technology resources. Select from ERP functional areas to expand your knowledge of specific solutions like SAP Business One as you grow your business. Signup today.