When it comes to choosing an ERP, such as NetSuite vs. SAP Business One chances are you will be overwhelmed by the amount of options available on the market. More and more, businesses are moving to the cloud for many reasons. From wanting to stay competitive and providing remote data accessibility for staff to increased customer satisfaction and lower infrastructure costs.
However, with so many to choose from – like the ones listed in Gartner's 2017 Frontrunners Report - selecting a cloud ERP that meets all your business needs could be a daunting task.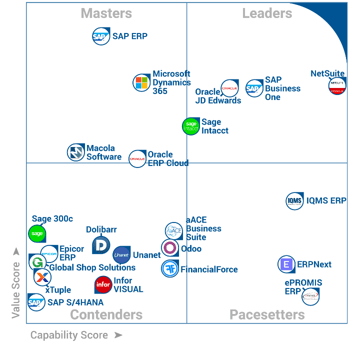 Figure 1. Gartner 2017 Frontrunners ERP Report
In our first two articles, we've compared SAP Business One and NetSuite's deployment models, their global reach and ability to support multi-regional operations. In this article, we'll give you more points of comparison to help you decide why SAP Business One Cloud is more cost efficient overall while having the most comprehensive functionality.
SAP BUSINESS ONE VS NETSUITE: Stability and scalability
SAP Business One is a single comprehensive best-of-breed solution that can run your entire business. Just the core foundation includes full financials, operations, CRM, warehousing, inventory, payroll, purchasing and more. All of these functions are backed by SAP, a top ERP publisher for the last four decades. NetSuite utilizes hundreds of add-on's that were part of acquisitions. Many of the parts were written and supported by 3rd parties and developed using different design standards.
SAP BUSINESS ONE VS NETSUITE: Integration costs
NetSuite utilizes hundreds of solution add-ons written and supported by 3rd parties. This means that integrating NetSuite with other applications involves hand-coding to support the integration development with other add-ons. Not only is this tedious, but lengthy due to the amount of time required for manual coding, which will drive up your costs.
With SAP Business One Cloud, your sales, invoicing, production, scheduling and shipping data can fully integrate and reconcile with other applications, eliminating any need for manual intervention. Any industry-level requirements are met only with SAP-certified solutions.
SAP BUSINESS ONE VS NETSUITE: Ease of use
NetSuite's ERP can be difficult to use. Try the customization tool and you'll find yourself navigating through a maze. Not only is the tool not user-friendly, it is also limited in function.
In comparison, customer feedback indicates that SAP Business One is more intuitive and easy to use. SAP Business One has streamlined screens with less clutter. In addition, the new Fiori dashboard for SAP Business One provides widgets that you can add or remove exactly to your liking, so you only see what you need to and each dashboard is personalized for the individual user. For example, an accountant may choose to immediately see the bills need paying while the CEO can choose to see exactly how his sales team is performing and how much cashflow is available.
Read here.
SAP BUSINESS ONE VS NETSUITE: System upgrades
NetSuite's ERP systems are deployed within a multi-tenancy environment and this model can affect version control and system upgrades. When system upgrades are deployed in a multi-tenancy environment, upgrades are deployed simultaneously to all customers at NetSuite's discretion, not yours. This is not ideal if you have any customization or integration as they risk being incompatible with the new system. Timing could also be a disaster if the upgrade causes problems when you are in the middle of a busy business cycle.
On the other hand, you can choose when to have your SAP Business One Cloud upgrades deployed. Upgrades can be planned in advance, so you can avoid any issues from occurring during critical times.
In Summary – SAP Business One Cloud VS NetSuite
SAP Business One Cloud is a proven software solution with more stability and experience in the ERP space over NetSuite.
NetSuite has a lower entry point with its subscription-based model, but SAP Business One Cloud has a lower Total Cost of Ownership (TCO).
Better cloud performance and flexibility with SAP Business One Cloud vs. NetSuite.
All in all, SAP Business One Cloud beats NetSuite and other cloud-based competitors by a long shot due to its affordability, reliability, scalability and performance.
Download the SAP Business One vs. NetSuite Comparison
If you need more information to help you compare SAP Business One vs. Netsuite, download our software comparison guide. It outlines the differences between the two ERP systems in key areas that businesses should pay attention to.