Read this blog to compare the performance of SAP Business One Cloud and Netsuite.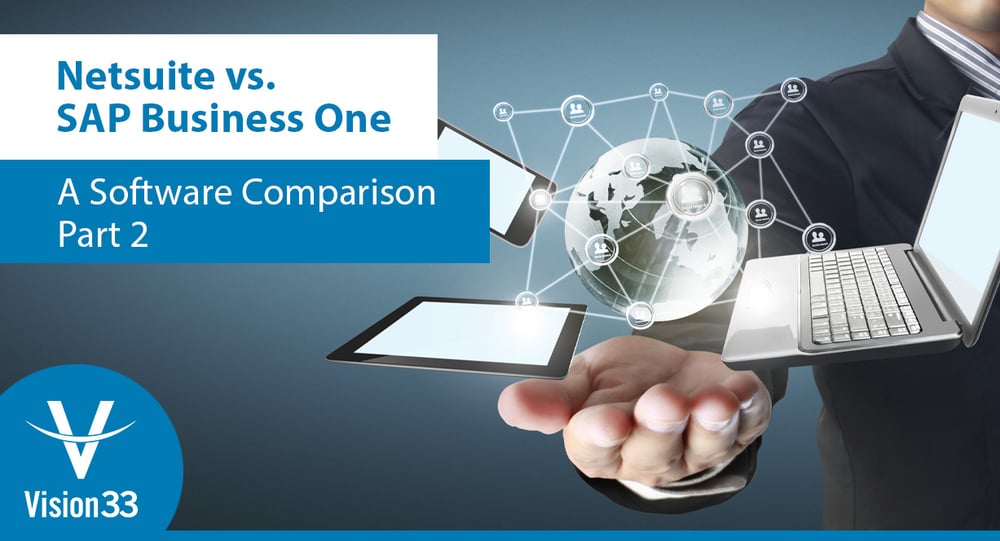 To help answer the question 'what's the difference between NetSuite vs. SAP Business One?' it's important to compare SAP Business One and NetSuite's deployment models. After that, the next important step is to look at the global footprint for each solution.
SAP Business One has a long track record of serving a global market. With more than 59,000 organizations in more than 170 countries running SAP Business One, it supports 27 languages and 43 country-specific versions in North America, Europe, Asia, Africa, South America and Oceania.
SAP Business One's global reach is also evident in their ability to service geographically remote sites. Since SAP's ERP for SMEs is available in 3 deployment methods, on-premise, cloud or hybrid – the on-premise model is ideal for sites that have unstable internet access. Businesses can also opt for a hybrid deployment model whereby remote sites have the on-premise version of the ERP, and other offices with reliable internet connectivity have the cloud version of the ERP.
In comparison, when it comes to numbers, NetSuite is slightly behind as most of their customers are North-American based. Having served more than 40,000 organizations in over 160 countries, NetSuite only supports 19 languages and country-specific accounting standards in North America, Europe and Asia.
Also, NetSuite's cloud-only deployment model does not benefit subsidiaries that lack fast internet speeds as the only way to access data is through a web browser.
As a result, SAP Business One is the global ERP solution of choice for international trading, businesses with existing regional subsidiaries as well as businesses that are planning to expand their operations overseas.
BUSINESS ONE VS. NETSUITE COMPARISON PDF
Be sure to check out our SAP Business One VS. NetSuite software comparison. The software comparison outlines the differences between the two ERP systems in ten key areas that businesses should pay attention to.