Of the many issues you contact Sage 50 Support to solve, how many are due to the software's limitations? SAP Business One has the answer. Read more.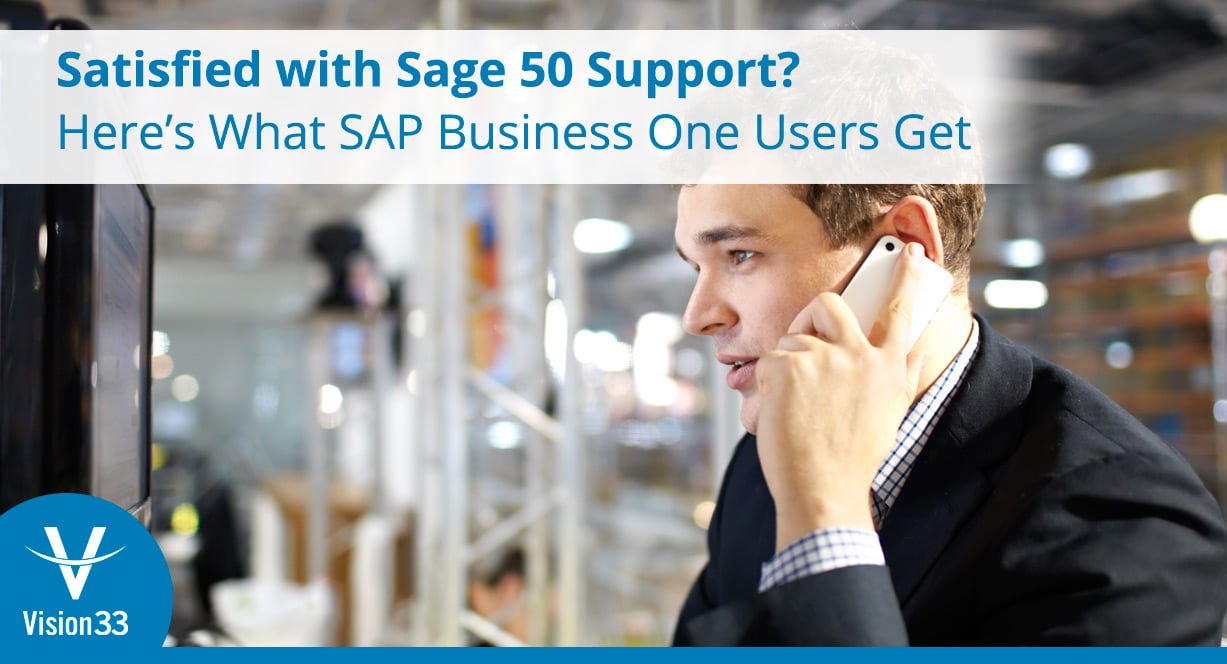 A simple accounting program like Sage 50 might have been the right choice when your business was simpler. But you've grown, and your business is more complex – multiple departments, more employees, more inventory to manage. Of the many issues you contact Sage 50 Support to solve, how many are due to the software's limitations? How many of Sage 50's support line solutions seem costly? How many of the features required to fix your problems are only available in the next tier of Sage software?
Do you identify with any of the following growth challenges?
Limitations to the concurrent number of users.
Sage 50 Support cannot meet your business needs.
You need CRM and other mission-critical features.
Reporting is a time-consuming manual process that's prone to crashing the system.
Your inventory management capability is insufficient and can't scale to support further growth.
If you answered yes, Sage 50 Support can't help you. The real problems are Sage 50's inability to scale, less-than-robust business management features, and lackluster customer support.
While upgrading to a newer version of Sage software might fix your problems and improve your business's performance, Vision33 recommends moving to SAP Business One.
SAP Business One offers an affordable, easy-to-use business management solution designed specifically for growing small to midsized businesses and subsidiaries. It also includes a world-class support program.
Vision33 TOTAL Care Customer Support Program for SAP Business One
At Vision33, we believe a customer support program should enable customers to maximize their software investment – not use upgrades to keep must-have features just out of reach.
Vision33 TOTAL Care is an industry-leading support program developed by Vision33. This flagship program brings value to our SAP Business One customers and is a significant part of the reason our customer engagement and retention rates are so high.
Did we mention it's only available to Vision33 customers?
While there are too many benefits to include in this article, here are a few reasons Sage 50 users choose Vision33 to help them migrate to SAP Business One.
1) Access to the Vision33 Customer Support Center
The Vision33 Support Center is an innovative tool for Vision33 customers that allows you to easily submit support tickets and check their status. Users also have access to the latest document libraries related to SAP Business One's functionality, how-to guides, and videos. You can find what you're looking for in seconds with the easy-to-use search feature, and join a Vision33-moderated community forum to share thoughts and questions with other SAP Business One users.
2) Vision33 Customer Resource Library
Take your SAP Business One skills to the next level with free access to Vision33's extensive library of SAP Business One training materials. You'll find tips and tricks, video demonstrations, product brochures, and more. You can select from the SAP Business One modules to expand your knowledge as your business grows into the features, and the Customer Resource Library empowers you and your employees to ask and answer questions 24/7.
3) Vision33 Customer Portal
The Vision33 Customer Portal helps customers monitor daily business activity with Vision33. From accessing orders and quotes to viewing invoices and making account payments, the Customer Portal allows you to log in anytime, anywhere – without having to call the accounting department.
4) American and Europe SAP User Groups (ASUG & UKISUG)
As an SAP Business One user, you can join ASUG or UKISUG (depending on your location). These two international groups focus on providing support, training, and collaboration among SAP Business One users. As a member, you can explore new ideas, solve roadblocks, and build professional networks with other businesses through local chapter events.
Still Unsure?
If you're not sure upgrading to SAP Business One will solve your organization's challenges, that's okay. Beyond the fact that Sage 50 Support can't solve your business growth problems, there are other reasons to migrate to a new business management solution. As you evaluate pathways toward upgrading, we have a guide to help you: From Sage 50 to SAP Business One: Choosing the Right Path for Business Growth. This guide provides useful considerations beyond customer support programs to help you choose the right path for your business.