Moving to the cloud can be scary, especially when it involves government services. Learn how to achieve staff buy-in to ensure a smooth transition.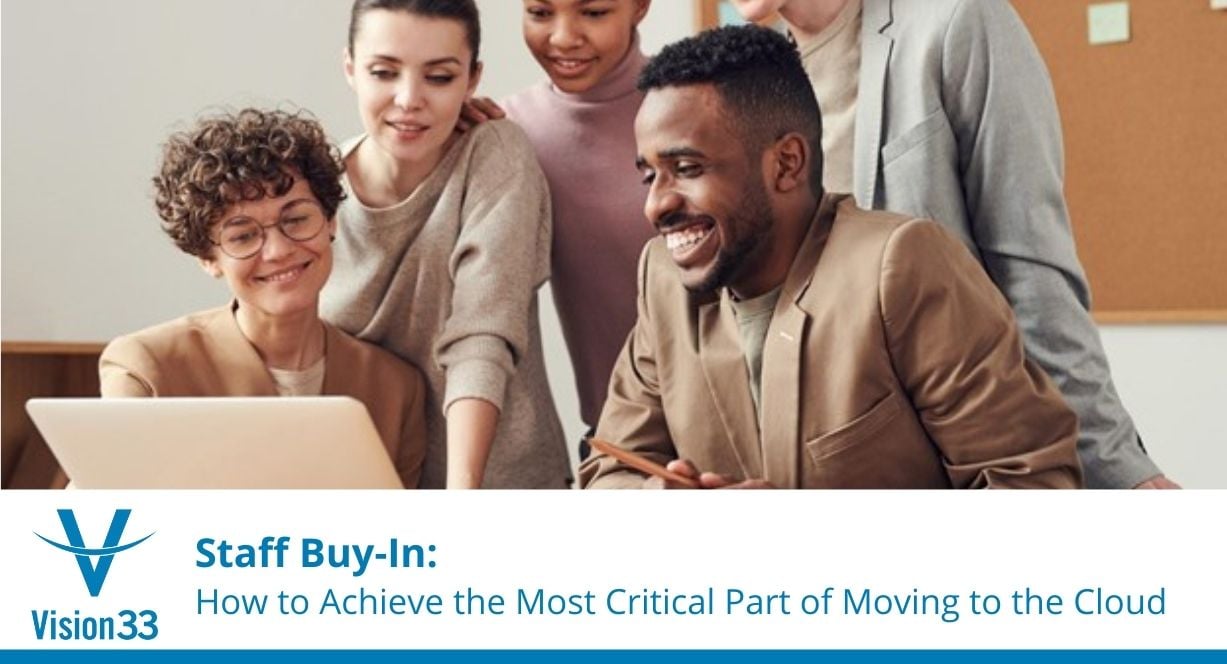 Years of work down the drain. Hundreds of hours of meetings made pointless. Everyone in your government agency confused and annoyed.
If this sounds like your IT implementation nightmare, you're not alone.
Moving government services to the cloud can be scary: If you fail, it could cost a lot of money, damage work relationships, and ruin nights of needed sleep.
Fortunately, you can avoid all that by keeping the right people informed and engaged.
It's called "change management," and we have some tips to help it go smoothly.
Know Why You're Doing This
It's critical to begin any project with a clear "why." Why are you investing time, money, and effort? When people understand the "why," they're more likely to get on board.
Putting the "why" in plain language will help you explain what must be done and get people excited to participate.
Ask these questions to help you get to "why":
Why are you moving services to the cloud?

What are the benefits or drivers of this change?

Is this project part of larger changes your organization is making?
Your "why" should come (at least partially) from the people who will be implementing and using the software. If they don't want or appreciate what you're proposing, they'll resist the process to get there.
Map Out the Journey Before Starting
Once you know why you're embarking on this project, map it out in detail.
It's not so much about coming up with a perfect plan (because nothing ever goes to plan) – it's about imagining as many steps and details as you can about the project, from start to finish.
Doing this will give you a good sense of the resources and people you'll need in the process and the problems you might face.
Ask questions like:
Which services are migrating to the cloud?

Will we automate any manual processes?

Who will be affected by the changes?
Good preparation can save you headaches (and change orders), so go as deep as you can.
And when you choose a consultant or vendor to help implement the solution, make sure they believe in doing solid "upfront" work, too.
Make Sure Your IT Team Is Ready
While it's critical to have folks from everywhere in the organization on board for the project, your IT team is at the center of this software project.
Before embarking on a new project, particularly one that involves a relatively new concept like the cloud, check to see what skills your team needs.
Ensuring that your team understands the cloud and is building skills for this project will give your project a solid foundation for success.
Here are skills you should coordinate training for:
Cloud security

Cloud deployment and migration across multiple platforms

Database skills

DevOps
Also, it's common in large organizations for staff to be reluctant to let go of on-premise infrastructure. Spend time exploring and discussing the options and reasons with your team before committing to a course of action.
Inform Everyone in the Organization - Early
If you take the steps above, you've already started spreading the message that change is coming.
It's absolutely critical for top leadership to be part of the project process. Scheduling monthly project update meetings with senior staff can be a game-changer in identifying risks and getting timely approvals.
It's equally important to conduct a coordinated messaging campaign to ensure everyone in the organization "gets" what's about to happen. To do it effectively, make sure you have a good sense of your agency's workplace culture.
For example:
Do people complain about your current software?

Have you had your systems for a long time, so people are used to how things are done?

Is there an entrenched "chain of command" or hierarchy to respect?
Answering questions like these will help you craft your communication and engagements in respectful, effective ways.
One tip is to focus on the services your organization provides, both internally and externally. Instead of focusing on technology (hardware and software), talk about what people expect from it.
For example:
What services do you provide to the public?

Can they be improved by the changes you're making?

How will employees' daily tasks be affected? Can they help shape those changes to make their lives easier?
Get Staff Involved in the Implementation
A powerful way to ensure staff buy-in and project success is to find real ways they can be part of the implementation.
During the planning and informing stages, identify key users of the system and people who might be indirectly affected by changes.
Involve these individuals in planning sessions. They'll get a clear understanding of the project and probably come up with ideas and potential pitfalls your team hadn't considered.
You'll also get a sense of the training they and their colleagues will need on the new system.
Identify and Assign Champions
Ideally, the group of stakeholders you engage most will be people you can assign as "champions" for the project in their departments.
These individuals will be authentic leaders: folks primed for change and excited to help their departmental teammates adapt.
It's helpful to formalize this group of champions as a committee or team. Keep the group well informed about the project, its progress, and its challenges.
Keep the group together and engaged after the new system goes live. As people get adjusted, there will be many questions and learnings, and having champions other users feel comfortable asking for help will be priceless.
Get Help With Your Playbook
The above tips are only some of the high-value actions you can take to ensure your cloud migration project is a success.
When moving to the cloud, there are many other things to consider, so Vision33 developed a cloud playbook based on years of working with government agencies.
If you'd like to learn more, please get in touch!