Swagelok Stuttgart became more agile after Vision33's help with automation and integration between its critical applications. Read the case study.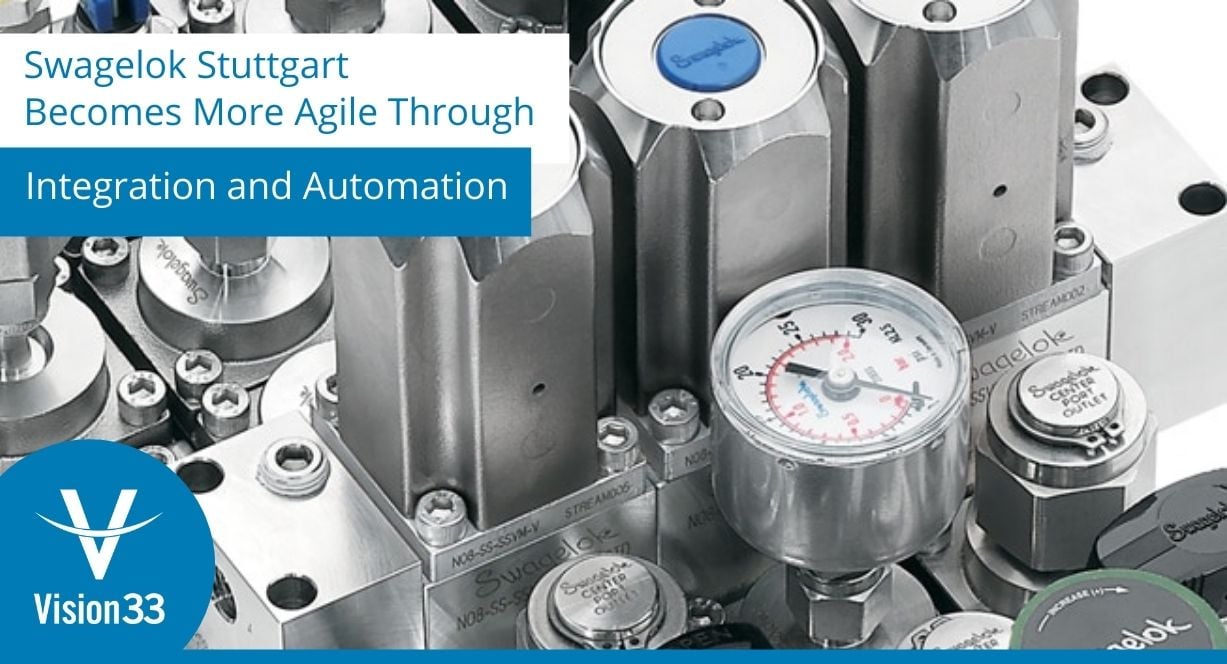 Swagelok Stuttgart is the authorized Swagelok® sales and service center for the Baden-Württemberg region of Germany and parts of Rhineland-Palatinate. From high-quality fluid system components to assembled systems, additional training, and service offerings, Swagelok Stuttgart provides everything an organization needs for the successful and safe operation of a fluid system.
A Focus on Agility
Swagelok Stuttgart invested in cloud enterprise systems to become more agile and allow employees to work from anywhere. The company implemented Salesforce for customer relationship management (CRM), SAP Business One for enterprise resource planning (ERP), and Zendesk for customer quoting and support. These solutions were ideal for flexibility in selling to and servicing customers.
A Not-So-Fluid Process
A challenge soon became apparent. With the sales team using Salesforce and the operations team using SAP Business One, there was a disconnect between departments. Salespeople being unable to see customer account information while on the road was especially problematic.
Without its systems "talking" to each other and exchanging data, Swagelok Stuttgart reverted to time-consuming manual processes, like manual data entry. The company needed an integration solution to close the gap between its mission-critical applications.
As Luck Would Have It...
After an exhaustive search left Swagelok Stuttgart empty-handed, an operations team member contacted Vision33, the largest SAP Business One partner. Vision33 had been concentrating on the challenge of integrating SAP Business One with virtually any business application – including Salesforce – and had recently released the Saltbox Platform.
A born-in-the-cloud integration platform as a service (iPaaS) solution, Saltbox is a powerful tool for enterprise integration, workflow, and collaboration between business applications. Saltbox includes a pre-built SAP Business One-Salesforce integration that allows data to be transferred between the systems at lightning speed. Its engine moves information through the cloud with the power of AWS scaling, allowing it to handle an infinite data load.
The Result
Because Saltbox extends and maximizes SAP Business One's reach, Swagelok Stuttgart could use their existing applications without buying additional ERP licenses. The integration was rapid and, within a week, all the company's employees were working at home.
Now, all the customer account information that lives in SAP Business One appears in Salesforce for quick, easy viewing by the sales team, and changes instantly show up in Salesforce.
The company also integrated SAP Business One and Zendesk, so full customer context flows from SAP Business One to Salesforce to Zendesk. This vital connection has simplified and streamlined quoting and customer support and automated the follow-up process for quotes.
Get the Full Story
To learn more about Swagelok Stuttgart, including the company's exciting plans to further leverage Saltbox, download the case study below.