Working remotely can present a new environment to adjust to, here's some helpful tips to help stay productive. Watch the video.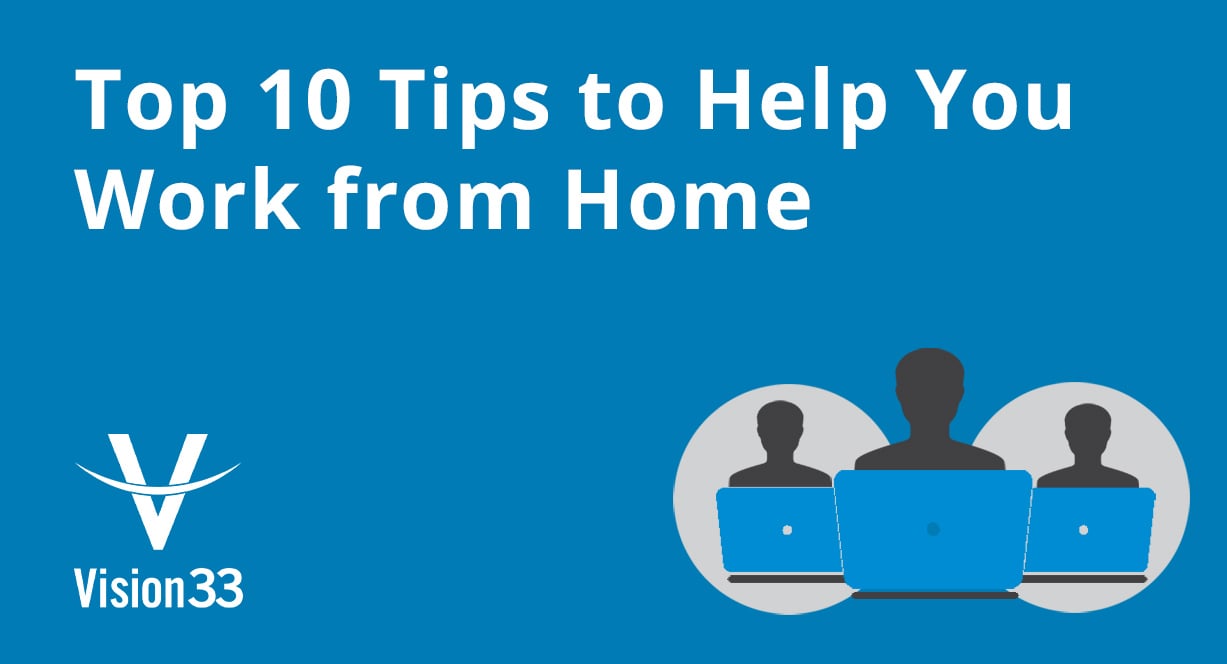 You have probably had to work from home from time to time; busy schedules and family life have no doubt pulled you away from the office, requiring you to punch your hours from the comfort of your home. However, for many of us, working from home for an extended period is not the norm. Balancing an 8-hour workday, meetings, kids, and pets, all while trying to be productive, can be very overwhelming. How do you do it? How can you create a productive workspace and take care of your families – all under one roof?
Carl Lewis, Chief SAP Business One Ambassador from Vision33, recently held a webinar covering the Top 10 Tips to Help You Work from Home. Given the reality we are living in right now, these best practices can help you get through this tough time, but also help you with those unexpected work from home days in the future.
WFH Top 10 Tips:
1. Invest
Invest in technology and your furnishings; it is helpful to have the right technology at home that will allow you to be productive. Working from a laptop might be ok for a day or two, but for an extended period, having a proper computer, monitors, and work chair will help you settle in.
2. Ask for Help
This ties into our first tip. If you can't invest in your workspace at home, you might be able to borrow a monitor or other items from work. Don't be afraid to ask for things from your company that will help you in the long run.
3. Set Regular Hours
It is important to set regular hours for yourself and your family. A lot of us are not only working from home, but also dealing with our spouses working from home, our children being out of school. We might have to share a computer or help our kids with schoolwork. It is necessary to create a schedule that works for everyone, and we need to communicate that to coworkers and our family. We all have to be flexible and recognize that we are in this together.
4. Create a Morning Routine
Taking a simple commute time out of your day can throw a wrench into your schedule. You might think you have more time on your hands because you don't have that hour-long transit. Or you might think you have more time because you don't have to get dressed. It's important to maintain normalcy in your new routine; treat each workday as if you are going to the office. Take a morning shower, get dressed (of course, causal clothes are fine), pour yourself a cup of coffee, and start checking those emails.
5. Dedicate Space
If you can - find a place in your house to create your "office." Make sure you tell people in your family that this is where you will be working and having meetings. It helps if this space has a door so that if you are in a meeting and you don't want to be disturbed, you can simply close the door. If this isn't possible, you will have to come up with some kind of signal to let your family know if you are in a meeting or a private call.
6. Set Ground Rules
You have all sorts of challenges working from home, and maybe one of the biggest of those could be children. Make sure they know when they can or can't come into your workspace. Make a sign that says "Recording in Progress" or simply "Do Not Disturb" – these little cues will help them better understand when it is ok to come to talk to you.
7. Honor Breaks and Lunchtime
Be sure to give yourself breaks and a proper lunch. It is easy to get wrapped up in your work when it is right in front of you all day. But it is essential to take those breaks, get fresh air, and regroup. You need to treat your day like a regular day in the office. You are also used to having coworkers around, and you might miss those daily chats. You can still do these. Check-in with your colleagues, maybe even have a virtual lunch. You can bridge the gap with the technology that we have available to us today.
8. Show up to Meetings
Make sure you keep involved. In the office, meetings and collaborations sometimes happen in real-time. They can be a great way to bounce ideas off one another. Attend all the meetings you are invited to, and make meetings happen. Being an active participant in these meetings, or just listening can help you stay connected to what is happening in your business.
9. Turn on Video
Make it a rule to turn your cameras on when you have an online meeting. This helps us to stay connected to our coworkers and helps us with our daily routines. By getting up, showering, and getting dressed every day, you will be more presentable for these video calls. We might not be able to replicate being in the office, but we can come close.
10. Meet with Your Manager
Check-in with your manager at least once a week. Of course, you might talk several times throughout the week, but by scheduling this in your calendar, you are creating time to stay in touch and talk about any issues or concerns that might pop up.
More Tips and Tricks on How to Be Effective When Working from Home
We know it can be a struggle to balance work and home life at the same time, and in the weeks to come everyone is trying to navigate the new normal. Spend some time to reflect on how these tips can help you in the upcoming days or weeks. Plan out your work day, and don't forget that you are not alone.
Want to learn more? Watch our Webinar Recording and hear more tips and tricks about how you can effectively work from home.