After Sage 50 you'll need a more sophisticated solution to keep things running smoothly and efficiently and to facilitate more growth. Read the article.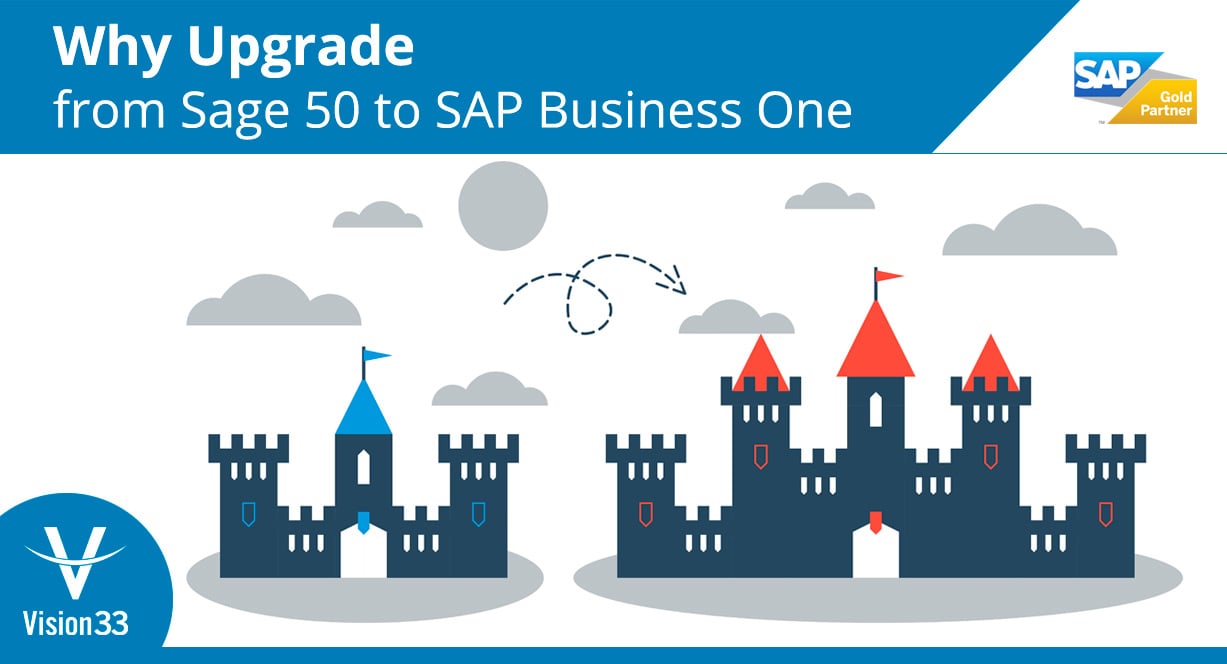 Sage 50 is a popular accounting system for small businesses in the early stages of growth. It's perfect for managing daily accounting needs such as invoicing, banking, and cash flow – when your business is small. Eventually, Sage 50 won't meet your complex business requirements. You'll need a more sophisticated solution to keep processes running smoothly and efficiently and to facilitate more growth. Luckily, your business has options.
Has Your Business Outgrown Sage 50?
People often ask themselves, "Have we outgrown Sage 50?" You may have recently automated the business with manual systems and weren't aware you require an integrated system. In other cases, it's clear that your requirements have changed and you need an advanced, comprehensive solution. Sometimes, you might realize operations are more complex and time-consuming.
How do you know you've outgrown your systems? Here are some signs:
Your Business is Running Multiple Systems
As your business has grown, you've probably added software systems to assist with operations other than accounting. These could include Microsoft Excel spreadsheets, whiteboards, and custom databases. Using many disconnected systems is a sure sign you've outgrown Sage and need an upgrade.
You're Bewildered by Data Duplication
You could be wasting resources by inputting identical data into various software systems, cross-referencing it, and switching between programs/documents to extract the data you need. As a result, it takes too long to find anything.
You Don't Have Accurate Reports to Fuel Decision-making
As your business grows, you'll need a more global view of activity across all aspects of your company. If you need more sophisticated analysis with accurate information updated in real-time, it's time to upgrade.
Reasons to Upgrade to SAP Business One from Sage 50
SAP Business One was designed for small to medium-sized businesses and is the natural progression from Sage 50. It's a comprehensive accounting and business management solution that's affordable, flexible, and customizable.
The benefits of SAP Business One are endless and provide the perfect platform for facilitating growth.
Here are several reasons you might choose to advance your business from Sage 50 to SAP Business One:
You need software that can facilitate over 100,000 transactions and manage your growing business's needs.
You need to manage your business and stock across multiple locations.
You need a three-tiered accounting system to cover all ledgers.
Along with detailed accounting software, you want additional functions such as customer relationship management (CRM), stock control, and manufacturing.
You want a customizable solution that can be delivered with the support of a business partner.

Data migration from Sage 50 to SAP Business One
Migrating data from Sage 50 to SAP Business One is a critical part of the upgrade process and is what businesses worry about most.
While it is tedious and time-consuming, the process is straightforward – if you know what you're doing. The good news is you'll only need to migrate the data once and never think about it again, so it pays to do it right the first time.
Working with the right partner, such as Vision33, makes it possible to migrate data efficiently. If you have good data, you'll reap the rewards of SAP Business One faster, including a faster return on investment.
Why Choose Vision33 for Your ERP Implementation and Data Migration from Sage 50?
Vision33 is a global IT professional services consultancy that solves customer business challenges through the promise of technology and the value it delivers. We're an SAP gold partner and have decades of experience.
With our world-class team of consulting experts, Vision33 offers a simplified yet comprehensive approach to SAP Business One implementations. Our professional services and proven methodology leverages industry best practices, over 15 years of experience, and hundreds of successful implementations to ensure your project succeeds.
As many of our customers upgrade from Sage 50, we're experts in migrating data from one system to the other. We have the skills and experience to configure SAP Business One to transform your business.
Still Have Lingering Questions About Migrating from Sage 50 to ERP?
If you're not ready to make a move to ERP, take the first step and download our guide, From Sage 50 to SAP Business One: Choosing the Right Path for Business Growth. It outlines crucial considerations to help you make an informed decision about your next business management solution.