By going from Sage 300 to Sage Intacct, you can enjoy the latest cloud technology from a trusted family of products Learn more about next-generation financials.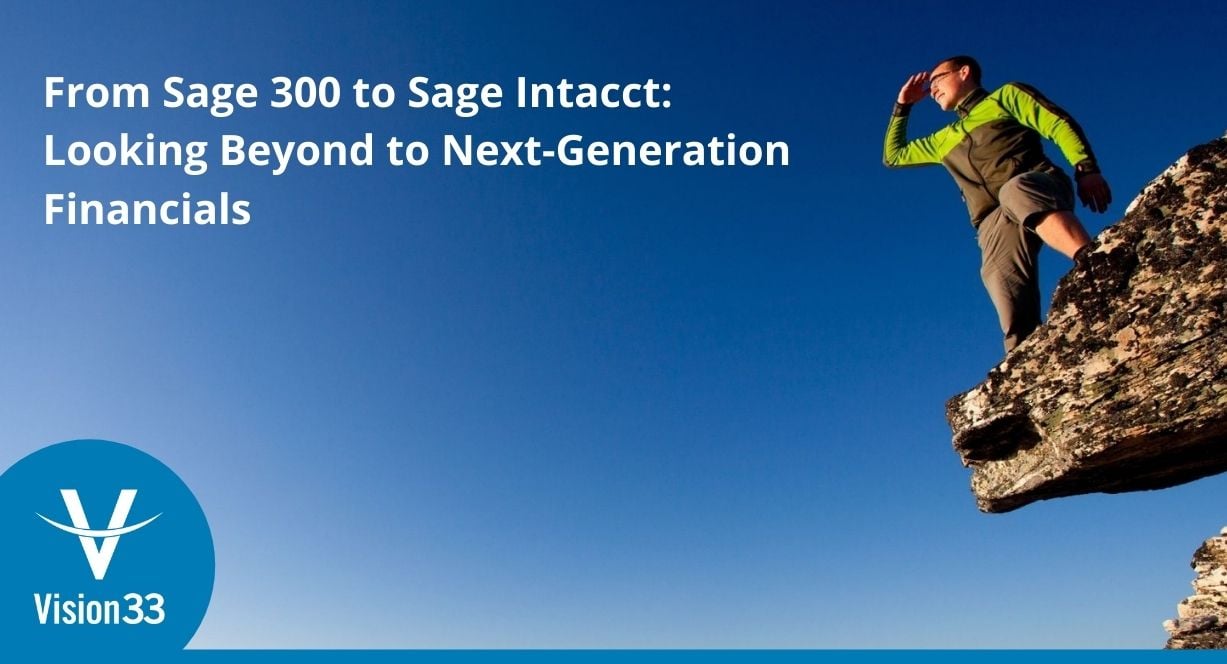 As a Sage 300 user, you're in good hands. From its modest beginnings in 1981, Sage has grown by understanding its customers' needs and challenges. Innovation, an entrepreneurial spirit, and accelerating customer success drive everything Sage does.
However, as your business grows and becomes more complex, you may notice Sage 300's limitations – especially if your business consists of multiple entities. By graduating to Sage Intacct, you can enjoy the latest cloud technology and an unparalleled depth of financial capabilities while staying in the same trusted family of products.
Here are a few of Sage Intacct's features and benefits:
Immediate Visibility
Sage Intacct provides vital information about your entire business from an easy-to-navigate dashboard, including a real-time, consolidated view of financials across all your entities. These 'performance cards' include assets, revenue, net income, and expenses; you can create additional cards based on your needs. You can compare these cards' performance summaries to the previous month or any timeframe you specify. You can also customize charts and graphs and drill down into reports – all from the dashboard.
Organizational Insight
Deep insight into your business's financial performance is necessary to make bold decisions that drive success. From its dashboard, Sage Intacct allows you to break down and filter information to take a deep dive into finances. With just a few clicks, you can look across all companies and entities for easy data analysis.
Built-in reporting tools enable you to build transactional reports and create your own financial reports to slice and dice data from your general ledger – all without Excel and spreadsheets.
Add in pre-defined dimensions, user-defined dimensions, and the ability to consolidate your entities in minutes, and Sage Intacct becomes a powerful and expandable tool to track the metrics that matter to you and your business.
Financial Control
Sage Intacct provides simple order entry and purchasing workflows and processes to keep you in control. For example, an order entry overview map provides links to data, including customers, warehouses, product lines, items, and price lists. The map also leads you to tasks like creating a sales quote, creating a sales order, fulfilling an order, creating a sales invoice, splitting/merging transactions, and creating a return or credit.
If a customer calls with questions about an order, you can quickly retrieve the order information, history, and related documents – all while the customer is on the phone. This convenience empowers you to offer excellent customer experiences.
Documenting of Decisions
You're not just keeping meeting notes with Sage Intacct. The system tracks conversations so they can be easily found and examined later. You'll see more than the where, when, how, and what – you'll see why financial decisions were made. Sage Intact becomes a robust collaborative tool for you and your team to make solid decisions that drive your business forward.
Learn More
Check out a 25-minute demo for Sage 300 customers to see Sage Intacct in action. Learn about the powerful accounting, dimensional reporting, and dashboards that earned Sage Intacct the distinction of being the first and only provider of accounting applications by the AICPA and its subsidiary CPA.com.