Tips to help you achieve a smarter & faster financial close with SAP Business One 9.3 so you can get back to enjoying the holiday with family and friends.
Whether it's a monthly close or a year-end close, many accountants would agree that it can cause a bit of dread. Long hours, payments to chase down, and hefty paperwork; it's no wonder the financial close process can be chaotic, labor-intensive, and stress-inducing for accounting managers and their team – especially approaching the busy holiday season. But fear not, Vision33 has some tips to help you achieve a smarter and faster financial close so you can get back to enjoying the holiday with family and friends.
Picking the Right Tool for Year-end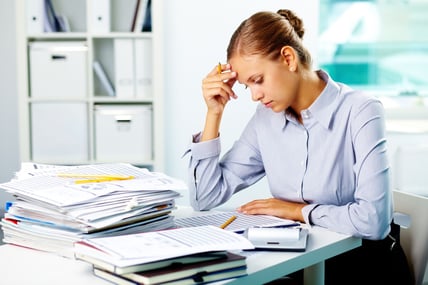 If your business is running on a small business accounting software package such as QuickBooks or Sage 50, you might be relieved to know that time-consuming closings at year-end aren't a necessary evil or just part of doing your job. The difficulty of your financial close process are often a sign of your business' growth and need for a more sophisticated feature set to support the complexity of your business financials.
The good news is that there are enterprise technology solutions such as small business enterprise resource planning (ERP) software can enable your business to streamline these time-consuming year-end close processes.
Smarter and Faster Financial Close Tips
Vision33, like our many customers, are growing businesses. As a company, we've had to overcome our fair share of growing pains. Through this process, we've brought on board consultants that understand accounting and financials, but more importantly, understand the important role enterprise technology can play in overcoming these challenges. When properly implemented and aligned with your business processes, much of the time-consuming processes of year-end close can be automated and thereby reducing manual labor and numbering crunching and limit the potential to introduce human error into your system. To that end, we'd like to share some of the insight we've gained over the last several decades of working with growing businesses during what can be (but needn't be) a stressful time of year.
Watch the Vision33 Year-end Video
Not only do Vision33 consultants have experience and backgrounds in accounting and finance, the enterprise technology that we sell from financial systems leader, SAP, is the very software we use to manage our finances.
In our recent webinar Tips and Tricks for a Smarter and Faster Financial Close During Year-End, we share advice on how businesses like yours can transform financial closings from a cumbersome and stressful process into a competitive advantage – with enough time left to enjoy the holidays.
What You'll Learn:
The common challenges facing small and midsized enterprises when performing a financial close during year-end?
Practical tips for ensuring a better reconciliation.
The typical financial reporting requirements for period-end.
Security and control considerations when closing a financial period.
A look at enterprise technologies that can help you streamline year-end processes.