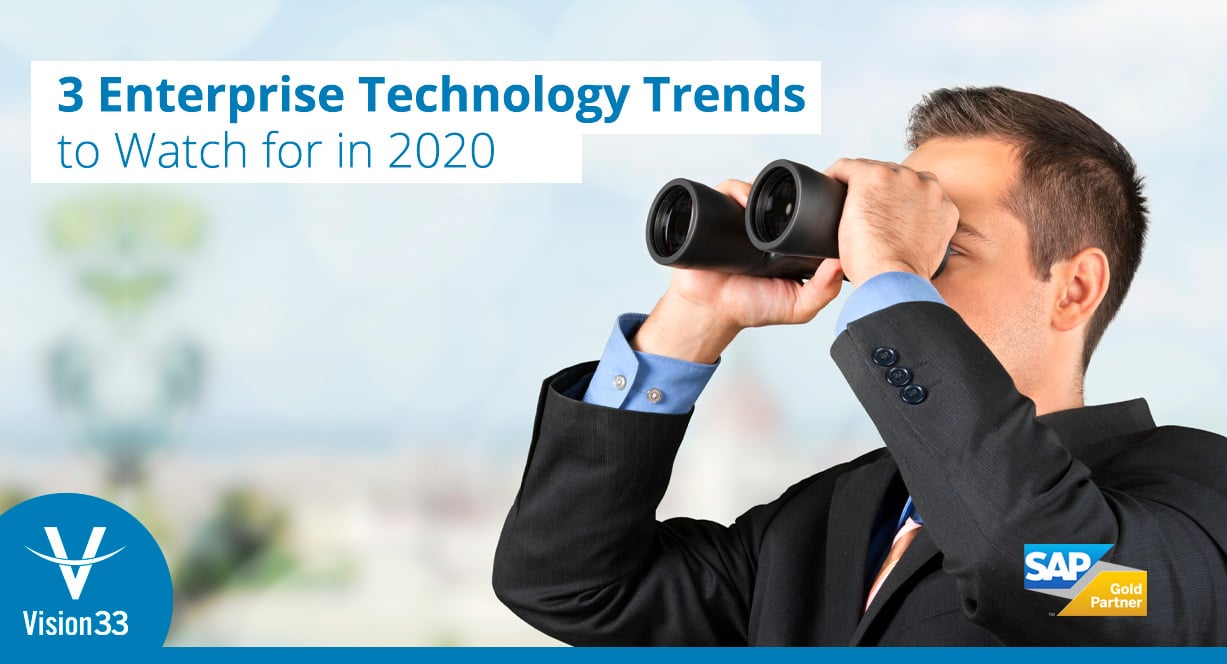 With the new year well underway, it's smart to examine enterprise technology trends. How can you leverage the technologies that are leveling the playing field for the small-but-mighty businesses competing outside their weight classes?
Process Automation
As you scale business growth, manually processing customer transactions isn't scalable – you either won't have enough resources, or the processes will be too time-consuming or costly. Luckily, enterprise technology can automate business processes. While robotic process automation on assembly lines isn't new, enterprise technology also automates time-consuming, error-prone daily business processes like reporting. In the past, Microsoft Excel spreadsheets were the standard reporting method, but today it's handled more efficiently using cloud applications and workflow automation. The right tools, like Vision33's new Saltbox Platform, can help you automate the integration and transformation of data into efficient workflows.
The Internet of Things (IoT)
In 2020, connecting businesses with their equipment and products are the very definition of the internet of things (IoT). This two-way communication via internet connectivity is becoming common because it allows businesses to run in real-time, anticipate challenges before they happen, and address them before they cost money.
For example, Vision33 customer Zoedale supplies valves, actuators, and flow control. Some of their valves connect to the internet for performance monitoring using an electric actuator that opens and closes the valve. The actuator knows the valve's normal operating range, and it alerts an engineer if it detects an abnormality. This helps Zoedale anticipate when their equipment will need replacing, which is essential because industries that use pipes and valves (e.g., the oil industry) lose millions of dollars per day to unplanned maintenance.
A Single Source of Data in an App-Driven World
Between enterprise resource planning (ERP) systems, eCommerce platforms, customer and vendor portals, and sales, marketing, and automation software, businesses collect a staggering amount of data. From interpreting data in real-time, obtaining insights into performance, and integrating applications to ensure a free flow of data, a business's success is contingent on how they manage their data.
In an app-driven world, data fragmentation increases as a business experiences growth. Consider your business. Did you add an inventory management application when you could no longer manage inventory with spreadsheets? Did you open an online sales channel and adopt a web-based eCommerce solution that's disconnected from your other customer database? Although each new application supports growth, they also create more siloed data.
While businesses use APIs (application programming interfaces) to make their discrete software systems communicate and overcome the challenges of managing data between applications, another challenge remains: managing a growing number of integrations. Your business becomes reliant on many integration points and can be severely impeded if issues arise.
Successful businesses will be those that can leverage their data in meaningful ways and have visibility into their integrations to ensure their data channels stay open. Connecting this data into a unified data source is a huge opportunity for businesses to ensure they efficiently manage the growing complexity of their business and data.
To that end, Vision33 has introduced the Saltbox Platform, a born in the cloud iPaas (Integration Platform as a Service) solution for enterprise integration, workflow and collaboration between business applications. Saltbox is designed and built as a cloud-centric tool specifically for connecting transactional data between critical business systems. Additionally, Saltbox provides for integration and workflow construction in a manner that allows for intelligent human intervention in input, approvals and exception handling. Said another way, your business can keep a closer eye on all your mission-critical application integrations with SAP Business One and other applications.
Stay Current on Enterprise Technology Innovations and Trends
For more information about enterprise technology and emerging trends for 2020, listen to Vision33's Connected Enterprise podcast for small to midsized enterprises. Tune in to each episode as host Carl Lewis asks the great minds of the enterprise technology industry how they keep their businesses connected.