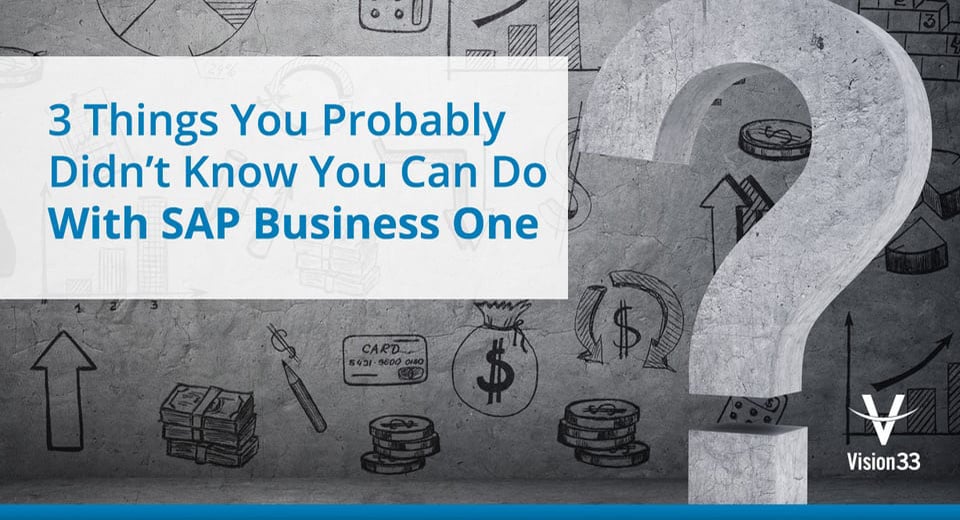 You probably know SAP Business One delivers processes built on best business practices. But did you know SAP Business One provides specific task-based features designed to help you manage your business more efficiently every day?
Here are three things you probably didn't know you can do with SAP Business One that will make your finance team smile.
Manage Employee Expense Reimbursements
When asking the accountant about tracking employee expenses, the response is generally prefaced with a groan. Often, a lot of internal accounting resources are required to ensure these expenses are recorded properly, and the expense and payable accounts are correct.
Expense Type to the rescue. SAP Business One allows you to set up an unlimited number of custom, predefined expense types to streamline this process. You can specify the name, general ledger account, whether the company pays the expense type, and apply a tax rate code. Additionally, when setting up your employees, there's now a Business Partner Type for Employee, which ensures the use of this feature. When you select the employee in an AP invoice or AP credit memo, SAP Business One automatically brings up the Expense Type transaction window – no more searching through pages of general ledger account numbers, hoping you select the correct account.
Manage Month-End Accruals for Goods Shipped but Not Yet Invoiced
Managing month-end accruals is critical to ensure the accuracy of your financial statements. When the delivery of inventory and the issuance of the AR invoice occur in different posting periods, a month-end adjustment is necessary to reclassify these amounts from the profit and loss statement to the balance sheet. This requires investigating which transactions require reclassification, then preparing a journal voucher with supporting documentation for review by another member of the accounting team, after which the accrual may be posted. Errors have the potential to misrepresent your monthly profitability on your monthly financial statements.
By enabling the Shipped Goods Account, when the inventory delivery and the AR invoice occur in different posting periods, you can post the inventory delivery to the shipped goods account directly instead of the COGS account. The balance sheet will accurately reflect the inventory delivery instead of the profit and loss statement, and your monthly net profit will automatically be recorded following generally accepted accounting principles. You minimize the risk of misstated financial statements while gaining valuable time at month-end by eliminating a manual process.
Manage Price Lists for Net and Gross Pricing to Customers
"All of my customers purchase from one retail price list. However, for select customers, I agreed to cover their sales tax. For instance, the retail price for my Go-Ped Pro-Ped Scooter is $1,384.50. A 'regular' customer in California pays $1,505.64, which is the retail price plus sales tax. Select customers only pay $1,384.50. You might say the retail price is their 'gross' price…"

Managed at the Business Partner level, this feature automatically calculates the correct price for your customers, leveraging one price list, without the need to manually calculate any prices at the document level.

To learn more about managing price lists, click the button below to watch this video. To access more videos just like this one by registering for our SAP Business One Resource Site.