Access real-time data, make swift decisions regarding routes to market or changes in demand, and streamline your operations with SAP Business One WMS.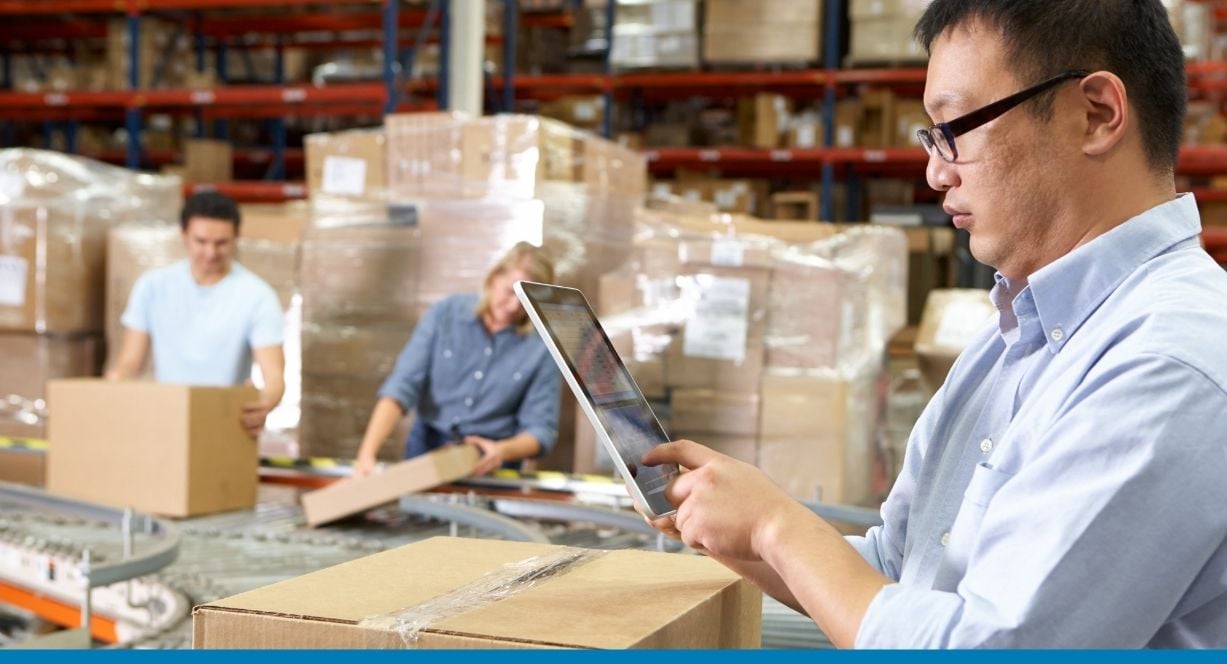 Today's small and midsized businesses (SMBs) need to navigate a disrupted supply chain, simplify IT, and optimize order management and fulfillment processes to run efficient and profitable warehouses.
Integrating your enterprise resource planning (ERP) solution with a warehouse management system (WMS) is an ideal way to boost productivity and profitability. Let's look at four business growth challenges that you can overcome with a WMS solution.
Order Management
Your customers expect to be able to conduct business with you in the channel they prefer. While you can take orders by phone and email, these methods require manual data entry and increase the chances of mistakes. And any added constraint in doing business with your company may give a customer reason to look to the competition for more convenient methods of doing business.
WMSs like SAP Business One are built upon mature, extensible software that enables businesses to seamlessly integrate web-based portals, which empower your customers with a secure, flexible, and personalized self-service gateway.
Inventory and Traceability
Highly regulated industries—such as food and beverage, life sciences, and pharmaceuticals—need to be able to track their products throughout a complex global supply chain and have a full audit trail to comply with government and industry guidelines. SAP Business One WMS optimizes inbound and outbound logistics and enables businesses to meet strict regulatory requirements for traceability, all while delivering cost savings to the business.
Your warehouse manager may want to control and prioritize inventory based on multiple criteria. For example, they may want to choose allocation based on a sales order grid. Older WMS systems offer some basic functionality, but SAP Business One WMS gives users robust functionality that seamlessly connects with SAP Business One's centralized inventory database.
This provides accurate information about inbound and outbound shipments, inventory, and item location. You can value inventory using standard costing, moving average, FIFO, and other methods; monitor stock levels; and track transfers—all in real-time.
Compliance With Industry Standards
In an industry built around getting the right product out the door as quickly and efficiently as possible, its no wonder that compliance standards continue to change and evolve. If your business can't easily comply with the latest regulations, you may fall behind your competitors that are able to guarantee compliance and instill customer trust.
You're likely familiar with GS1, a global standardization body in the supply and demand chain—your current solution may even support it. But if you're in the food and beverage or medical device industry, does your business have support for things like Product Traceability Initiative (PTI)? Even if your current WMS provides support for current industry standards, what about tomorrow?
The Right Tools
Enough with the paper pick lists. Mobilizing your workforce inside the warehouse is a no-brainer, and this is another area where SAP Business One WMS delivers. A well-equipped workforce is empowered to get answers to questions right away. And by eliminating manual processes, your employees will have more time to focus on tasks that deliver value and bring in revenue.
Learn More
Warehouse automation has never been more important. Your warehouse can be one of the most critical parts of your business. Whether you're experiencing dips in demand, or struggling to keep products in stock, a WMS can keep your business up to speed with any changes coming your way.
Watch the recording of Vision33's webinar The WMS Assist for Next Normal Profitability to learn how you can access timely and pertinent data, make swift decisions regarding routes to market or changes in demand, automate your processes, and streamline your operations.