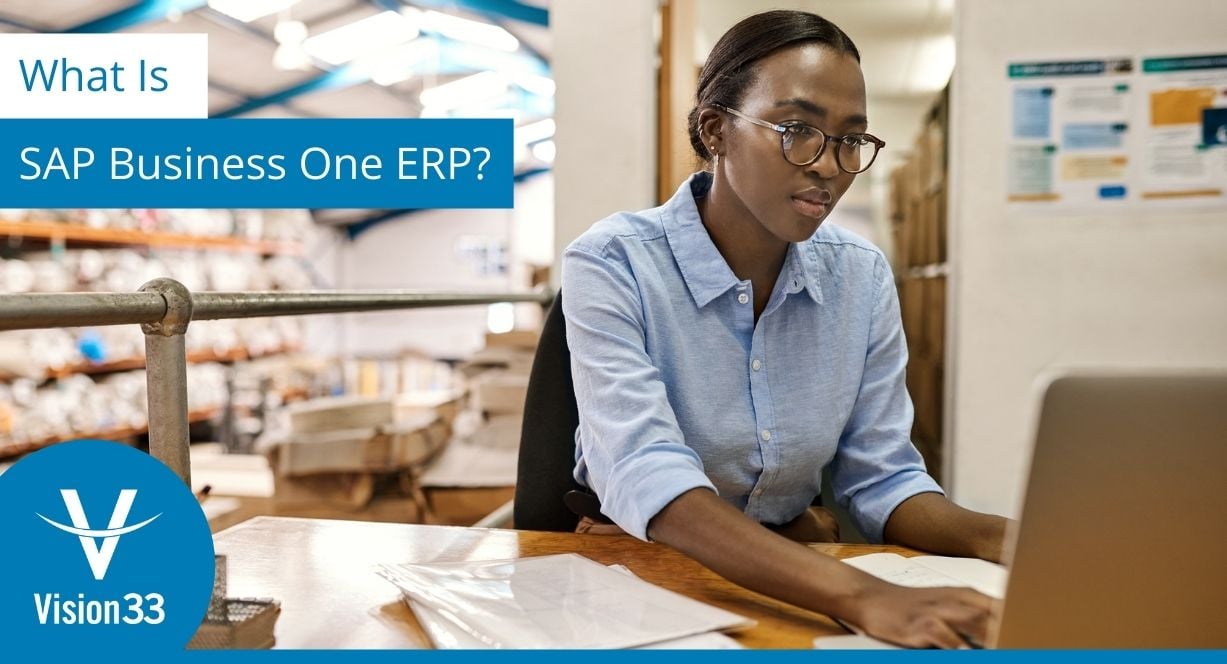 Growth is exciting for small and midsized businesses, but it comes with challenges. New competition, changing customer demands, a more complex supply chain, and retaining talent are common growing pains. At Vision33, we help businesses that have outgrown their technology.
Many businesses start with small business accounting applications like QuickBooks. However, once meaningful growth occurs, that beginner software loses its luster. They start using spreadsheets as workarounds, wasting time, and making expensive mistakes.
Change isn't always easy, but maintaining the status quo hinders growth. As forward-thinking business leaders explore new options, they encounter enterprise technology—a robust category of business management software.
Enterprise Resource Planning
Enterprise resource planning (ERP) solutions are a category of business management software that enable you to connect the core functions of your business, including accounting, finance, sales, inventory, manufacturing, human resources, and customer relationship management (CRM).
By eliminating siloed data and connecting everything on one platform, you can share information across all departments and with your vendors and customers. From a production worker to the CEO, ERP provides visibility into the entire operation.
SAP Business One
While there are many products on the market, ERP solutions aren't created equally. At Vision33, we live and breathe SAP Business One because of its ability to help growing businesses attract new customers, increase revenues, improve productivity, and gain a competitive edge.
With over 60,000 customers and one million users in 150 countries, SAP Business One is the preferred ERP solution for growing small and midsized businesses in multiple industries. And with cloud, on-premises, and hybrid cloud deployment options, businesses can choose what makes the most sense for them.
Benefits of SAP Business One
SAP Business One is both easy to use and extremely powerful. You'll always have real-time information and insightful reports at your fingertips—anytime, anywhere, on any device—so you can make fast, confident decisions.
You can refocus the time you save by running your entire business with SAP Business One on strategy, innovation, and superior customer service. And as your business grows, SAP Business One grows with you. Its flexibility adapts to your business processes, not the other way around. That means SAP Business One is the only business management solution you'll ever need.
Learn More
Dive into our SAP Business One Info Kit to explore the affordable, all-in-one ERP solution designed specifically for growing small and midsized businesses. You'll find solution briefs, videos, demos, and a webinar series to understand how SAP Business One can help your business run simple, grow fast, and drive profit.