Businesses are digitally transforming to reduce workloads, save money & more. Learn these digital transformation strategies you'll need in the New Year.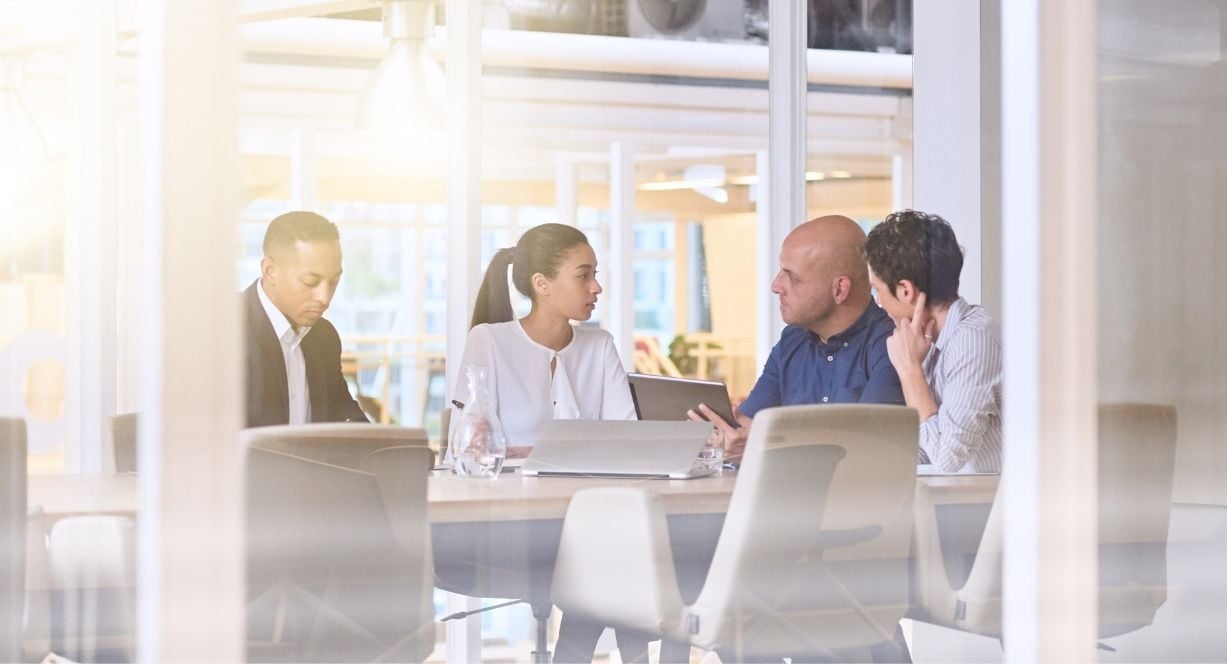 Digital transformation has been a buzzword for years, but it became a reality for many businesses in 2020 when the pandemic fueled a dramatic online shift and made it a necessary cost of doing business.
Businesses continue to digitally transform for various reasons—to reduce workloads, save money, sell products online, stay relevant, keep up with the competition, and more.
Digital transformation doesn't have a one-size-fits-all approach, but the result is always the same: businesses that run better because they use technology to create new, or modify existing, business processes, culture, and customer experiences to meet changing business and market requirements.
As you conduct your 2022 business planning, consider these four digital transformation strategies.
Prioritize Your People
If you're planning a digital transformation, be prepared for resistance. Change is hard, so seek the enthusiasts in your organization and designate them to help lead the charge. Inspire and excite your team by discussing the value digital transformation can unlock. For example, explain that new or modified technology can eliminate manual tasks, accelerate time to market, boost sales, improve product positioning, and keep customers happy.
Encourage your employees to reimagine their work environment and daily activities. Together, come up with goals and the reasoning behind them. Solicit their input. Your business can't digitally transform unless your people use the technology.
Leverage Your Data
Although you may feel like you're drowning in data, it's your business's most valuable asset. If you use a small business accounting application and rely on spreadsheets to manipulate data, you're losing time and making mistakes—and by the time you compile the data, it's outdated.
A smart way to start your digital transformation is by finding technology that automates routine accounting tasks and provides real-time data and customizable, meaningful reports. Real-time data provides a single source of the truth, enables new insights that lead to solid decision-making, and offers a clearer picture of your business performance so you can course-correct and plan for the future.
Track Key Metrics
You won't get your desired results if you don't track your progress, so conduct frequent check-ins as you move through your digital transformation. Identify what's working well and replicate it in other business areas.
Here are examples of metrics to measure and track:
Are goals being met faster?

Is productivity increasing?

Are employees happy?

Is the business more agile and adaptable to disruptions in the industry?
Also, your customers must be a critical focus as you measure your progress. Make sure changes don't affect those relationships or compromise their information.
Partner With the Experts
Although your IT staff may not have the full breadth of capabilities to undertake a digital transformation, they're an integral part of the process even if you engage a technology consulting firm.
Partnering with an outside firm offers many benefits. The first is obvious: They're experts with a broad range of technical knowledge and experience. They'll also provide fresh ideas, supplement your in-house team with specialized skills, and speed up your digital transformation.
Do your research before choosing a technology consulting firm. Good firms will have online resources like whitepapers, eBooks, and information kits. Interview firms as you would prospective executives. Make sure the firm's consultants understand and fit in with your business culture.
Learn More
Digital transformation doesn't have to be complicated, expensive, or disruptive to your operations. To learn more about it, visit the resource site below for blogs, customer success videos, on-demand webinars, demos, eBooks, and more.