Successful digital transformations lead to better customer and employee experiences, increased productivity, and improved profitability. Learn more.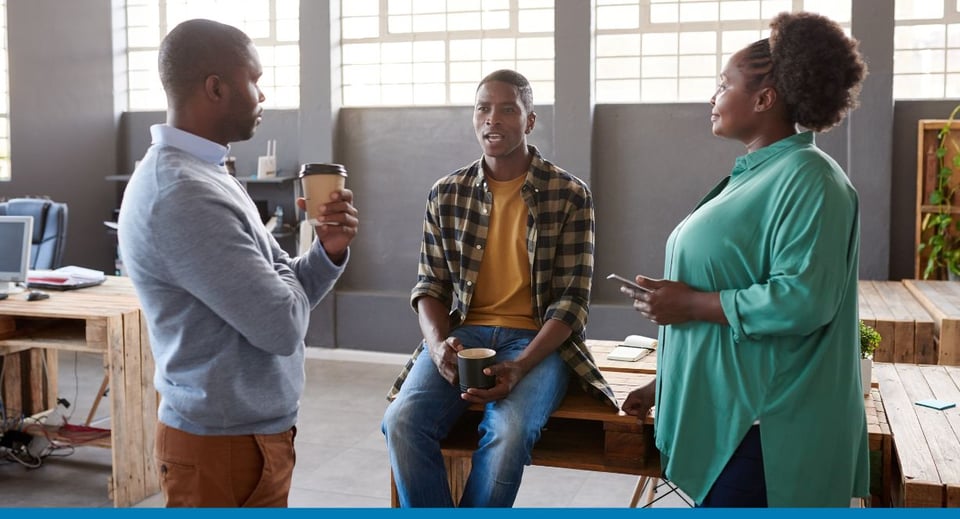 This post was updated in June 2023.
The pandemic was a wake-up call for organizations of every size and industry. Those that quickly pivoted using technology (e.g., eCommerce) remained agile and relevant during the global lockdowns and ensuing turmoil.
Many organizations are continuing their digital transformation journeys—or just getting started.
What Is Digital Transformation?
There are many definitions of digital transformation, but we like to keep it simple: Digital transformation is adopting new—or modifying existing—technology to make your business run better.
Organizations are often driven to digital transformation by outdated and inadequate software, disconnected business applications, expensive on-premises hardware, paper-based processes, and labor-intensive tasks.
Digitally transformed organizations have better customer and employee experiences, new efficiencies, increased productivity, lower operating costs, and improved profitability.
What Does a Successful Digital Transformation in the Office Look Like?
Digital transformation requires a financial commitment, executive buy-in, a leader to spearhead the initiative, and constant communication.
Many companies don't realize that digital transformation is an ongoing journey that begins with one small step. You can't fix everything at once, and dramatic change won't happen overnight. To be meaningful and lasting, digital transformation is a process that involves solving your organization's pain points one at a time.
Creating a Digital Transformation Initiative Championed by Employees
Digital transformation should take a bottom-up (versus a top-down) approach. Talk to your employees and solicit their ideas about creating an organization that runs and serves customers better.
Together, build momentum and excitement about solutions that will make everyone's jobs easier. Collaborate to devise a clear and compelling case for digital transformation and help your employees understand they'll be a crucial part of the process. Let them know training will be available, they'll have time and space to experiment (and make mistakes!), and your door will always be open for ongoing conversations.
Digital Transformation Can Include the Following:
Technological Infrastructure: A strong technological foundation is crucial for a successful digital transformation. This includes robust hardware, reliable software, high-speed internet connectivity, and secure data storage. The office should have the necessary hardware and software infrastructure to support digital tools and applications seamlessly.

Cloud Adoption: Embracing cloud computing is a significant aspect of digital transformation. The migration of data and applications to the cloud enables enhanced scalability, flexibility, and accessibility. Cloud-based solutions offer centralized data storage, collaboration capabilities, and remote access to critical business systems from anywhere, promoting efficiency and agility.

Enhanced Collaboration and Communication: Digital transformation fosters improved collaboration and communication among teams. Implementing collaborative tools, project management software, and virtual meeting platforms enhances teamwork, enables efficient information sharing, and breaks down geographical barriers. With the right digital tools, employees can collaborate seamlessly, leading to increased productivity and innovation.
Choosing the Right Solution
Before you know where your organization is going, you need to understand where it is. Talk with your IT staff and inventory your hardware and software. Are you paying for applications no one uses? Is your data secure? Could you eliminate the costs of on-premises servers and maintenance by moving to the cloud?
Your organization's digital transformation and the technology you choose will depend on your needs and industry. For example, manufacturers can transform their operations with an enterprise resource planning (ERP) solution that integrates production, profitability measures, electronic data interchange (EDI), supply chain management, and shipping logistics.
A non-profit organization may consider a cloud-based financial management solution that improves connectivity and visibility while delivering detailed insights to accelerate mission success.
Some organizations' needs are as simple as banishing spreadsheets and automating tedious everyday tasks.
Regardless of your needs, align your digital transformation goals with your organization's mission and values. Never stray from what your organization is about at its core.
Evaluating As You Go
Communicate consistently throughout your digital transformation journey. Use collaborative tools like Zoom to have regular facetime with employees and discuss progress.
Not everything will work out as you planned—and that's OK. This is true internally and externally; maybe you thought your customers would benefit from something new, but their feedback says otherwise. Concede when something isn't working, adjust your plan, and move on.
Partnering With the Right Consultant
You don't have to travel your digital transformation journey alone. But if you want an expert's help, dig deep. Conduct thorough research, including a consultant's track record, stability, and references. Read the whitepapers and eBooks on their website. You can even develop a request for proposal (RFP). And when you meet potential consultants, make sure their priority is understanding your organization—not the other way around.
Why is Digital Transformation Important?
Digital transformation is important because it provides organizations with a competitive advantage in the rapidly changing business landscape. By embracing digital technologies and optimizing their processes, companies can become more efficient, agile, and innovative. This enables them to respond quickly to market changes, customer demands, and emerging trends, giving them an edge over their competitors.
Learn More
To learn more about digital transformation, download our free comprehensive eBook below.