Despite common SaaS myths, it's never been easier or more secure to move to the cloud and adopt a modern solution like Sage Intacct. Learn more here.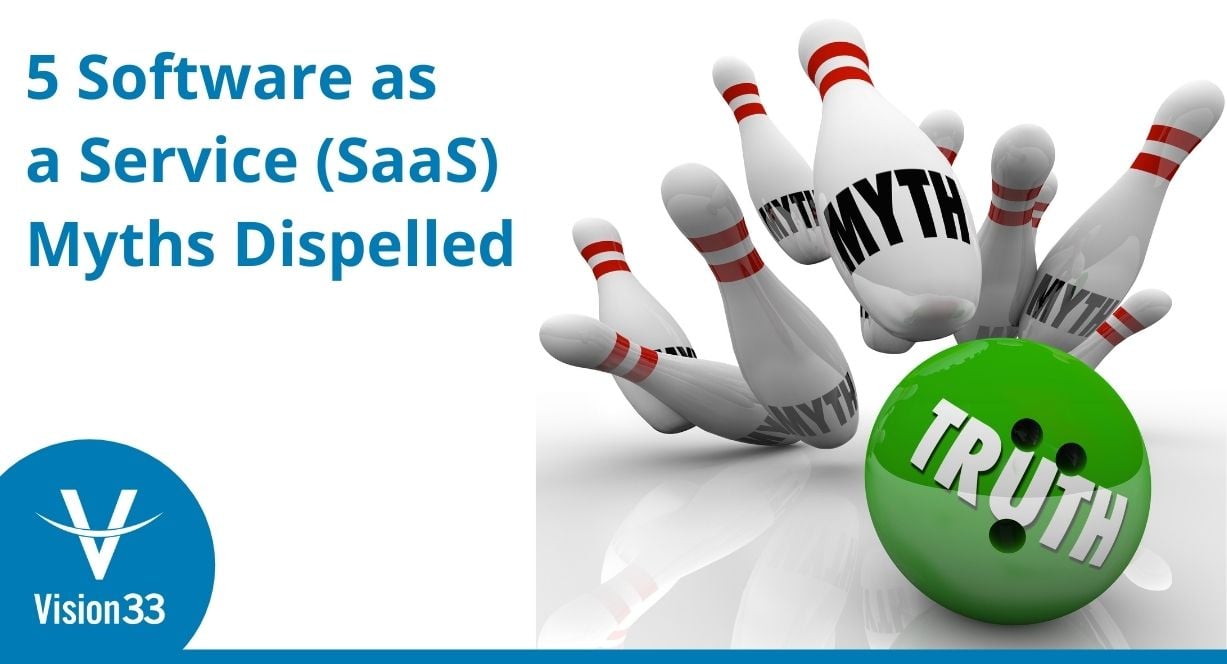 Many small and midsized organizations are adopting new business models like software as a service (SaaS) and moving their financials to the cloud. These organizations enjoy powerful analytics, improved long-term customer relationships, and higher adaptability to change.
Some IT managers remain skeptical. They believe relinquishing control of servers, mission-critical applications, and valuable data to a cloud provider is risky – but these concerns stem from outdated perceptions. It's never been easier or more secure to take flight to the cloud and implement a modern financial management solution like Sage Intacct.
Here are five of the most common myths about SaaS and the cloud.
Moving to the Cloud Means Losing Control
Reality: Cloud service providers have spent 20+ years becoming experts at managing computing infrastructure, installing and testing applications, implementing updates, and safeguarding against cyberattacks.
IT professionals never relinquish control to a cloud provider; their role in choosing vendors, maintaining relationships, managing data, and monitoring SLAs is critical. When moving to the cloud, IT pivots from configuring equipment to powering an organization, making its purpose more important than ever.
The Cloud Isn't Secure
Reality: Data breaches are most frequently the result of user error, not security failures. The vendor provides infrastructure security for the cloud, but customers are responsible for application and data security. This distinction is important to note, as recent surveys found that more than half of respondents think infrastructure as a service (IaaS) providers are accountable for most or all public cloud security.
There hasn't been a publicly reported major cloud infrastructure breach since 2010. Cloud providers have protections that rival those of the world's largest enterprise data centers. Recent studies prove security is one of the top reasons to move to the cloud.
SaaS Scalability and Availability Isn't a Given
Reality: No one can ever guarantee availability on-premises or in the cloud because of the many factors beyond the hosting provider's control; however, cloud providers are well-equipped to provide reliable availability.
With scalability, cloud providers over-provision infrastructure to avoid issues. For example, the Sage Intacct cloud data center contains 10,000+ CPUs and 100+ terabytes of RAM to handle more than a million application requests each day. Workloads are consistently scrutinized to ensure they never exceed 33% of capacity, giving customers a high level of scalability and performance.
Cloud Applications Aren't Customizable
Reality: Today's cloud providers use extensible platforms for customization and API integration. Businesses can use extensions to add custom fields to invoices without changing the underlying invoicing functionality of the host application.
With an API, that same business can integrate its expense reporting application with its accounting system with no code modification. Extensions and APIs make customization easy and reliable.
SaaS Doesn't Meet Compliance Needs
Reality: Compliance is a complex process, and some laws don't allow SaaS because data must stay on-premises. However, most regulations can be accommodated, and businesses benefit by partnering with software vendors instead of managing compliance themselves.
For example, many businesses spent millions of dollars to comply with the ASC 606 revenue recognition accounting standard. Sage Intacct began preparing three years before this standard took effect and was compliant a year before the deadline.
Learn More
With these myths dispelled, it's evident that SaaS is ideal for businesses that want to achieve the agility the digital world demands. To learn more about SaaS and the cloud, download the whitepaper below.