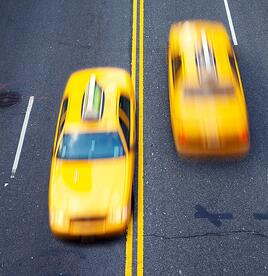 Business speaker and author Simon Sinek once said, "Working hard for something we don't care about is called stress. Working hard for something we care about is called passion". When I read the story of Edmonton, Alberta business, Co-op Taxi that is what comes to mind. It's really the story about wanting to create an ideal customer experience and the technology needed to make it happen. When Co-op Taxi embarked on an SAP Business One implementation, they did so with the passion for their customers foremost in mind. In their own words, "We serve the customer," tells Uday Kumar, General Manager, Co-op Taxi. It's a simple approach to a primary service - transportation. But when you empower highly skilled and safe drivers with technology, that service quickly becomes the first choice for passengers.
In the competitive transportation service industry, repeat business is critical to success. Businesses need to stand out and create killer customer experiences that 'wow' the customer and keep them coming back. That's not always easy for taxi companies in busy cities. But for Co-op Taxi, this was accomplished through technology – SAP Business One and an unlimited number of possibilities to make the system their own. They are now offering online bookings through Android and iOS apps; enabling drivers to locate their next passenger through mobile devices. Vision33 has also integrated the company's taxicab scanners with SAP Business One. Now when a driver scans the voucher it is automatically uploaded to the system, tagged with a unique ID number and automatically creates an invoice for each customer.
Co-op Taxi also sees how technology can benefit their employees as well. Going forward, the company's goal is to implement an employee portal seamlessly integrated with SAP Business One, where drivers can query transaction details over the last few years for taxation purposes. Kumar explains, "If drivers want to pull up details on a transaction within the last few years for taxation purposes, they won't need to physically go to the Co-op Taxi dispatch and look for the transaction. Everything will be available on the website, fully integrated with the accounting and dispatch system. That will put our fast growing cab company miles ahead of local competitors."
With Co-op Taxi's dispatch system now fully integrated with SAP Business One, the company has given the green light to Vision33 to find additional ways to leverage the solution and create value for customers. The company is also looking into a new SMS service to provide more convenience to its technology-enabled customers by providing an easier way to call for a taxi; an added service made possible by the flexible foundation offered by SAP Business One. "We haven't seen a business management solution specific to a taxi company on the market but that is exactly what Vision33 has provided for Co-op Taxi," concludes Kumar.
Want to read more on how Co-op Taxi delivered a killer customer experience through SAP Business One. Read the full story here.