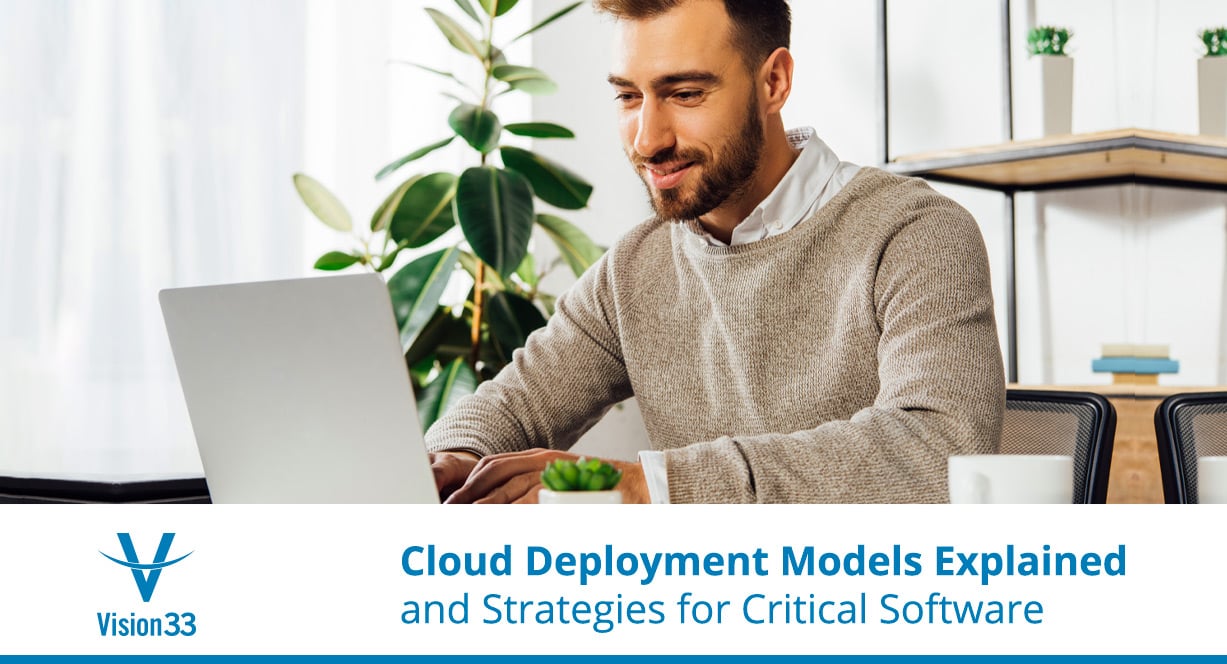 When it comes to deployment options for your next significant enterprise technology investment, you've got a lot of options: From on-premise, all the way to software as a service (SaaS) model and everything in between. It's not surprising, then, that some businesses reach a hurdle when evaluating their deployment options for Cloud ERP. It can be hard to determine the difference between single-tenant or multi-tenant and questions like "what is the real ROI for your business when looking at Cloud versus on-premise?"
Vision33's latest webinar, 'Deployment Strategies for Critical Software,' aims to set software deployment options straight. Businesses who are either evaluating enterprise resource planning (ERP) solutions for the first time or are interested in understanding how the Cloud can benefit their business and help them navigate the pandemic's disruption should take note.
A Strong Case for Cloud ERP Deployment
Vision33 has written at length on the topic of digital transformation. However, the global pandemic has highlighted how Cloud deployment should be top of mind as businesses look to digitize further.
From deploying new sales channels, reducing the total cost of ownership (TCO) of your IT backbone, to increasing flexibility in response to supply chain demand fluctuations; these are among the many benefits that Cloud deployment can bring. Whatever your use case, Cloud deployment offers businesses great flexibility.
The Sky's the Limit with Cloud ERP Deployment
If you're currently evaluating the Cloud, you've likely come across the terms Cloud, On-Premise, Multi-tenant, or SaaS. Each of these options offers benefits that can help a business select their Cloud deployment alternative while addressing accessibility concerns, disaster prevention and recovery, staffing and skills shortages, and access to real-time information for improved decision making.
But step one is understanding the difference so that your business can make an informed decision. In the webinar, 'Deployment Strategies for Critical Software,' we cover:
Different deployment options such as Cloud, SaaS, Multi-Tenant, and more
How different deployment options can help with accessibility concerns, disaster prevention and recovery, staffing/skills shortage, and access to real-time information
Why some options are ideal for particular businesses and situations
And more
Remove the Confusion Around Software Deployment Options for Your Business
Watch Vision33's webinar recording Deployment Strategies for Critical Software to get answers to all your Cloud deployment related questions today.