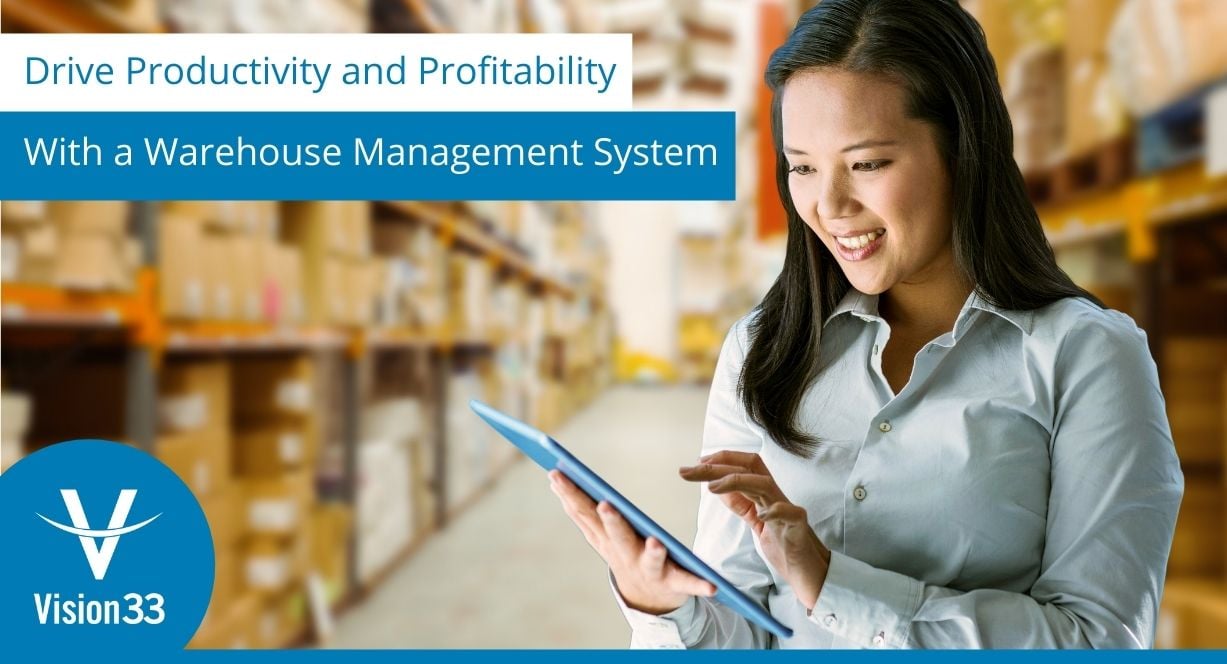 In a Vision33 webinar titled "The Warehouse Management System Assist for the Next Normal Profitability," Vision33 TOTAL Care Wednesday Webchat host, Carl Lewis, was joined by special guests Joris Van Ongevalle, Vice President Global Sales and General Manager at Boyum IT Solutions, and Luc Van de Perre, Channel Manager EMEA, Boyum IT Solutions, for a product demonstration of the Produmex WMS solution for SAP Business One. Company logistics are under more pressure than ever and Produmex can help businesses operate more efficiently in areas where they need it.
If you'd like to watch the presentation rather than read about it, you can skip to the video link below.
What is Produmex WMS?
Produmex WMS for SAP Business One extends the standard functionality of SAP Business One with functions supporting shop floor operations in the areas of production, packaging, inventory management, and logistics (inbound, picking, shipping).

In the webinar, Boyum IT's Ongevalle outlined the top five challenges facing the industry, the efficiencies businesses can expect when adopting a warehouse management solution (WMS), and then closed with a live demonstration of Produmex WMS for SAP Business One.
Here are a few highlights from the presentation.
Challenges Facing the Warehousing Industry
Ongevalle says that businesses are hard-pressed to meet regulatory requirements, especially in the food and beverage and life sciences industries. Today, there's also an emphasis on eCommerce sales channels, a global trend that has rapidly accelerated over the past year and a half. At the warehouse level, businesses need to ensure their workers' health and safety on the ground floor. As always, companies are facing pressure to minimize their costs, and all the while maintain hard-earned customer relationships.
How WMS Solution like Produmex WMS Can help
For the last ten years, Ongevalle has visited hundreds of small to midsized enterprises (SMEs) across the globe, and the successful ones all share several things in common:
They minimize operational costs
They strive to become more efficient
They maximize customer satisfaction
They look to become more agile
They improve inventory management with real-time reporting
That's where the Produmex WMS solution can be built upon a business's core enterprise resource planning (ERP) solution like SAP Business One. Produmex WMS is a complete solution for SAP Business One that transforms logistics processes into finely-tuned operations that drive productivity within a supply chain through its rich feature set.

The strength of warehouse management lies in the completeness of features needed to achieve the five requirements outlined above. From simple inventory transaction processes, license support to customer-focused inventory allocation strategies, sophisticated batch attribute management, and product traceability, Produmex WMS enables customers to become fully compliant with industry exacting standards.
When Is It Time to Adopt a WMS Solution?
According to Ongevalle, "Understanding the needs for a warehouse management system starts with asking questions about your business, especially if you're concerned that your operations aren't as productive or as profitable as you think they could be."

That means that businesses need to review the activities that play a role in the warehouse - including goods receipt, put away order fulfillment, replenishment, shipping, inventory costs, labor costs, equipment challenges, etc.

If a business finds that things like inventory counts aren't as accurate as they could be, or other telltale signs like manual processes causing delays, then it might be time to consider adopting a WMS solution to integrate with your ERP solution.
See Boyum IT's Produmex WMS Demonstration
Today, Boyum IT has over 550 installations of their logistics solutions fully integrated on the SAP Business One ERP solution and have become a household name in the world of ERP. Businesses that adopt Boyum IT's Produmex WMS solution can minimize operational costs, work more efficiently, maximize customer satisfaction levels, become more agile, and obtain accurate real-time inventory management at a location level.

To learn more and to see a live demonstration of Produmex WMS, watch the webinar recording below.