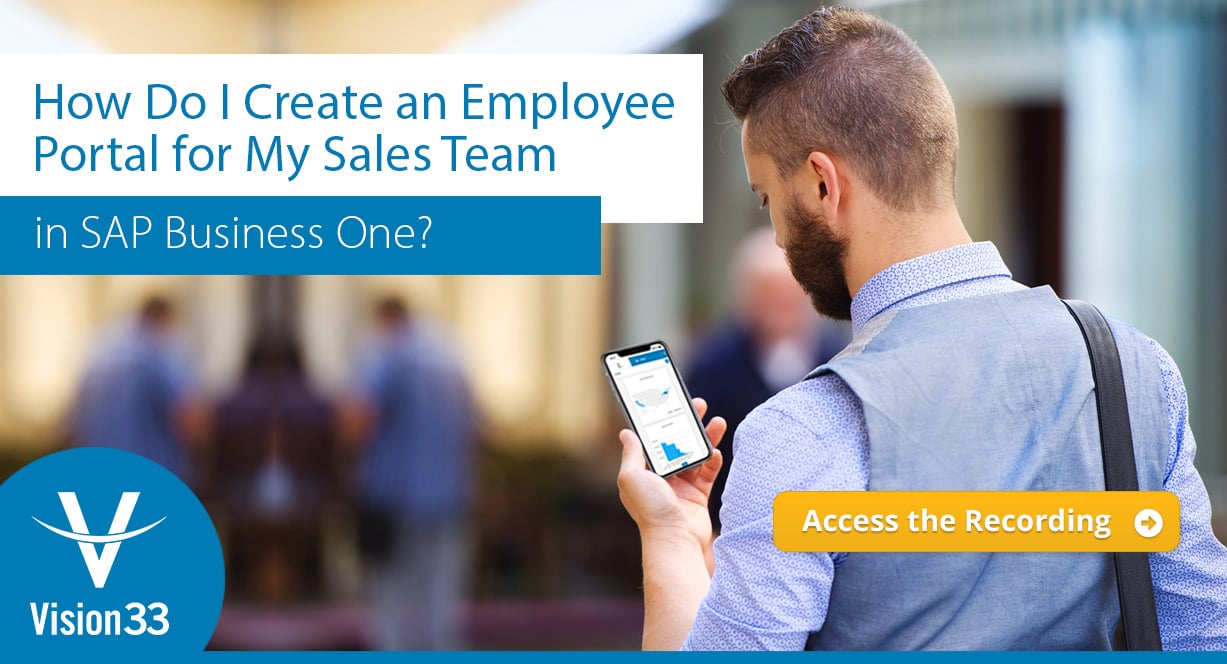 Having access to real-time information in SAP Business One is a hallmark of SAP's flagship solution for the midmarket. Its always-current, always-accurate data speeds – and improves – decision-making. Many businesses want to extend those benefits to their salespeople, but are stumped by the question, "How do we give access to SAP Business One information to sales representatives who spend most of their time in the field?" The answer is a convenient employee web portal configured to meet sales users' needs.
The Vision33 Sales User Add-on for the Employee Portal
Vision33 offers SAP Business One users a full suite of web portals designed to provide your employees access to SAP Business One outside the walls of your organization.
With the Sales User for Employee Portal, you can empower your employees to manage opportunities, track customer activity, submit quotes, and more – all on the web.
With the Employee Portal, your employees can access a company-branded login screen from their laptop or mobile device at any Wi-Fi hotspot or cellular network. It's a convenient gateway to your business's SAP Business One database that's accessible anytime, anywhere.
How to Stay on Top of Customer Account Activities?
The great thing about the Employee Portal is that information access is real-time, meaning there's no need for data synchronization. Your salespeople can rest assured that wherever opportunities arise, they have access to complete, up-to-date information about your customers.
This convenient web portal allows your salespeople to conduct business through an internet connection and web browser. Benefits of the Sales User add-on for the Employee Portal include:
Managing leads and customer tasks, notes, and attachments
Adding, dragging, and dropping opportunities throughout the sales cycle
Submitting quotes and orders for customers
Capturing signatures on deliveries
Want to Learn More?
Join us for the latest on-demand webinar from Vision33. We discuss how you can boost sales and your customers' success with the Sales User Add-on for the Employee Portal.