As companies adapt to global circumstances, SAP Business One customer BrewDog is pivoting operations to stay agile and contribute to crisis response.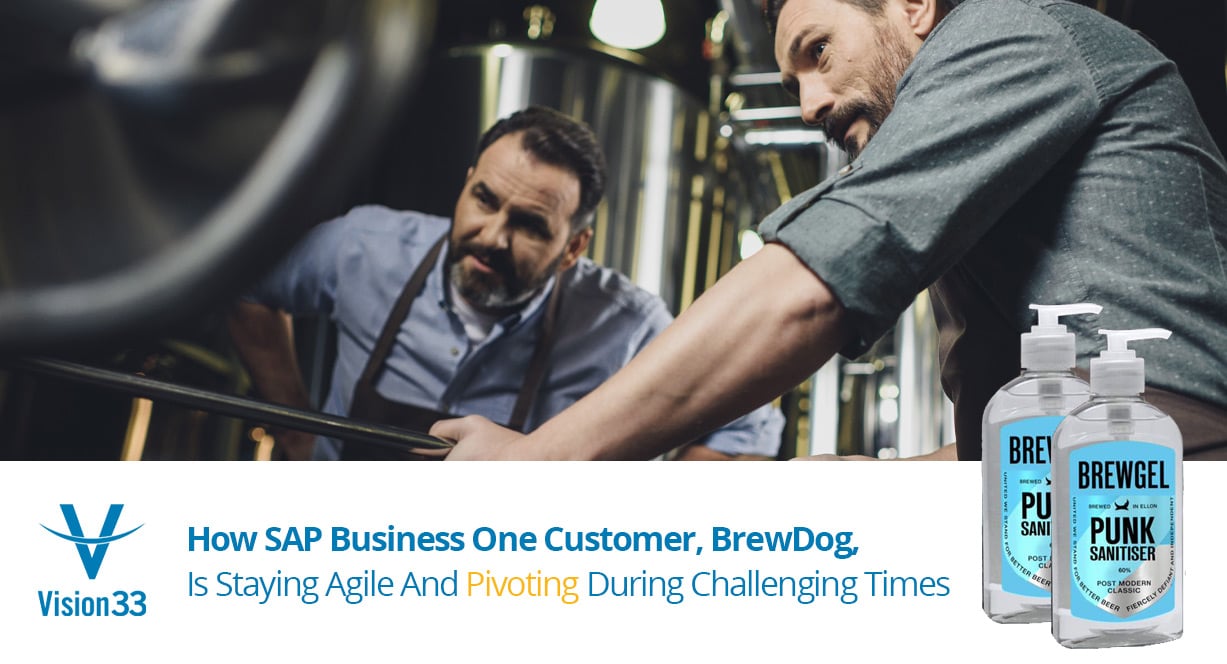 Evolving global circumstances are prompting major operational changes for businesses around the world.
One of Vision33's clients, BrewDog, has responded with agility by making several quick operational pivots and leveraging SAP Business One to stay adaptive in a shifting environment.
Despite external changes that dramatically impact their business, they've been able to react fast and focus on what's most important in the current moment.
Repurposing Production To Make Much-Needed Hand Sanitizer
Given the urgency of hand sanitizer supply shortages, BrewDog has repurposed production processes at their Scotland distillery to make sanitizer gel.
BrewDog is bottling and distributing the sanitizer for free to healthcare and charity organizations with high need. On March 22 they delivered their first batch to an Aberdeen hospital that had none left – only a few days after they first announced they were working on producing it.
Being able to quickly switchover production has allowed the company to make a real contribution to crisis response efforts, getting vital supplies into the hands that need them.
Finding New Ways to Leverage Food and Beverage Solutions
BrewDog already offered UK-wide beer delivery through their online store and Hop Drop app, but they have taken extra steps to leverage their food and beverage solutions in the current moment.
With the closure of bars and restaurants, they've introduced BrewDog Drive-Thru as a new contactless way to serve customers. Using the Hop Drop app, customers can select drive-thru as an option when ordering – allowing them to pick up food and beer orders without ever leaving their car.
Between delivery, pick-up, and drive-thru service, BrewDog has been quick to find ways to adapt to new realities and continue serving customers safely.
Providing Community Remotely Through Virtual Pubs
Continuing to serve customers is about more than food and beverage for BrewDog, though – it's also about continuing to provide a sense of community.
That's why BrewDog is recreating each of its 102 physical locations as a virtual pub. Customers will be able to "visit" their favorite BrewDog spot online starting on Friday, March 27. The online bars will offer live entertainment, trivia games, and even guided beer tastings.
As many businesses and employees adjust to working remotely, outlets like BrewDog's virtual pubs will become important for socializing remotely as well.
Being Prepared With The Right Technology In Place
By leveraging processes and technology already in place, BrewDog has been able to pivot their operations in real-time and find creative ways to contribute to pandemic response.
If you want to talk about how your business might put technology solutions in place – now or in the future – Vision33 has a global team of experts ready to see how we can help.