Exceptional customer service is the key to differentiating your company against the competition and delivering on your value proposition. Learn more.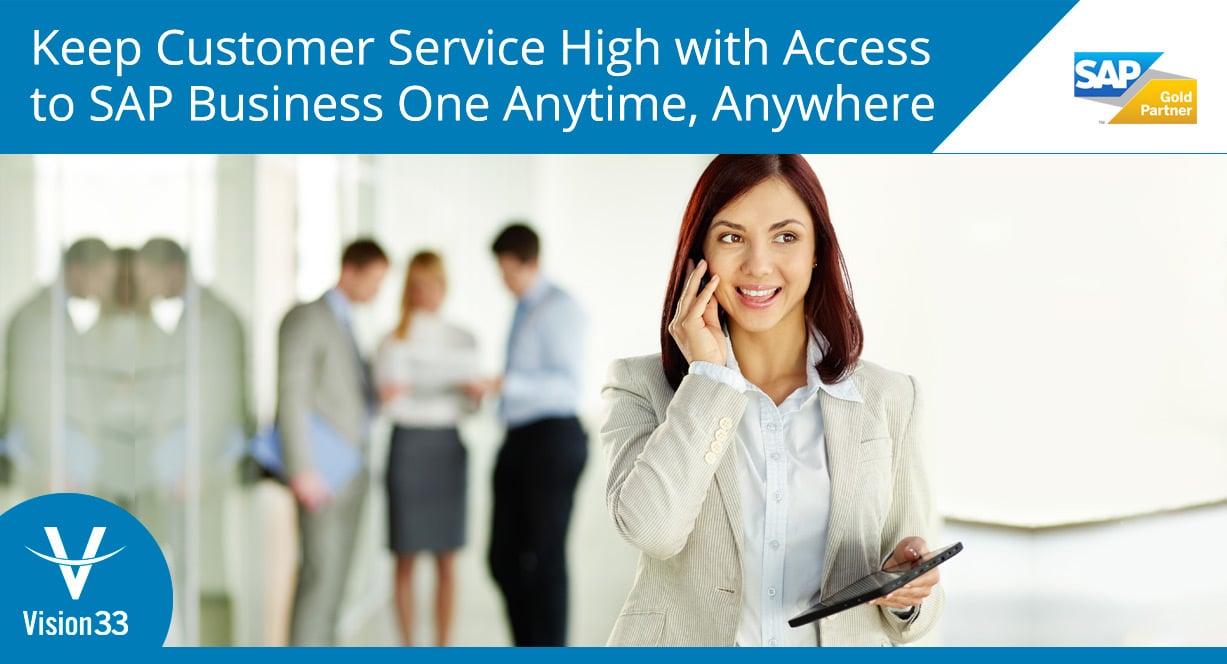 Customer service is paramount for success. In many industries, exceptional customer service is the key to differentiating your company against the competition and delivering on a value proposition. When your business was small, it was easier to ensure that each customer was serviced well. However, as your business grows, the very thing that set you apart from the competition – responsive and effective customer service – may become a limiting factor for your business in achieving its goals for growth.
While you moved your business from a small accounting application like QuickBooks to SAP Business One and obtained clear visibility of your operations, how can you further service your customers and vendors with access to the information they need to do business with you? How can you scale your hands-on approach and high level of engagement with your customers when so many other areas of your business require attention? That's where Vision33 web portal products are advantageous to growing small to midsized enterprises.
Vision33 Portal Products Have the Answer
Give unlimited users access anytime, anywhere to SAP Business One data without the cost of an additional SAP license to view reports relevant to the customer, employee, or vendor function. Accessible via web browser, allowing customers, employees, and vendors to log in on the web anytime to find information they are looking for within your SAP Business One database. All HTML5 browsers you'd expect including Internet Explorer, Edge, Firefox, Chrome, Safari and Opera, Mobile Safari and Android's browser are compatible, casting a broad net of accessibility for those needing access to your database. Navigation enhancements and usability improvements provide an improved user experience, enabling customers everywhere to easily service their account anytime without having to call or email.
Key Benefits of 24/7 Access to your Business Data
With the Vision33 Customer Portal for SAP Business One, a service in the background runs in seconds providing customers with quick access to important reports including order placement, bill payment, service call submission, and more. The Employee Portal enables your salespeople to impress customer at client sites with order placement and delivery sign-off functionality instantaneously. Further to that, with the Vendor Portal you can arm your vendors with a portal to share information about inventory on hand, reporting and more, to know when they need to send your business more stock.
By offering 24/7 access to SAP Business One data through Vision33 portal products, not only can your business provide greater customer service, but you can also help resolve issues before they escalate, generate more revenue for your business through extended service hours, and reach customers that are geographically dispersed.
To learn more about the many benefits of Vision33 Portal products for SAP Business One, watch a short video presentation and demonstration to learn more about how you can focus on the growth of your company by empowering your customers and employees.