If you're experiencing the common growing pains of continuing to use QuickBooks, it's time to consider graduating to Sage Intacct, a Cloud Based Financial Service.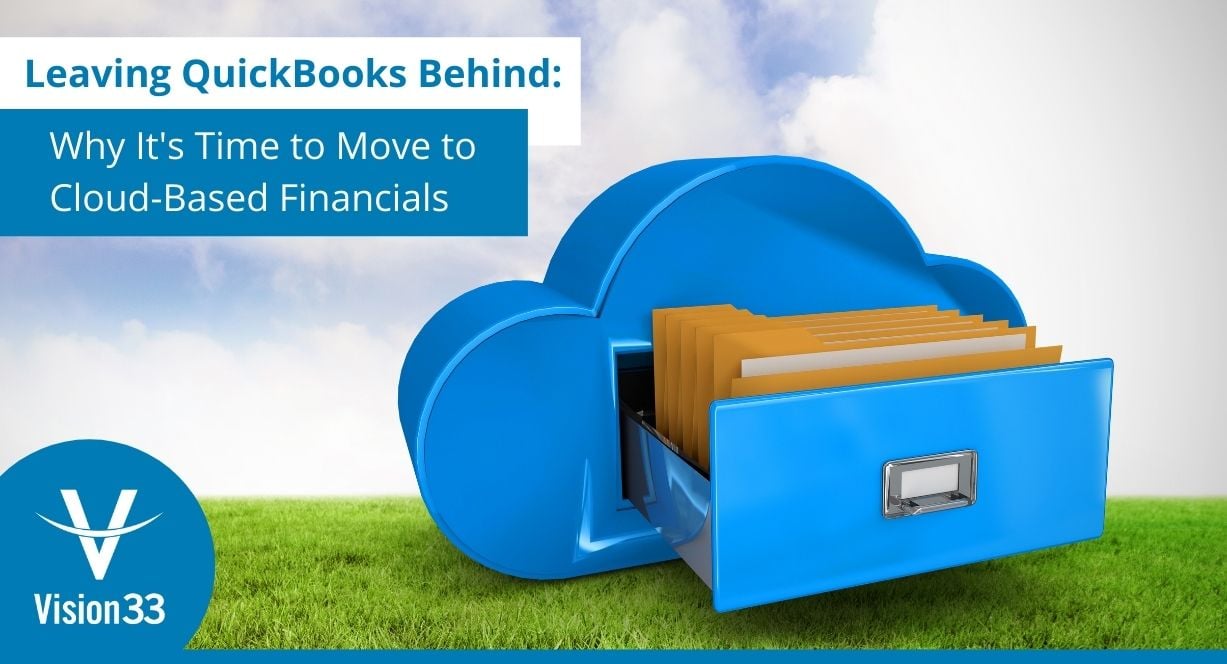 Many startups choose QuickBooks because it's well known, easy to use, and offers straightforward accounting capabilities. And it was an ideal choice to get your small business up and running – but once you experience meaningful growth and become more complex, QuickBooks loses its luster.
You may already experience the common growing pains of continuing to use QuickBooks, like difficulty accessing up-to-date data, feeble reporting, and subpar security. Perhaps you're creating spreadsheets to compensate for QuickBooks' shortcomings, which invites new issues. Manual data entry takes up too much time, copying and pasting causes mistakes, and information is already outdated by the time you piece it together.
If this sounds familiar, it's time to consider graduating to a modern, born-in-the-cloud financial management solution like Sage Intacct.
Here are five surefire signs your business has outgrown QuickBooks:
You're Relying Too Much on Spreadsheets
QuickBooks can't provide high-level financial capabilities for organizations with complex needs like revenue recognition and multi-entity consolidations. That means creating workarounds and exporting data to an increasing number of spreadsheets, which is an error-prone process that wastes valuable time.
Your Fingers Are Cramping From Entering Data
It's not easy to integrate QuickBooks with other mission-critical business applications. If you're manually entering the same data in multiple applications, your productivity is going down the drain. And that tedious data entry is causing expensive mistakes.
You Can't Quickly and Easily Generate the Reports You Need
QuickBooks' weak reporting capabilities and lack of dashboards limit visibility into your business's financial performance. Without instant access to real-time data, you can't get the deep insights necessary for fast, confident decisions about the future.
You're Losing Data Due to System Crashes
Data is your business's most valuable asset, and you can't afford to lose it. Unfortunately, this has become common as QuickBooks struggles to adapt to new business requirements. Many businesses are experiencing long delays within the system and need to reboot it to salvage data. In a worst-case scenario, QuickBooks can crash and vaporize your data.
You Can't Control Financial Processes
Manual processes are unavoidable in QuickBooks. One business reported that errors caused by manual processes and a lack of control resulted in $180,000 of improper expense reimbursements in a six-month period.
Take Flight to Cloud-Based Financial Services
Fortunately, there's a better way: the cloud. And it's never been easier or more affordable to move your financials.
In the past, businesses that had outgrown QuickBooks faced a dilemma: Graduating to mid-market software required new servers and databases, more IT staff, pricey consultants, and years of operational and management services. Then, after hundreds of thousands of dollars, many software implementation projects failed.
The cloud is a game-changer. All you need is a web browser and an internet connection. Because the vendor assumes the IT costs and risks, you don't have to spend money on technology, services, software, or IT staff.
Here are some benefits of running cloud-based financials:
Real-time data anytime, anywhere, on any device
Flexible, customized reporting
Role-based dashboards
Seamless integration with other applications
User-defined workflows for increased productivity
Scalability to grow with your business
Multi-ledger system for high-volume, high-transaction businesses
Multi-scenario planning
Unlimited storage for budgets, forecasts, and other vital reports
Learn More
Resisting change and maintaining the status quo with QuickBooks may be costing you more than you realize. To learn more about Sage Intacct and how it can be a game-changer for your business, download the whitepaper below.