You may not even realize how much extra time you're spending trying to make QuickBooks work for you. See why you should convert from QuickBooks to Sage.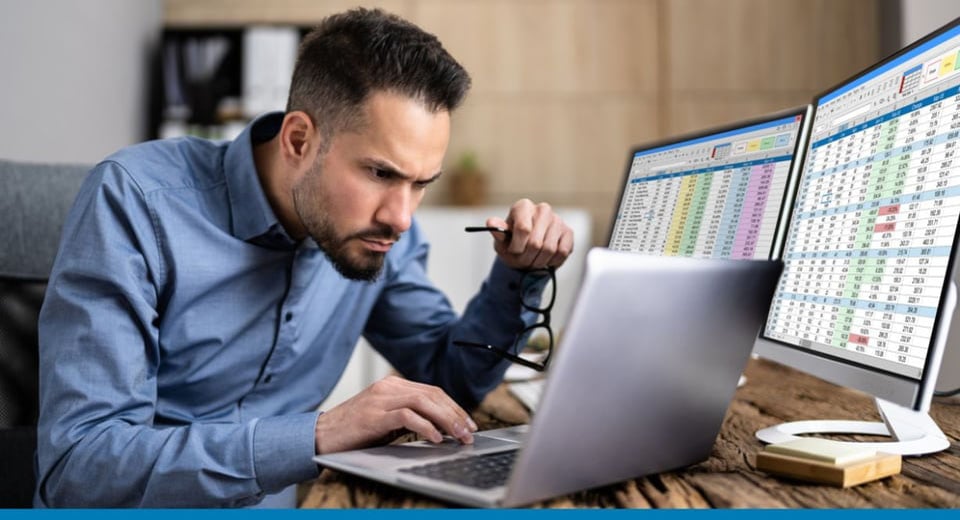 This post was updated in December 2022.
If your small business started its financial life with QuickBooks, you're in good company. With over 80% market share, many startups choose QuickBooks for its name recognition, simplicity, and basic functionality.
But if your small business isn't so small anymore, you may have noticed QuickBooks's limitations. It can't support meaningful growth, provide sophisticated financial management capabilities, or deliver total visibility into financial and operational performance.
QuickBooks also can't automate processes, put real-time information at your fingertips, or allow you to customize functions to meet your business's ever-changing needs.
You may not even realize how much extra time you're spending trying to make QuickBooks work for you. You've grown accustomed to the inefficiencies draining your resources and taking your focus away from strategy and innovation.
But resisting change is costing you more than you think.
Here are four common bottlenecks QuickBooks users encounter as they hit a wall with the software.
Reliance on Manual Processes
Manual processes are inevitable with QuickBooks. Repetitive data entry leads to mistakes, which means you can't get an accurate picture of your business's financial and operational performance.
One company reported that errors caused by manual processes and a lack of control resulted in $180,000 of improper reimbursements within a six-month period.
Lack of Integration
It's difficult to integrate QuickBooks with other mission-critical business applications. And without that vital connection, you need to manually research, enter, re-enter, and verify data that lives in multiple locations.
This error-prone process eats time and leads to revenue leakage, making it impossible to understand business performance.
Data Overload
As your data volume increases, you'll notice menu and screen delays in QuickBooks. It will take longer to print reports, and the software will get glitchy when you perform queries and other basic functions.
And as you crunch increasing amounts of data, QuickBooks will be sluggish, forcing users to exit the program to maintain data files. In the worst case scenario, QuickBooks will crash and lose all its data.
The Dreaded Spreadsheets
QuickBooks doesn't have built-in capabilities for complex accounting processes such as revenue recognition and job costing. Finance personnel often export data to multiple spreadsheets, set up dummy accounts, and create additional journal entries to be entered each month.
Some companies even create homegrown workarounds to record revenue or expenses outside the system. This data manipulation leads to expensive mistakes, wasted time, stale data, and security risks.
There's a Better Way
Until a few years ago, companies that outgrew QuickBooks had to make huge, risky investments to purchase, install, and run traditional mid-market financial software. They had to buy servers and databases, hire more IT staff, bring in pricey consultants, and commit to years of operating and managing inadequate software. Upfront costs could be hundreds of thousands of dollars, and implementation projects often failed. It's understandable that many companies kept QuickBooks.
Enter the cloud. It may seem like an elusive concept, but you use it every day when you search on Google or order from Amazon. And a new generation of cloud-based financial management software has completely changed the game for companies that need to graduate from QuickBooks. All you need is an internet connection and a web browser—no need to invest in technology, servers, software, or IT.
If the pain points we outlined struck a chord with you, look at Sage Intacct, a powerful cloud-based financial management solution.
Intacct is the only preferred provider of the American Institute of Certified Public Accountants (AICPA) and it's ranked #1 in customer satisfaction on G2, a third-party software review site.
Sage Intacct offers:
Anytime, anywhere, any device access to real-time data
Flexible, customized reporting
Role-based dashboards
Seamless integration with other applications
User-defined workflows for increased productivity
Scalability to grow with your business
Multi-ledger system for high-volume, high-transaction businesses
Multi-scenario planning
Unlimited storage for budgets, forecasts, and other vital reports
Learn More
Download the comprehensive whitepaper below to learn more and see an apples-to-apples comparison of QuickBooks and Sage Intacct, including annual ROI and direct and indirect savings.