Maintenance for SAP Business One 9.3 was ended. If you haven't upgraded to version 10, here are some reasons to consider doing so. Read more.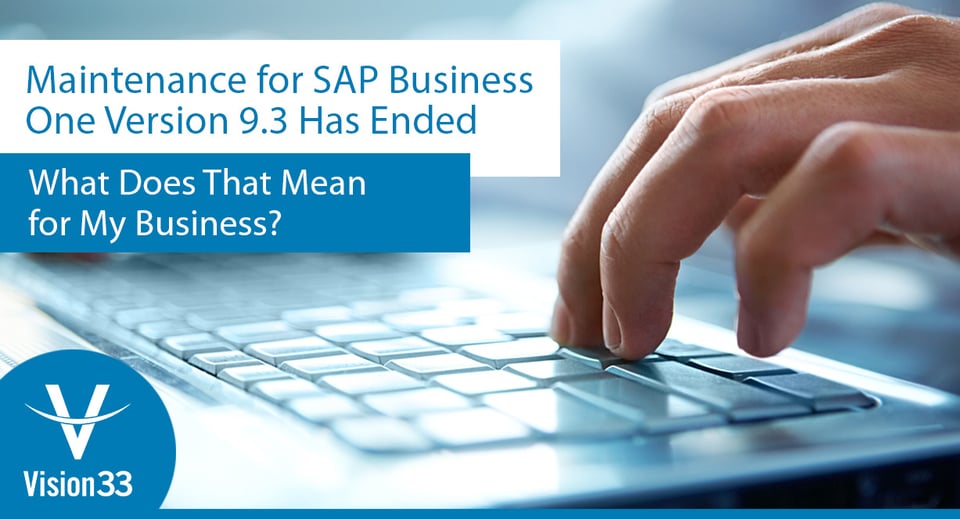 Innovation drives financial systems leader SAP. Each new version of SAP Business One features significant upgrades that offer users access to software enhancements, allow them to keep pace with innovation, and help them face the challenges of an increasingly digital world.
However, because SAP shifts its focus to ensure the newest version's success, a new release means SAP discontinues maintenance for the previous release.
Therefore, maintenance for SAP Business One 9.3 (both MS SQL and SAP HANA) ended on June 30, 2020.
To the extent possible, Vision33 Total Care customer support program will support a client's SAP Business One implementation regardless of the version, but in the case we run into an issue where SAP's input is needed, an upgrade may be required.
If you haven't already upgraded to version 10, here are some reasons to consider doing so.
End of Maintenance for SAP Business One Version 9.3
Although version 10 is publicly available and future enhancements/corrections will only be implemented in that version, SAP will continue to provide 3rd level support to SAP Business One version 9.3 users.
As with any software product roadmap, there's support to ensure users can squash software bugs and get patches to update and improve features. Consequently, SAP has revised its maintenance and release strategy.
SAP Maintenance and Release Strategy
The major SAP Business One release followed by its feature deliveries is called the 'SAP Business One release family.' The current release family is SAP Business One version 10.
Starting with version 10, SAP will deliver future enhancements on a major release or feature deliveries schedule.
Major releases contain significant new functionality and/or architectural platform changes.

Generally, the user interfaces remain consistent between major releases and feature deliveries.

Continuous innovation will be delivered quarterly via feature packages.

Feature packages will be delivered quarterly and include new features, corrections, and legal changes.
SAP provides at least five years of maintenance for an SAP Business One release family and related add-on software products.
That five-year maintenance period begins with the general availability date of the major release (e.g., version 10.0) and covers subsequent feature deliveries. These conditions apply:
When a new SAP Business One release family passes the general availability date, the preceding release's maintenance is discontinued.

Extended maintenance is not available for SAP Business One releases and applications.
Why Stay Current with the Latest Version of SAP Business One?
SAP Business One version 10 offered many feature upgrades to the core business modules and a powerful new web client that builds on the design principles established by SAP HANA for an even better user experience. We previewed many of the new SAP Business One version 10 features following its general availability date.
Upgrading to the latest version offers many benefits, including:
Access to the most up-to-date technology and best-class software for your industry

Daily business operations without interruptions

Compliance with legislation

Support for all issues

SAP 24/7 support for system standstill issues

Insurance policy
Upgrade to SAP Business One Version 10 Today
SAP Business One is the backbone of your business operations. Can you afford not to have the latest software? To learn more about the many benefits of upgrading to SAP Business One version 10, please contact your local Vision33 customer relationship manager (CRM) today.