COVID-19 has changed the world, and supply chains must become more flexible to adapt. Here's what DHL has found about supply chain's road to recovery.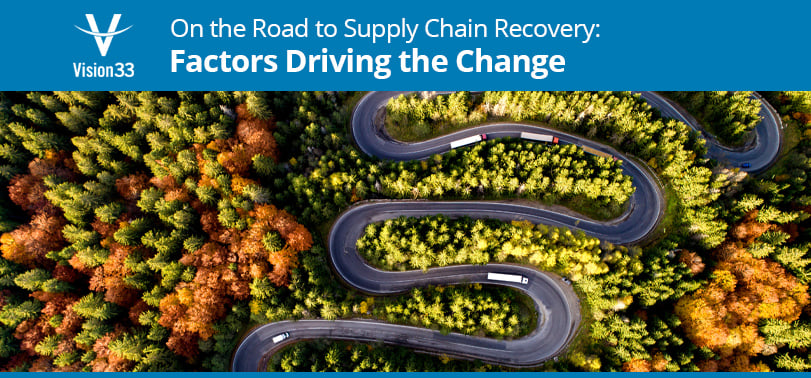 In the wake of the pandemic, businesses and their supply chains face significant challenges – but the ongoing factors forcing supply chains to pause for reflection have the potential for greater triumphs. We live in an era with rapid technological change, and if supply chains can learn to use technology to overcome these challenges, they'll succeed in the "new normal."
In the whitepaper, Post-Coronavirus Supply Chain Recovery: The Journey Towards the New Normal, DHL, the global market leader in the logistics industry, provides insight into the effect the COVID-19 pandemic has had on supply chains.
Supply Chain Disruptions
It's easy to imagine how the pandemic has affected businesses; it's harder to imagine the multiplier effect that ripples through a supply chain. The global economy, trade, supply chains, and the way companies run within them have changed.
Logistics keeps supply chains operating around the world, and when the World Health Organization declared the novel coronavirus SARS-CoV-2 a public health emergency, the effects were felt across the globe. Public health lockdowns throughout Europe and North America curtailed non-essential commercial activities and disrupted complex supply chains like the automotive industry. Border closures and changes in cargo capacity for delivering essential medical equipment meant shipments required alternative modes of transport, such as ocean or rail.
Change Drivers
Businesses are different than they were pre-coronavirus. However, DHL has found that companies haven't immediately transitioned into new ways of operating. Instead, the global economy seems to have entered a 'pre-new normal' phase, where the change drivers facing supply chains are apparent. Critical change drivers include:
Resilience
Diversifying supply chains to make them more resilient has been common for roughly a decade in response to natural disasters like Thailand's flooding in October 2011. Businesses continuously enhance their supply chains by reassessing manufacturing, transportation, and warehouse networks. For example, higher inventory buffers offer better long-term stability – despite the increase in holding costs – because of the pandemic.
Demand
The bullwhip effect analogy describes how a small change in consumer demand can produce an increasingly more substantial ripple effect up a supply chain, from retailers to manufacturers to suppliers. During the pandemic, social distancing caused consumers to make fewer, but larger, purchases at the retail level, which saw shortages and distortion of long-term demand for products. Businesses must assume that demand in the new normal will be anything but conventional or predictable.
Transportation & Warehousing, Workplace
Logistics is a business of people. Employees work in shipping offices, warehouses, ports, and airports, which has created social distancing challenges. Companies have managed this transition with streamlined approaches to operations that will accelerate the adoption of digitization, robotics, and automatic freight handling to coincide with different working practices.
The Road to the New Normal
The coronavirus has changed the world, and supply chains must become more flexible to adapt. But transitioning to more resilient supply chains won't happen overnight. In the 'pre-new normal,' businesses are evaluating lessons learned and must be open to change. To learn more, download DHL's latest whitepaper, Post-Coronavirus Supply Chain Recovery: The Journey Towards the New Normal.