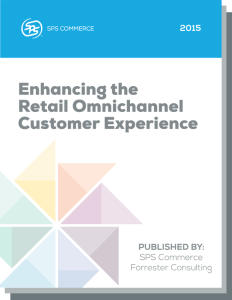 Today's retail environment is far different than what it was ten years ago. The store front has been expanded to other retail distributors, field sales, online and mobile; shopping has to become more personalized than ever before to stay competitive. Words like "custom" or "personalized" are commonly offered with products, often free of charge.
Consumers love to feel special. One of the best ways to personalize a shopping experience is by understanding what their favorite products are, knowing exactly when and how they will make their next purchase and what entices them to spend more. Giving a consumer a pleasant and personalized shopping experience is no easy task, especially when they are shopping across multiple channels. To address these needs, many retailers are looking towards omnichannel analytics and iBeacon
solutions to use in conjunction with SAP Business One.
SAP Business One will allow you to harness the power of customer data so you can monitor their behavior across all channels of your retail business. This will allow you to tailor communications, drive marketing and encourage additional buying activity.
Take for instance this retail experience:
A new customer makes a point of sale (POS) purchase
They provide you with an email address
You send them an email offer with a coupon for your e-commerce site
Customer visits your website and is given a myriad of options to personalize their order
Customer makes an online order, opting in to more offers and you begin tracking their preferences
Customer is segmented for advertising and promotion similar products
Customer makes next purchase from their mobile device
Customer walks in store and is notified by phone when they are in the vicinity of a product they might like or are notified that there's a new in-store coupon available
*REPEAT CYCLE*
All of this activity is monitored in real time and all data is captured in an easy-to-access and organized manner within your system dashboard. From here you can personalize the customers' shopping experience, make predictions on their next purchase and update them on activity for their favorite products.
All this functionality is integrated within the SAP Business One business management software and it's perfect for small businesses wanting to align their channels, implement streamlined efficient processes, and enable fast growth.
Moving toward an Omnichannel retail software solution offers a unified shopping experience but also a variety of custom features including flash sales and custom fulfillment. Even your retail business gets a personalized software product suited to your exact specifications!
So, how do we know if this system is worth investing in? Our friends at SPS Commerce commissioned a Benchmark Study Enhancing the Retail Omnichannel Customer Experience, where you'll learn the initiatives retailers are taking to address multi-channel retail management.
If you're using applications like QuickBooks or Microsoft Excel Spreadsheets and are quickly discovering you are not able to keep up with consumer omnichannel shopping expectations, learn more on the SAP Business One for Retail page or contact us at 949.420.3300 or email us at online@vision33.com.


---
Also, we want to invite you to our next retail event! Vision33 is proud to sponsor In:Fluence 2016 April 26-28 in Minneapolis, Minnesota. Hear from the industry's top visionaries and learn how to position your business for omnichannel success.