By graduating to Sage Intacct, your business can enjoy a born-in-the-cloud financial management system. Learn more about Sage 50 vs Sage Intacct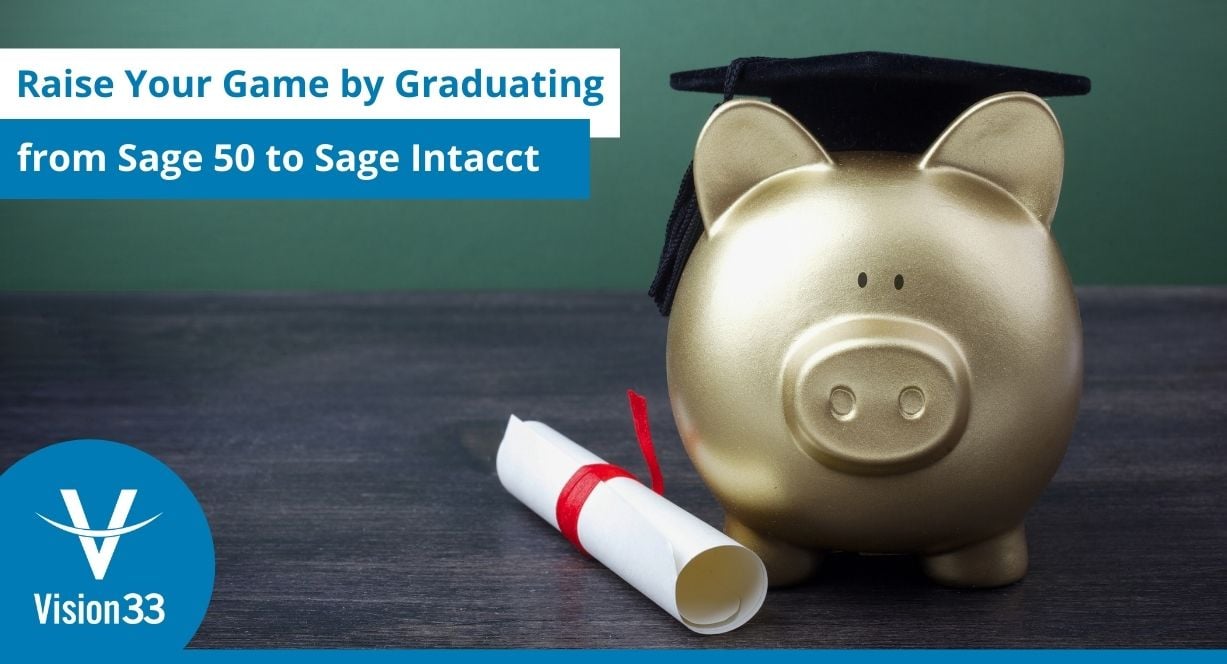 If your business runs Sage 50, you're using a reliable on-premises solution from a trusted brand. From its modest beginnings in 1981, Sage has grown by understanding its customers' needs and challenges. Innovation, an entrepreneurial spirit, and accelerating customer success drive everything Sage does.
Although some businesses never need to move beyond Sage 50, fast-growing companies with complex needs and multiple entities find Sage 50 eventually hinders progress and growth. The system gets clunky and slow when transactions and user traffic increase. When being used remotely, Sage 50 often disconnects, and it's impossible to achieve real-time visibility and deep insights due to a lack of role-based reporting and limited control over financial periods.
By graduating from Sage 50 to Sage Intacct, your business can enjoy a best-in-class, born-in-the-cloud financial management system while staying in the Sage family. Built for finance by finance, Sage Intacct features a simple, open API that connects with other mission-critical applications like Salesforce, Expensify, Kimble, and dozens more. This means Sage Intacct is easily configured to your business's needs.
And with true cloud access, your vital financial information is available anytime, anywhere, on any device. Sage Intacct empowers you to make fast, confident decisions to drive your business forward.
Here are a few of Sage Intacct's key features:
Core Financials
Sage Intacct streamlines and automates accounts payable, accounts receivable, cash management, general ledger, order management, and purchasing. You can set ideal approval processes with a simple point and click and cut your close time in half to boost your finance team's productivity.
Powerful Dashboards and Meaningful Reports
Sage Intacct's dashboard houses your critical information, including KPIs, financial data, reports, graphs, and statistics. These interactive, customizable dashboard components allow you to drill down for immediate real-time visibility into every aspect of your operations.
Financial reporting and analysis are virtually limitless with Sage Intacct. An interactive custom report writer makes it easy to create custom reports and attach them to your dashboard. The insights you need are available in seconds so you can course-correct and quickly pivot to respond to market changes.
Smart Billing
You can automate even the most complex revenue and billing processes with Sage Intacct. For businesses utilizing contract and subscription billing, workflows are streamlined across the order to cash cycle with efficiency and speed. Project costing and billing enable you to bid smarter and bill faster with less revenue leakage. You can also automate complicated revenue accounting, configure expense amortization, and more.
Flexible Additional Modules
Advanced functionality within Sage Intacct gives you total financial management and prepares you for growth. Available modules include fixed assets, inventory management, multi-entity and global consolidations, project accounting, revenue recognition, spend management, and time and expense management.
Learn More
Sage Intacct easily adapts to how you do business. To read testimonials from real customers and learn more about why you should choose Sage Intacct – including how fast you can see a return on your investment – download the whitepaper below.