SAP Business One's intelligent reporting capabilities offer creative solutions to your common business challenges with the Cash Flow Forecast report.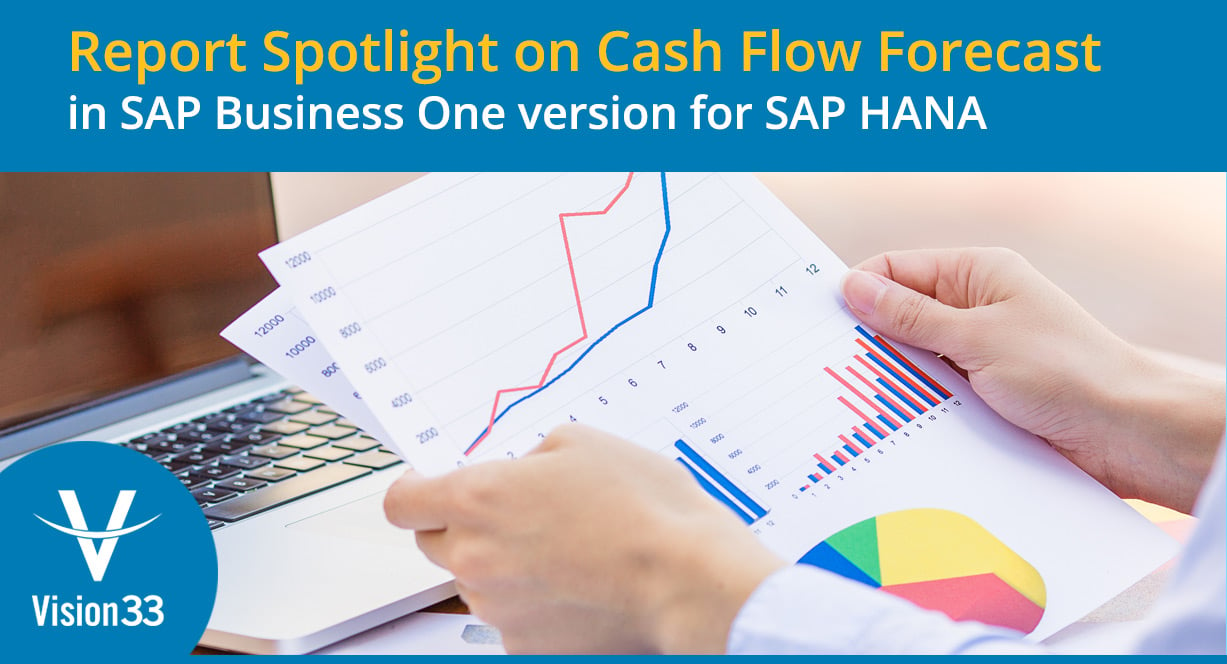 Out of the box, SAP Business One version for SAP HANA contains many predefined real-time reports to help you analyze your data and get the answers you need. But sometimes you'll need more than just the standard report offering. Today, we'll demonstrate how SAP Business One's intelligent reporting capabilities offer creative solutions to your common business challenges.
For this example, let's say you're a CFO of a growing company and you're planning to make a capital purchase in the future. When can you safely make this purchase? What's your cash position today, tomorrow, and over the next few months? Predictive analytics captures trends in the delays of payments so you can ensure you have funds to make purchases. Being able to consider the delays means you can determine the best time to make a purchase – here's how.
How to Access the Report
To answer the question, users can open their cockpit in SAP Business One. It can contain as many dashboards and KPIs as you'd like, but for now, the focus is on the 'Predictive Analysis' of 'Business Partner (BP) Trends'. Predictive analytics shows how reliable a customer is for on-time payment and if they have any outstanding bills with your company.
First, open the 'Cashflow Forecast,' this offers real-time cash position, and so, if you're considering making a capital purchase, this will give you a realistic picture of when you might make that purchase. As an updated feature, users can now tailor the report for real-world scenarios, allowing for a more customized view of your business.
Interpreting the Report and Chart
The graphical cash flow overview shows the incoming, outgoing, and net cash amount for a selected period. The chart shows the accumulation of each period. The blue bars show incoming cash flow, the green bars show the outgoing flow, and the yellow line charts the net cash flow, the difference between the incoming and outgoing flows.
A time bar in the upper area allows you to specify a time range or date anywhere from the current date to two years out. You can adjust the dates to view up to a year's worth of forecast. If you choose a shorter period, you can view the accumulated data in smaller increments such as weeks or days. You can drag start and end dates to specify your required dates. The required time shows as shaded. You also have the option to drag the shaded section to keep the same length of time while changing the start and end dates.
The 'Consider Business Objects' area contains information on the documents falling within the dates of the forecast. You can drill down from this area to a list of documents and into the document itself.
Cash Flow Forecast Report Benefits
The cash flow forecast is a very versatile report and offers the following benefits to users:
A more realistic view of your cash position, allowing you to accurately and safely decide when to make a purchase or continue business expansion.
Dramatically improves forecasting of a company's incoming and outgoing cash flows.
Forecast with cash certainty levels.
Dynamic aggregation of all relevant business activities made possible by the speed of SAP HANA in-memory analytics platform.
Real-time accuracy of transactional data.
Drill-down to transaction details.
For a more in-depth look at reporting in SAP Business One version for SAP HANA, and how it can be leveraged to offer creative solutions to your business challenges watch our video demonstration of the Cash Flow Forecast report.
This resource is hosted in our Vision33 Resource Library. Gain free access to this resource by signing up. You will also have access to Vision33's extensive enterprise technology library of training materials for SAP Business One. Inside you'll find ERP tips and tricks, video demonstrations, product brochures, and many more enterprise technology resources. Select from ERP functional areas to expand your knowledge of specific solutions like SAP Business One as you grow your business. Signup today.