Watch Juice Beauty's video, part of Vision33's SAP Business One success stories series, to see firsthand how SAP B1 can help you run simple, grow fast, and drive profit.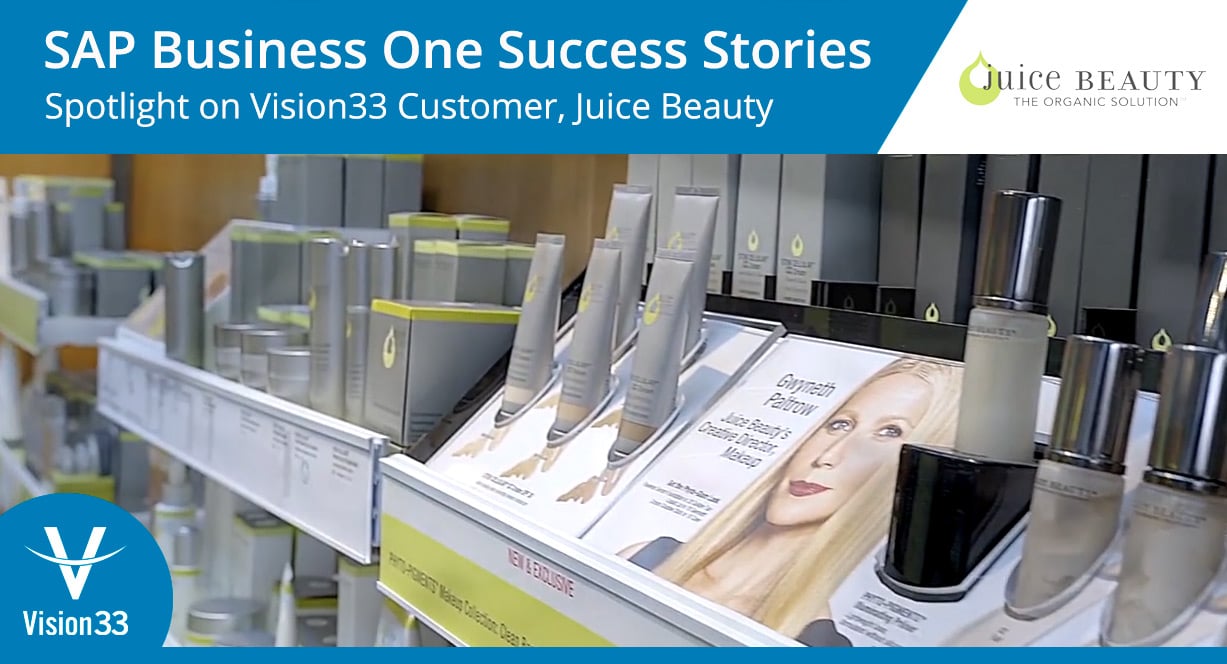 At age 40, Karen Behnke became pregnant with her first child and couldn't find the healthy skincare products she wanted. Her needs led her to create organic, natural products made from botanical juices that deliver healthy, glowing results. And that's what Juice Beauty has been doing since Karen built the company from scratch in 2005. Now offering award-winning skincare and makeup, Juice Beauty is one of the few authentically organic beauty product companies in the world.
Juice Beauty is unique in its industry. Their luxurious products are never tested on animals and are packaged in eco-friendly containers printed with soy ink. Manufacturing is in the United States and utilizes solar and wind power.
Juice Beauty's unwavering commitment to its mission and values means meeting rigorous organic regulations and managing many USDA-certified ingredients. Responsibility like this requires the kind of robust enterprise technologies detailed in Vision33 SAP Business One success stories like that of Juice Beauty. Read on to find out how with SAP Business One, they obtained the flexibility and customization to scale and grow their business into the future.
Manufacturing Industry Challenges
Juice Beauty's legacy software couldn't support efficient data entry, inventory management, or batch control, and complying with regulations and carefully watching ingredient expiration dates made product development a challenge. Juice Beauty decided to scrub their old, dull system and find a fresh enterprise resource planning (ERP) solution to support its huge potential.
SAP Business One: A Polished Solution
Juice Beauty partnered with Vision33, an IT professional services company, to find the solution that would always be the right size at the right time. Juice Beauty chose SAP Business One manufacturing for its inventory management capabilities, EDI integration, and complete transparency into its growing distribution around the world.
With SAP Business One, Juice Beauty is expanding distribution into additional countries and growing 50% year over year.
How Does Juice Beauty Feel about SAP Business One?
Juice Beauty is just one of many SAP Business One success stories. Let Karen, Juice Beauty's founder, and Marcus Canestra, the company's controller, tell you how SAP Business One has changed the way they do business. Watch their short video to understand why SAP Business One helps you run simple, grow fast, and drive profit.
Sign Up For an SAP Business One Demo Today
Interested in learning more about SAP Business One? See for yourself why over one million businesses in dozens of industries trust SAP Business One to drive profitable growth for their businesses. Sign up for a free demo today.