Here are two ways to set up the accounting side of the SAP consignment process in SAP Business One. Visit the blog for step-by-step directions.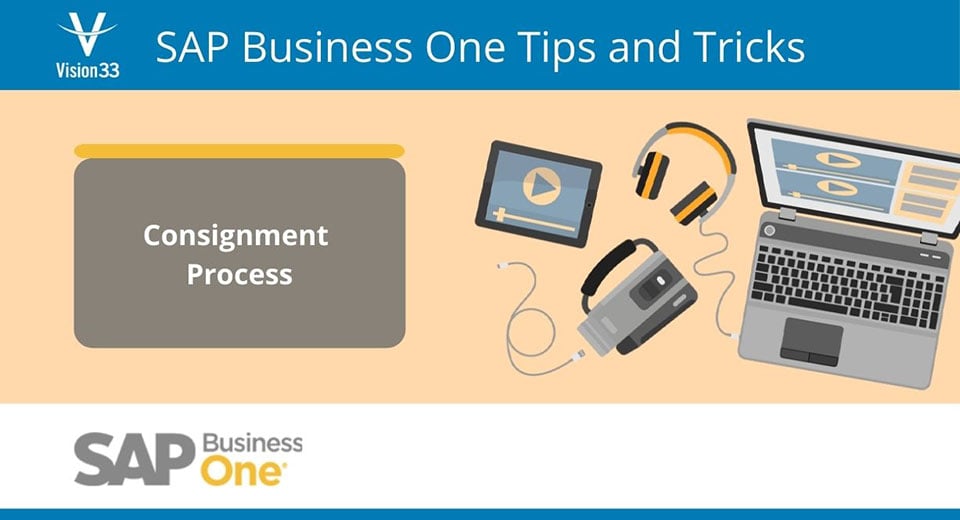 The word 'consignment' often brings to mind boutiques where consumers buy used but high-end items at bargain prices. But in the distribution industry, consignment has a different definition: it's all about warehouse management, inventory, picking, and packing.
Consignment inventory is merchandise that's sent to and stored at a customer (consignee) location, while the company (consignor) that sent it still owns it. The customer pays for the merchandise when it's removed from consignment stock.
As a consignee, you're probably juggling multiple suppliers and their inventory. But you don't have to – SAP Business One handles the consignment process so you can ditch the spreadsheets.
Here are two ways to set up the accounting side of the consignment process in SAP Business One.
1. Enter the Vendor as a Preferred Vendor
After you've designated the vendor a preferred vendor, navigate to the inventory tab to set up a vendor consignment warehouse. Then set up a goods receipt PO (yes, even though there isn't a PO involved). Select the vendor who sent the merchandise, the items received, and their quantities to see the total value.
The warehouse will be the vendor consignment warehouse. When you use the merchandise, you'll know how much it costs so you can pay the vendor. You can also drill down and examine the inventory data.
Now that you can see your stock in the vendor consignment warehouse and you know the pricing is correct, you have two options:
Set the valuation method by warehouse. You can create a set of GL accounts that don't hit the BS, IS, or P&L – they're isolated to the consignment warehouse.

Navigate to administration>setup>financials>advanced GL determination. Here, you can create different rules that specify all transactions from item groups, dealing with a particular vendor consignment warehouse, use a statistical inventory account rather than a normal account that hits your financials. When you use the merchandise, do an inventory transfer into your main warehouse, and create an AP invoice to pay for the merchandise.
2. Create a Purchase Blanket Agreement for a Supplier
Once you've created the purchase blanket agreement, specify how much merchandise you're receiving in the details section. Every time you use some of the merchandise, it will appear in 'documents," and, based on your usage, you can create an AP invoice to pay the supplier. Within the chart of accounts, you'll find your statistical accounts, which aren't involved in your financial reporting.
Learn More
To learn more about SAP Business One's inventory and warehouse management capabilities, download our free Warehouse Management 4.0 eBook.