Automate inventory updates and manage and update delivery and fulfillment information back to Shopify with Vision33's Shopify Saltbox Connector.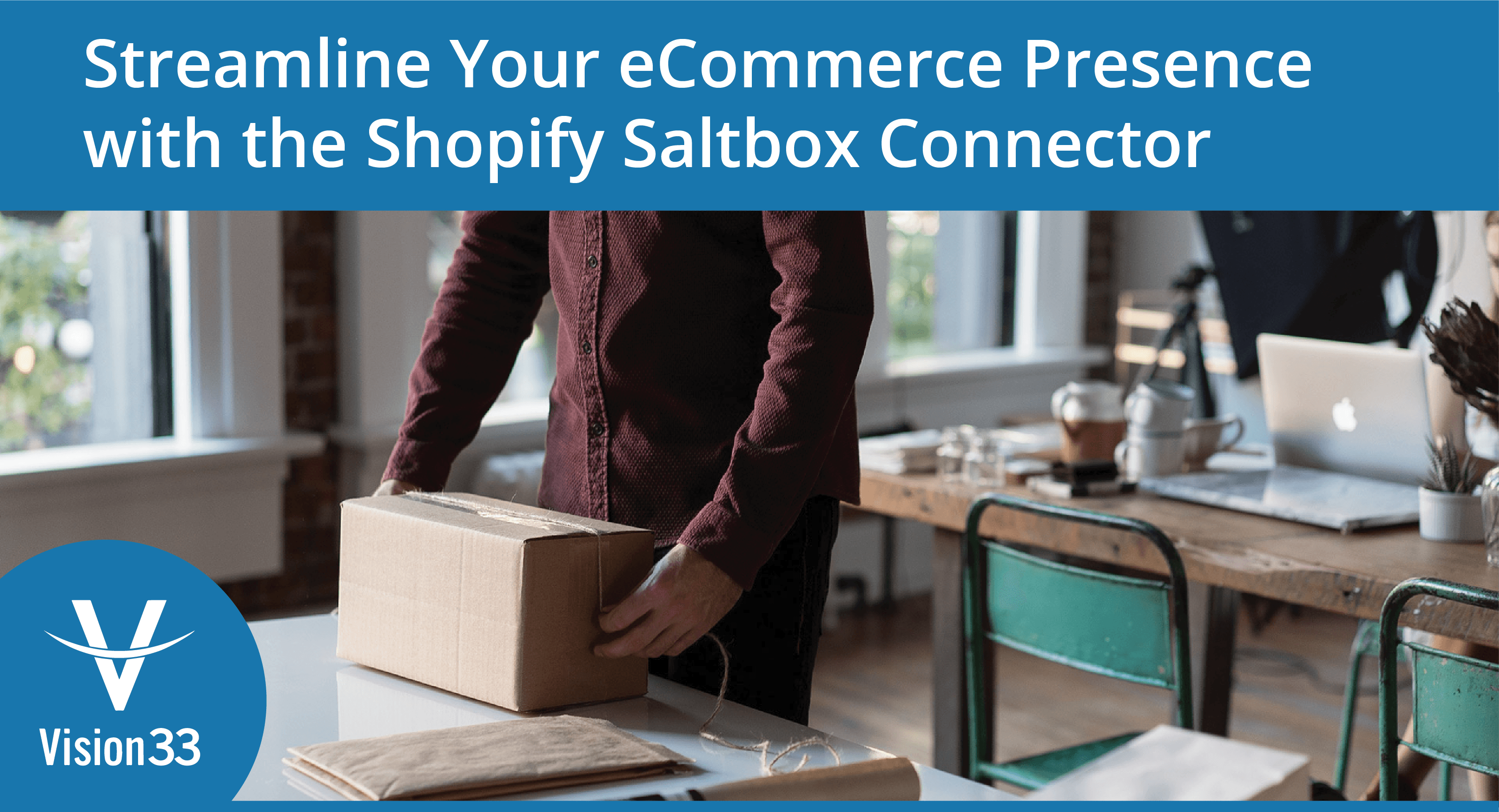 In the new normal, eCommerce has become the frontrunner sales channel for fast-growth businesses. As demand increases across the globe, companies turn to eCommerce to manage the bullwhip affect in their supply chain. With a little effort, you can adjust your sales and better integrate your new eCommerce strategies with your business. Remember, it's never too late to assess your enterprise technology and its impact on your eCommerce channel. In a recent webinar, Shopify's Olivia Boersen and Vision33's own Michelle Dowden stopped by to talk about syncing your Shopify web store with your ERP system to streamline your e-commerce presence.
Challenges of Integrating eCommerce with Your Business
In the webinar, Boersen discusses the benefits of being agile – quick to market is one way to differentiate your business, as well as having the ability to create a localized shopping experience. However, there are a few hurdles that are preventing companies from streamlining and modernizing with an integrated eCommerce addition to their enterprise resource planning (ERP) solution.
Manually keying in orders from one system to the next and updating inventory details can be a lot of work and require valuable labor time. Transforming the data requires workflows, time, and human resources - and making data entry mistakes? Well, they can affect customer satisfaction and be quite costly.
About Shopify's eCommerce Solution
Shopify works with over a million merchants today, and with good reason. As an eCommerce platform, it offers a very streamlined and modern shopping experience in both B2B and B2C context. Shopify certainly exceeds at simplifying the online sales process. Still, eCommerce solutions often result in a lot of transactional data that will need to feed into your ERP's accounting module – that's where things can get complicated. So how can businesses best leverage eCommerce in tandem with their ERP solution?
ERP and eCommerce Working Together
Whether you're an experienced eCommerce user, or you're a business that's recently pivoted to begin selling online, the Streamline Your eCommerce Presence webinar can help you. It covers the benefits of online selling and some of the critical steps in getting a B2B or B2C eCommerce store connected.
When eCommerce and ERP work together, your business can achieve great things. Whether it's scaling your fast-growing business, reducing transaction fulfillment errors, or reallocating your personnel into more productive areas.
Watch the Saltbox Shopify Connector Webinar to Learn More
With Vision33's Pre-Built Shopify Saltbox Connector, you can automate inventory updates, and manage and update delivery and fulfillment information back to Shopify. You can also integrate Shopify orders in SAP Business One with zero duplicate entry. Watch the webinar recording today to learn more.