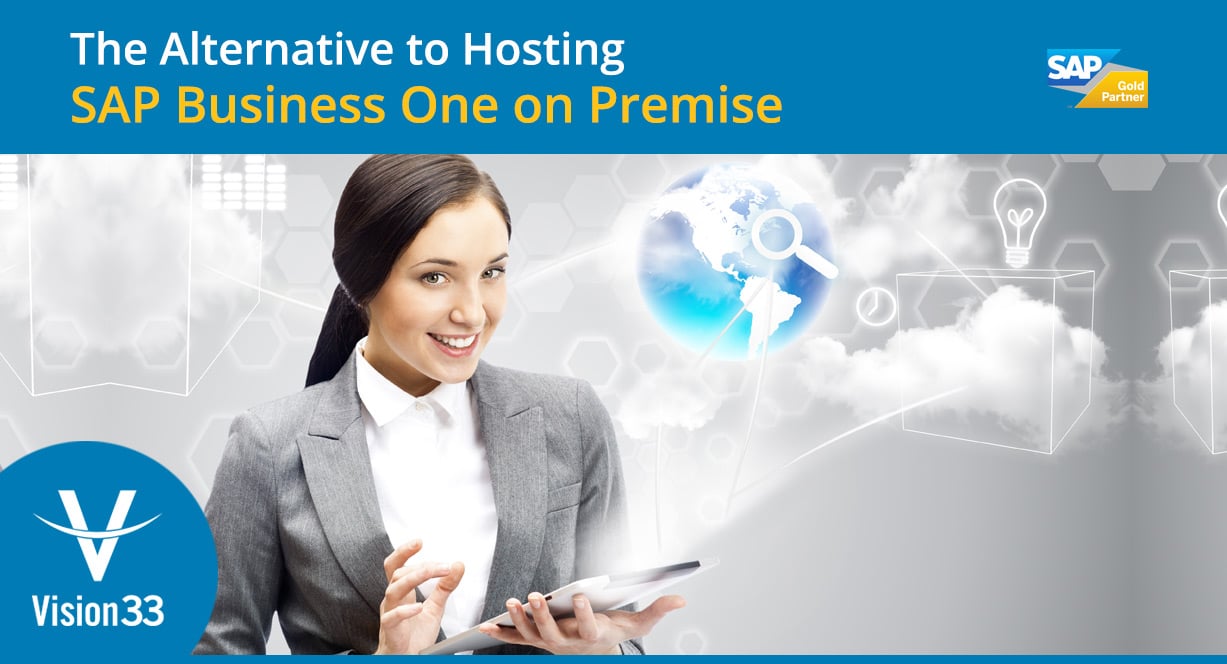 If you look at the leaps and bounds made in the technology industry, the rate of innovation appears to be astonishing. Futurist, inventor, and author, Ray Kurzweil, has written extensively about the accelerating power of technology and made a successful career out of making predictions based on this supposition. If the rate of innovation in enterprise technology develops exponentially as it seems to be, then business owners would do well to consider how enterprise technology will continue to evolve and whether they're positioned to take advantage of it. Namely with Cloud ERP.
Those that invest today in Cloud Enterprise resource planning (ERP) may be better equipped, more agile to proactively leverage the pace of innovation without subverting their entire business system at each incremental step in enterprise technology innovation. To that end, Vision33 offers small to midsized enterprises (SMEs) SAP Business One Cloud powered by Amazon Web Services (AWS). It's Cloud ERP which offers SAP's flagship solution for the midmarket with greater flexibility, scalability, and agility to keep pace with continual enterprise innovation.
SAP Business One Cloud is an affordable, integrated ERP solution that scales as your business grows, allowing your business to run live and drive profit. From financials and sales to inventory and production, SAP Business One Cloud gives you real-time information, allowing you to make smarter business decisions, anywhere and anytime. At the same time supports easy upgrades and scalability.
Why Vision33 is the Right Partner for the Cloud ERP Implementation
With SAP Business One Cloud, all your valuable information is safe and secure allowing you to spend more time running your business and less on internal IT costs. But that's only part of the cloud success equation. You need an experienced ERP partner to ensure that your data migration from your previous system is implemented and deployed correctly.
Vision33 is the only SAP Business One partner worldwide that holds the AWS SAP Competency status. When you have Vision33 as your global SAP Business One Cloud implementation partner, you can lean on our team to ensure you maximize your investment and take advantage of all the features available.
How Does the Cloud ERP Affect my Bottom line?
At the end of the day, we're here to support the varied needs of our customers when it comes to their needs for ERP deployment. We offer the choice between the traditional on-premise ERP deployment as well as cloud hosted solution. If you're ready to move to a Cloud ERP solution from a legacy system such as accounting software, we suggest that you first consider the numbers.
We've developed a simple and useful Cloud Calculator to demonstrate to prospective customers the cost savings you stand to gain by choosing the cloud for your SAP Business One deployment over the traditional on-premise alternative.
Speak with a qualified Vision33 consultant today to try out our Cloud Calculator. You'll be able to analyze various scenarios and see in an easy-to-digest side by side comparison of what your business bottom line can look like five-years from now based on the deployment method you choose for your business today.