If your growing business has hit a wall with QuickBooks' lack of financial visibility, consider a born-in-the-cloud solution like Sage Intacct. Learn about the cons of quickbooks.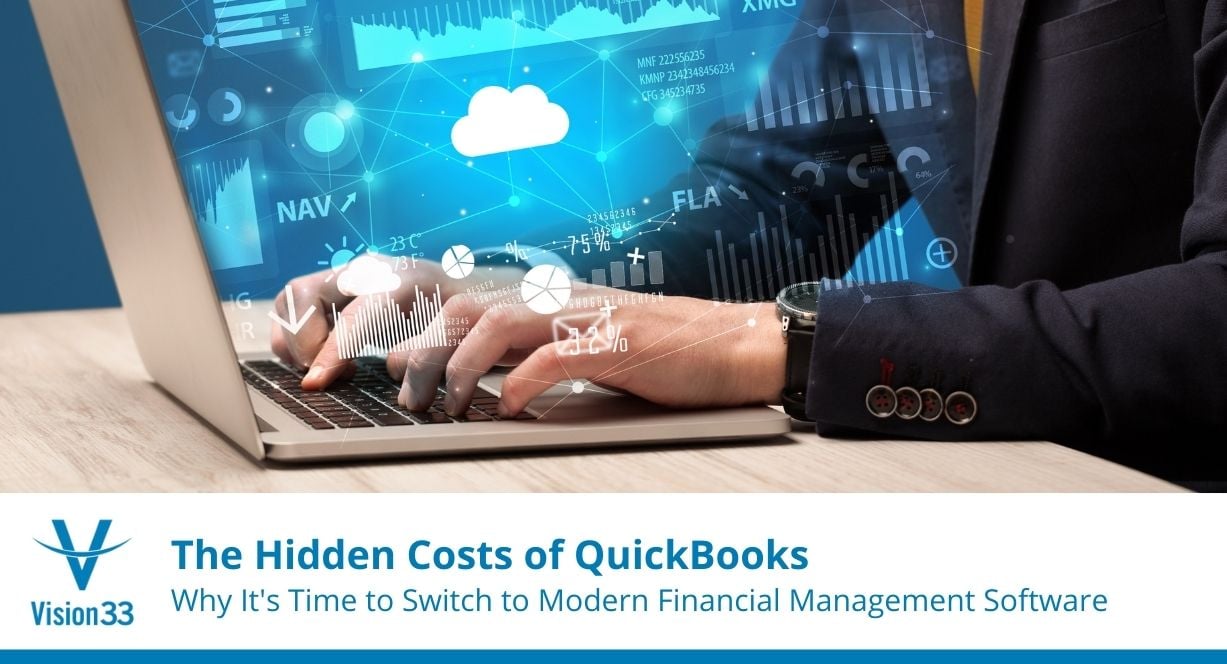 QuickBooks was perfect for getting your small business started. It's well supported, easy to use, and offers decent accounting functionality. However, as your business grows, you might be hitting a wall with QuickBooks' limitations and lack of financial visibility.
If so, it's time to consider a modern, born-in-the-cloud financial management solution like Sage Intacct.
Small business accounting applications like QuickBooks can't provide high-level financial capabilities for organizations with complex needs like multi-entity consolidations. QuickBooks requires too much manual data entry and can't deliver real-time information for a clear picture of your organization's financial performance. Add in the inability to customize and integrate with your other mission-critical applications, and QuickBooks is stealing your valuable time.
The Cost of Resisting Change and the Cons of Quickbooks
A study by a large independent CPA firm found that mistakes caused by manual processes and a lack of control resulted in $180,000 of improper expense reimbursements during a six-month period. Manual processes are unavoidable in QuickBooks.
Relying on spreadsheets and paper-based processes isn't ideal in today's frenetic business environment. Copying and pasting causes expensive mistakes, and your data is likely outdated by the time you present it to your executive team.
You need real-time financial information on demand so you can access budgets and plans on the fly and make quick, confident decisions. Your team also needs to be productive, which is impossible if they're constantly managing workarounds in QuickBooks.
Taking Flight to the Cloud
Until recently, organizations that had outgrown QuickBooks faced a dilemma. Upgrading their software required server and database investments, more IT staff, pricey consultants, and committing to years of operational and management services. After spending hundreds of thousands of dollars, many of these software implementation projects failed.
Cloud computing is a game-changer, and leaving QuickBooks behind to move your financial management to the cloud has never been easier. All you need is a web browser and an internet connection. The vendor assumes the IT costs and risks, so you needn't spend money on technology, services, software, or IT staff.
Benefits of a Cloud Financial Management Solution
Unlike QuickBooks, cloud-based financial management provides:
Anytime, anywhere, any device access to real-time data
Flexible, customized reporting
Role-based dashboards
Seamless integration with other applications
User-defined workflows for increased productivity
Scalability to grow with your business
Multi-ledger system for high-volume, high-transaction businesses
Multi-scenario planning
Unlimited storage for budgets, forecasts, and other vital reports
Learn More
Realizing the futility of using QuickBooks as they grow, many businesses have moved to the cloud with Sage Intacct, a flexible, configurable accounting software solution built on a true cloud foundation.
To learn more and see an apples-to-apples comparison of QuickBooks and Sage Intacct, including annual ROI and direct and indirect savings, download the comprehensive whitepaper below.