More companies are choosing iPaaS solutions like The Saltbox Platform to modernize their infrastructures and improve operational efficiency. Learn how.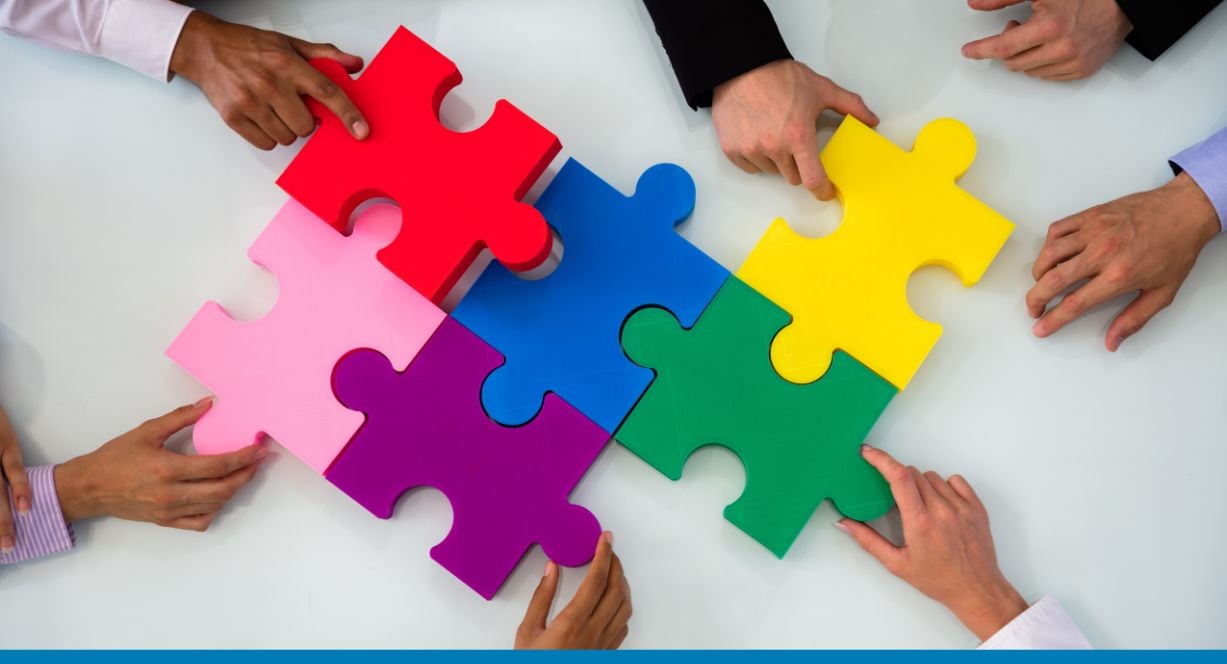 The MarTech website provides engaging content and experiences to educate and support professionals working at the intersection of marketing and technology. One such piece of content is its 2022 Replacement Survey, which revealed the business applications marketers replaced over the past 18 months and why.
The primary reason these marketers ditched email, CRM, and SEO applications was simple: They needed solutions with better features.
Their second-most common motivation? They needed better, easier integration.
An Essential Connection
These savvy marketers aren't alone. Business leaders in every industry are realizing integration isn't just nice to have—it's vital for resiliency and adaptability.
Technology is like people. Each piece of technology plays a role in the overall success of business operations, but how they work together creates a different experience for everyone involved.
For example, an enterprise resource planning (ERP) solution may serve as the backbone of your operations. But if the pandemic caused you to shift to online selling, you also use an eCommerce platform like Shopify or Magento. You may even sell through online marketplaces like Amazon or Facebook. And if your employees work remotely, you rely on a collaborative tool like Smartsheet or Teams to keep everyone connected and productive.
Each application addresses a need, but they involve a lot of data and transactions. If they can't talk to each other, you're entering data multiple times in multiple places. Somewhere along the way, you'll make a mistake, and even a small error can wreak havoc on your organization.
"If you want best of breed, you need integration," says Duncan Wyeth, Vision33 partner manager. "And now integration has caught up."
Point-to-Point Woes
Until recently, integration wasn't easy, especially for small and midsized businesses (SMBs). Connections were made point-to-point, which required hours of coding, specialized IT skills, operational downtime, ongoing maintenance, and—if a consultant was hired—invoices with lots of zeroes.
"If the person who built a custom one-off integration leaves the organization, the organization's hands are tied," says Sarah Humphries, Vision33 partner manager. "What if they need new features? That might be a massive undertaking for an SMB that doesn't have the budget or staff to support the request."
iPaaS Changes Everything
The new way of connecting mission-critical business applications is with an integration platform as a service (iPaaS) solution. More companies are choosing iPaaS solutions to modernize their infrastructures—and they're proving to be the unsung hero of operational efficiency.
In the past, only highly skilled people could build integrations. But iPaaS vendors are making integration technologies easier for business users by empowering them to create their own integrations. And when anyone can build and maintain integrations, business stakeholders can take ownership and relieve some of IT teams' resourcing burdens.
For companies that didn't have the time, budget, or skills to build and maintain integrations, these iPaaS capabilities level the playing field and put new highs of operational efficiency within reach.
Hello, Saltbox
Vision33's exclusive iPaaS, The Saltbox Platform, is an example of a game-changing solution that makes it fast, easy, and affordable for SMBs to connect their entire tech stack.
Saltbox is an enterprise-class, cloud-native, low-code iPaaS solution that empowers organizations to unify and streamline business operations, accelerate digital transformation, and increase the ROI of existing technology investments.
When your organization becomes a connected enterprise through integration, you can become a strategic thinker. You'll have more time to focus on initiatives that deliver value and bring in revenue because you won't be spending hours entering data in multiple places.
"Saltbox allows organizations to build a complex web of functionality that delivers far more than any single system, but with the simplicity of a single point of data entry," Duncan notes. "That's the nirvana everyone has been searching for."
And with Saltbox, even the least tech-savvy users can create custom connections and workflows using a drag-and-drop visual data mapper, enabling them to be self-sufficient in creating and managing integrations.
Case in Point
Because we created it, we know the ins and outs of Saltbox and how it saves time, eliminates mistakes, and transfers data at lightning speed.
Here are two examples.
One Vision33 Saltbox customer has 13 entities that run different ERP solutions and business applications. Interpreting financial and operational performance with data scattered across so many systems is grueling.
But with Saltbox, this organization can work on multiple integration projects in the same environment and display KPIs on a central dashboard, so users in each entity can understand the big picture.
"It's a one-stop shop other integration tools don't have," Sarah explains.
Another customer uses Saltbox to integrate Sage Intacct, its financial management solution, with HubSpot, its inbound marketing and CRM platform. When a deal closes as "won" in HubSpot, the customer record and a contract are automatically created in Intacct. Then, details automatically post to Cin7, the organization's stock management system, as sales orders.
Cin7 also handles procurement, including purchase orders, receipts, and sales invoices, as part of the stock management process. Saltbox automates posting purchase orders, receipts, and sales invoices into Intacct. The result is seamless integration with multi-directional workflows for all three applications.
"This organization has best-of-breed solutions for marketing, sales, operations, and financials," Duncan says. "They wouldn't have achieved this with anything but The Saltbox Platform."
The Bottom Line
Integrating your tech stack significantly increases efficiencies and helps you compete in your market. And with Saltbox, the options for connecting just about anything are limited only by your imagination.
"Saltbox allows decision-makers the freedom to roam among best-of-breed solutions that will meet their business challenges head-on," Duncan concludes. "They're safe in the knowledge that these systems can be knitted together with powerful bi-directional automation that will create an infrastructure that supports their organization's growth."
Learn More
Watch a demo to learn about The Saltbox Platform, its features and functionalities, and how it lets you do more with what you already have.