Sage Intacct has developed a thorough checklist to help you evaluate SaaS accounting software solutions and ensure you get the business features you need.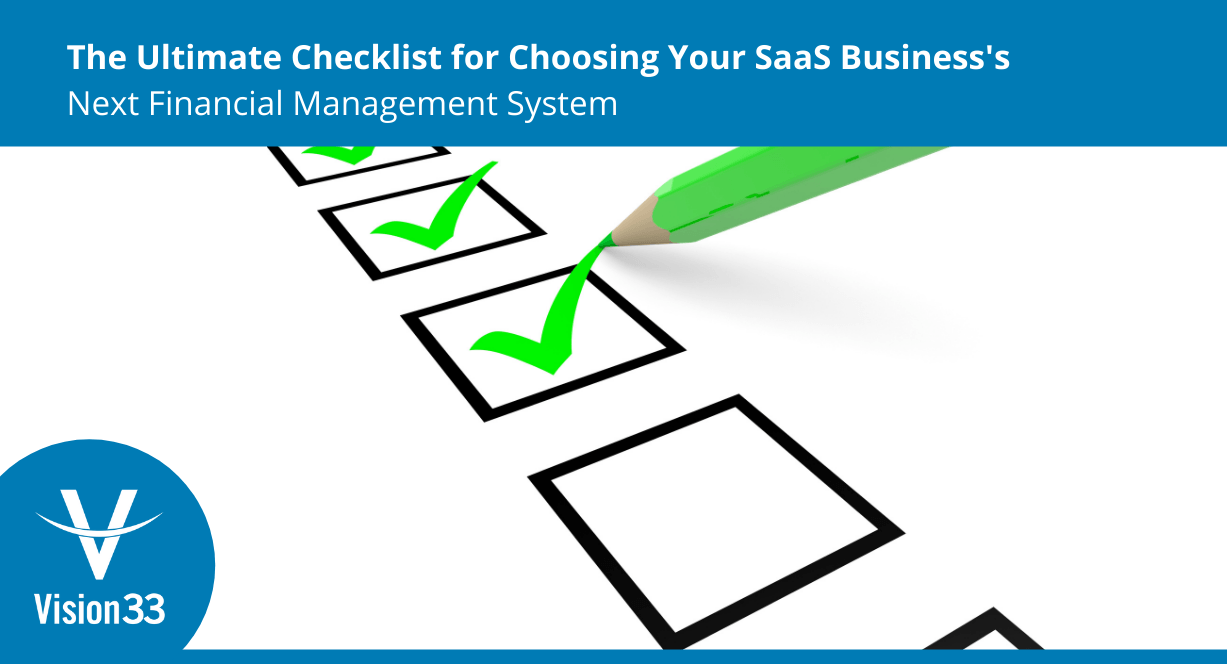 Your SaaS business is focused on long-term customer relationships versus transactions. That means billing, revenue recognition, forecasting, and SaaS metrics can get a little complicated – especially as your business grows.
These critical processes become even more tedious and time-consuming if you're using a small business accounting application. Spreadsheets and error-prone copying and pasting are ineffective at managing and analyzing your increasingly complex financial and operational data.
A modern billing and accounting system like Sage Intacct can simplify and streamline your critical financial processes, reduce quote-to-cash cycle time, accelerate monthly close, and improve cash flow. And by eliminating spreadsheets and manual data entry, you'll have more time to focus on strategy, innovation, and growth.
Here are some features your next billing and accounting system needs:
Revenue Recognition and Subscription Management
Growing SaaS businesses must manage each customer across their lifetime. Especially vital is understanding the complete revenue stream and the revenue recognition across that stream with deferred and recognized revenue, compliant with ASC 606. Your financial management system should provide complete contract management, efficient operational processing, timely reporting, and a comprehensive audit trail.
Automated, Flexible Financial Processes
Rather than a standard chart of accounts, your SaaS business needs a modern general ledger that allows you to manage, analyze, and present your financial information any way you want.
Deep Financial Insights for SaaS Businesses
You need access to detailed, real-time insight into your business's performance so you can make the most of new opportunities and instantly recognize the need for corrective actions. A comprehensive picture of financial performance will allow you to make quick, confident decisions about the future.
Cloud Architecture
A cloud-based financial management system lowers IT costs, reduces technology risks, and improves overall productivity. Running your financials in the cloud also makes it easy to integrate your system with other mission-critical business applications.
Equally critical as choosing a financial management system is choosing a partner to help you implement it. Look for an organization that understands not just your business but your vision – and helps you achieve it with the right blend of strategy, consulting, and technology.
Evaluate Your Options With This Checklist
Sage Intacct has developed a comprehensive checklist to help you evaluate SaaS business accounting software solutions and ensure you get the modern features you need. This checklist includes 45 essential features of a modern subscription billing system formatted for easy side-by-side comparisons of different vendors.
With the right solution, you can better focus on building rewarding, lasting relationships with your customers.