SAP Business One is a business management solution that allows growing small and mid-sized companies to streamline their operations and simplify their processes. Release updates for the software package provide new features and enhanced functionality that optimize user productivity.
Earlier this year, we wrote an article about the best of what's new in SAP Business One version 9.2. Since then, we have seen our team take more and more advantage of SAP Business One Version 9.2 enhancements internally. One of the enhancements we like from Version 9.2 is the updated Project Management feature.
The Project Management feature is just one of the many features that has seen a significant upgrade. Prior to the 9.2 release, the SAP Business One project management component was limited to financial data. While this is an essential aspect of project management, it is also important to manage project tasks, resources and documents. With these added in, users can now centralize all project-related transactions, documents, resources, and activities. Centralizing a company's project data allows users to analyze budgets, costs and tasks and generate reports based on all aspects of the project such as task progress, open issues, and resources.
Here are a few key features and benefits of the enhanced Project Management Tool for SAP Business One:
The project management component combines all financial and project management data into one solution. Doing so allows users to measure actual costs incurred by a particular task, and compare it to its budgeted costs. This can help management understand costs related to specific tasks and better assist them in planning and budgeting for future projects.
It centralizes all project related documents, resources and transactions in one place. This helps users monitor the progress of various tasks and stages, and allows you to track projects according to business operations.
Projects can be divided into Sub Projects or Phases, depending on the size and scope of the actual project. These Phases can represent a functional area, and users can define stages specific to their business, such as requirements analysis, design specifications, and implementation process.
Management will experience better project transparency by creating activities from the module. This provides an overview of every activity the project team has created against a particular stage. This, along with the other features, allows you to manage projects more effectively, and efficiently, from start to finish.
Users can also create stage dependencies, which will prevent management from moving on to another stage of the project if the previous stage has not been marked complete.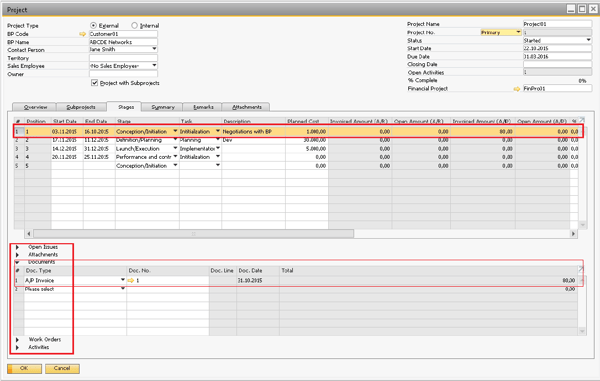 To find out more information about the project management module in SAP Business One 9.2, be sure to read "How to Work with Project Management in SAP Business One".
Whether you're a growing business that wants to upgrade from your accounting software (e.g.QuickBooks) or an existing SAP Business One customer, Vision33 can help you upgrade to SAP Business One Version 9.2.
Contact a local Vision33 consultant today to upgrade or to learn more about SAP Business One Version 9.2.