Explore the benefits of ERP solutions like SAP Business One for your distribution business to keep up with changes in inventory management.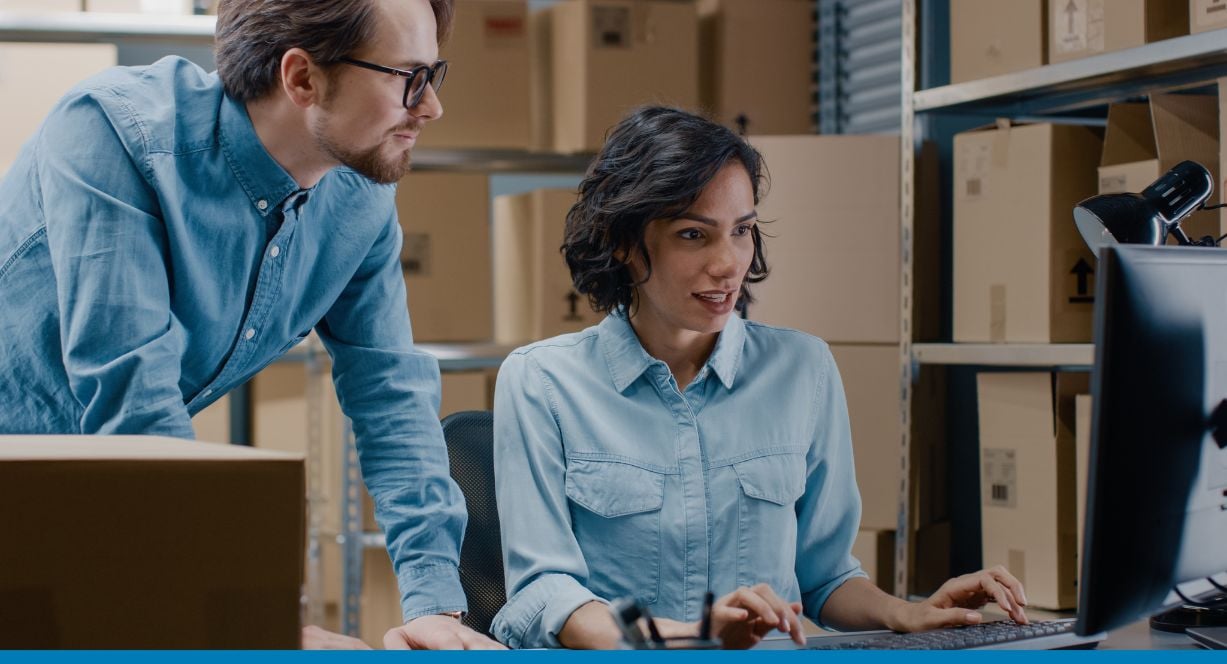 This post was updated in March 2023.
Everything about inventory management has changed—the supply chain, customer demand, order volume, delivery expectations, and online selling.
Without a robust enterprise resource planning (ERP) solution and ERP integration, it's nearly impossible to keep up.
Warehouse and Inventory Management Woes
Businesses that use entry-level software like QuickBooks to manage inventory struggle with manual processes, spreadsheets, and a lack of visibility into available inventory. Customer service can't easily explain fulfillment errors, shipping mistakes, or delayed deliveries.
Distribution ERP software coupled with a warehouse management system (WMS) significantly improves inventory management processes and delivers:
Real-time inventory knowledge
Automation via scanning and barcoding
Improved inventory movement and tracking
Accurate order fulfillment (picking, packing, and shipping)
Data-sharing with ERP
Full product traceability
Benefits of ERP Integration
If you can't fulfill your customers' instantaneous desires, your competitors and online giants like Amazon are just a click away. But if you can accurately forecast demand and meet customer expectations, you'll surpass 80% of your competitors.
Managing inventory in a non-integrated environment leads to repetitive data entry, expensive mistakes, and inaccurate reporting and forecasting. You don't know what you have in stock, how fast you can get products out the door, or where inbound and outbound shipments are.
In an automated, integrated environment, everything happens in real-time based on a single transaction, virtually eliminating errors. Integrating ERP and WMS allows you to forecast based on past and projected demand so you can accurately pinpoint what your inventory levels should be—now and in the future.
Integration Platform as a Service
Integration is no longer complicated, time-consuming, or expensive. The new way to get your systems talking to each other is with an integration platform as a service (iPaaS) solution.
Many of today's distribution businesses rely on at least 10 applications for inventory management and other aspects of their operations—and they're seamlessly integrating them with iPaaS solutions like The Saltbox Platform.
Saltbox makes integration easy because it uses cloud technology instead of standalone, on-premises systems. For example, if your current shipping software no longer works well with your WMS, you can switch to a solution like ShipStation. With Saltbox, you won't need a big integration project—just a simple connector. No matter where the data comes from, it all ends up in one Saltbox repository. This integration allows distributors to manage their logistics more efficiently and effectively.
Learn More
Our free eBook Inventory Management in a Changed Marketplace highlights the top issues facing distributors right now—and critical considerations that can help you significantly improve operational efficiency. Get it below to understand how inventory management can be easier and how small changes can affect your operations in a big way.