Learn more about the ways PVF distributors stay competitive with business management solutions. Read more.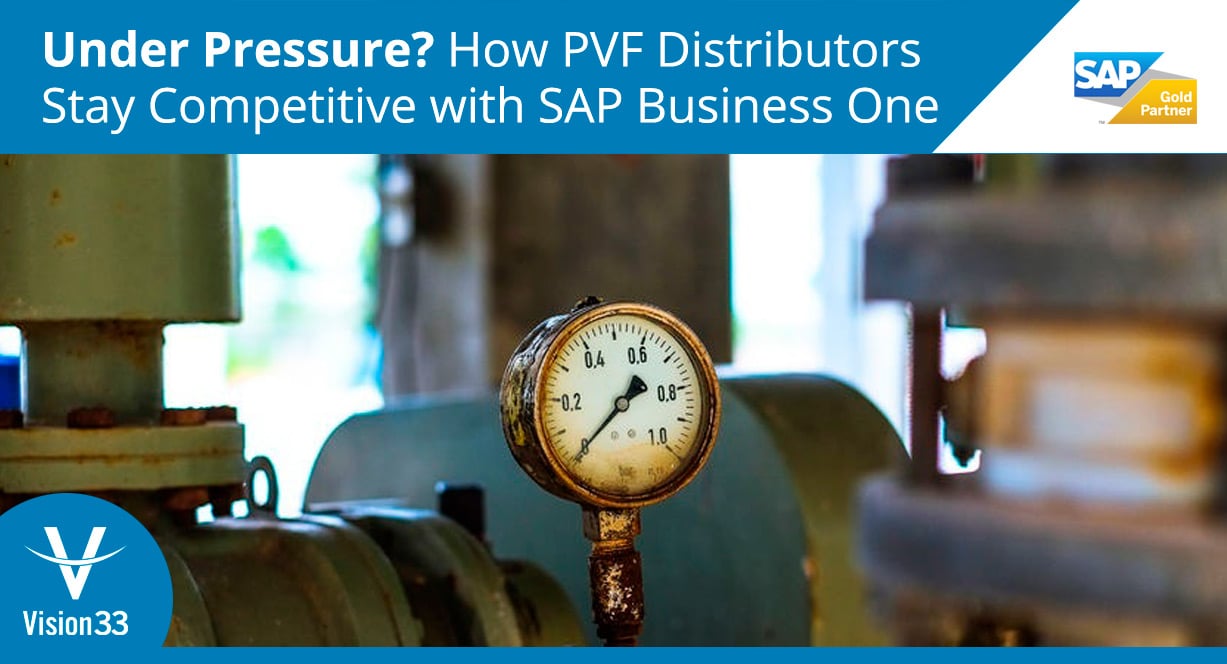 Talk about pressure; the U.S. pipe and valve industry is very concentrated, with 50 manufacturers representing more than 65% of the revenue generated by the industry. What's left is a very competitive landscape noted for its acquisitions and mergers. And while most PVF components are standardized, built to stock products, it's in this market segment where you'll also find innovative. In a bid to resist the pressures of commoditization and intense competition, pipe valve and fitting manufacturers are devising new ways to add value to their product offerings to stay competitive. Here's a few of the key ways you can stay competitive too:
Differentiate Your Product Offerings
To limit the effect of commoditization of their products, successful PVF manufacturers and suppliers look to differentiate their product offerings. Take for instance the introduction of valve-mounted microprocessors that allow customers to monitor, predict, and control flow from remote locations. By providing customers with the ability to monitor and control devices to predict maintenance requirements before a pipe or valve breaks down, PVF manufacturers and distributors have added value to their products.
Global demand for these "smart valves" are anticipated to exceed that of the conventional valves in the years to come. Today, companies that sell pipe and valve components with value added processes can command a higher price point that reflect a total cost of ownership; including not only the raw material and manufacturing cost but also maintenance and end of life replacement services.
ADopt a New Business Management System
In addition to investing in manufacturing processes and product differentiation, it is equally important that businesses invest in their business management systems. Keeping customers happy extends to not only the products offered but also by how easily you can provide them with access to the information that they need to do business with you.
Beyond improving financial reporting, better labor tracking, and manufacturing processes, adopting a new business management solution should improve visibility in the warehouse and what's available to promise. This is where business management solutions can improve customer satisfaction and stave off competitors with inferior service.
With status codes, business can lock down pipe and valve components to a specific customer on a specific date, identitfied by an assigned code. This code signals to your sales people that they can't promise a certain component to the customer if it has already been sold or shipped out the door.
Improve Traceability Throughout Your Supply Chain
For the end customers of the pipes and valves supply chain, the required application can be quite demanding. When it comes to oil and gas industry for instance, the stakes are especially high in the case where component failure can lead to catastrophe. Everybody remembers the Gulf of Mexico oil spill in 2010 caused by valve failure. With larger inventories of sophisticated components distributed in the supply chain, customers are looking to buy from companies that can stand behind their products' quality.
In the event of defect, using a business management system to provide traceability throughout the supply chain facilitates recalls and necessary repair. Today, PVF distributors are leveraging business management solutions that associates customer orders with inventory batch and lot numbers so they can be queried and located any time a pipe of valve fails.
If you are interested to learn more about how business manamgent solutions can help your business stay competitive, download the Warehouse and Production Manaagement business mangement guide to learn more.