If you want data to feed back into SAP Business One, Vision33's InterConnect application is the answer. Read the article.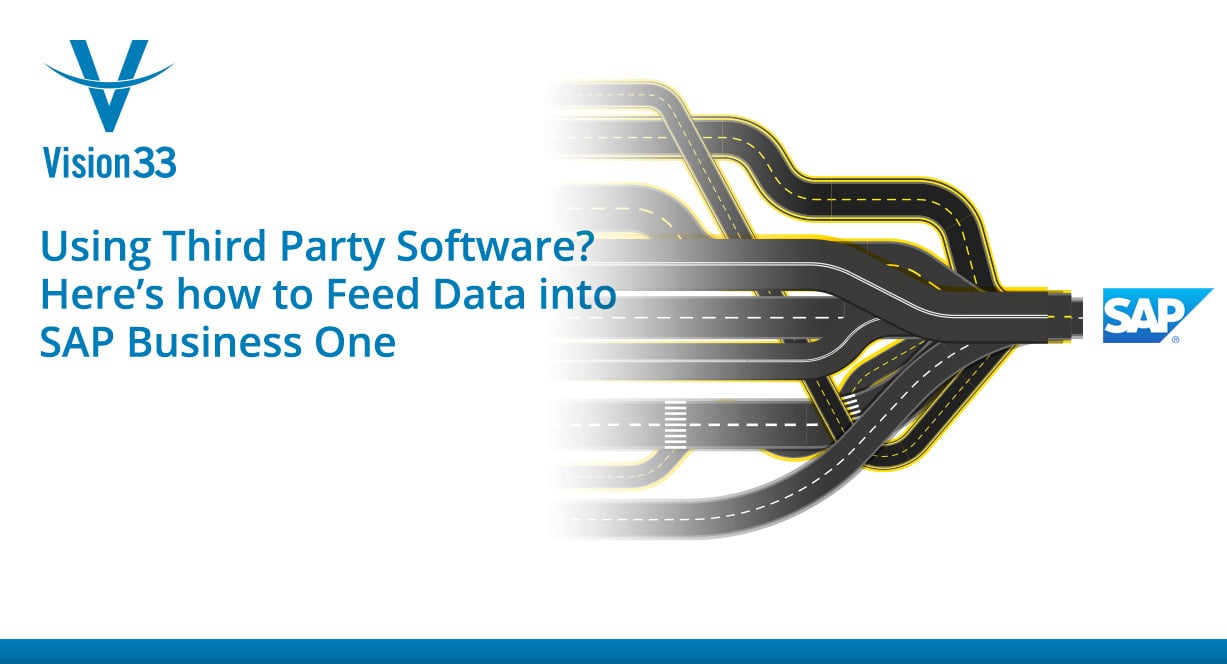 Many businesses have favorite applications for supporting processes, so readers often ask if it's possible to connect SAP Business One with those applications – without manually importing the data. The answer is yes. One of SAP Business One's countless benefits is its ability to 'speak' with other applications, so you won't need to override current processes before switching systems.
If you want data to feed back into SAP Business One, Vision33's InterConnect application is the answer. (It's one of many connectors we offer customers to extend their business into the future.)
How Does it Work?
It's simple. As a business, you have more requirements today than in the past to interact with your supply chain or other applications. InterConnect acts as 'connective tissue' between SAP Business One and systems and databases outside your organization while orchestrating business processes. It also allows you to connect with other web partners, like Amazon or Shopify.
Are you wondering, "But does it work with x application?" Yes. We built InterConnect knowing that every business works with different applications. We want our customers to keep what works for them – even when they move to a new ERP solution like SAP Business One.
But is it Secure?
Yes. All information required to communicate with external software is retrieved from the SAP Business One database, and no sensitive information, like financials, is stored on the application server. InterConnect also offers seamless, real-time communication with the SAP Business One database, so you'll never make decisions using outdated information.
How do I Get Connected?
The options for connectivity are endless. InterConnect enables application-to-application (A2A) integration to ensure all company data is stored in a secure, centralized location: SAP Business One. That way, you can keep the solutions providing value by connecting them with SAP Business One for an even higher return on investment and deeper insights.
Vision33's integration solution, InterConnect, offers a much-needed feature: connection to third-party applications so all your data is viewable from SAP Business One. If you're an existing Vision33 customer and you'd like to learn more, contact a qualified Vision33 consultant today.