How COVID-19 Impacts Industries and How Cloud ERP Software Helps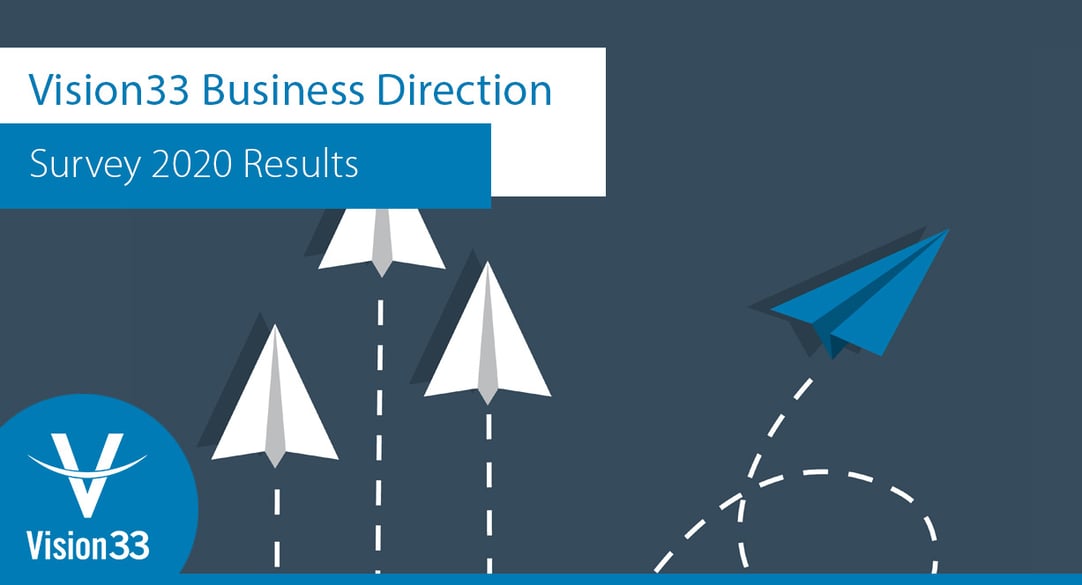 2020 marks the start of a new decade, but no one could have predicted how the global pandemic would challenge small to midsized enterprises (SMEs) to change. Businesses are faced with shifting the way they operate, working remotely, and even temporarily halting operations. To shed light on the challenges, and equally share new opportunities, Vision33 conducted a business direction survey in June.
The short survey covered questions surrounding the current technology environment and technology priorities for the remainder of 2020. The results are in, and Vision33 has compiled the summary research. Today we will share some of the key insights from the survey.
Makeup of Survey Respondents
The makeup of survey respondents demonstrated a cross section of industries. The largest percentage representations centered on manufacturing and distribution companies. By country, respondents from the US made up the majority of respondents at 95%, with Canada and the UK respondents representing 3% and 2% respectively.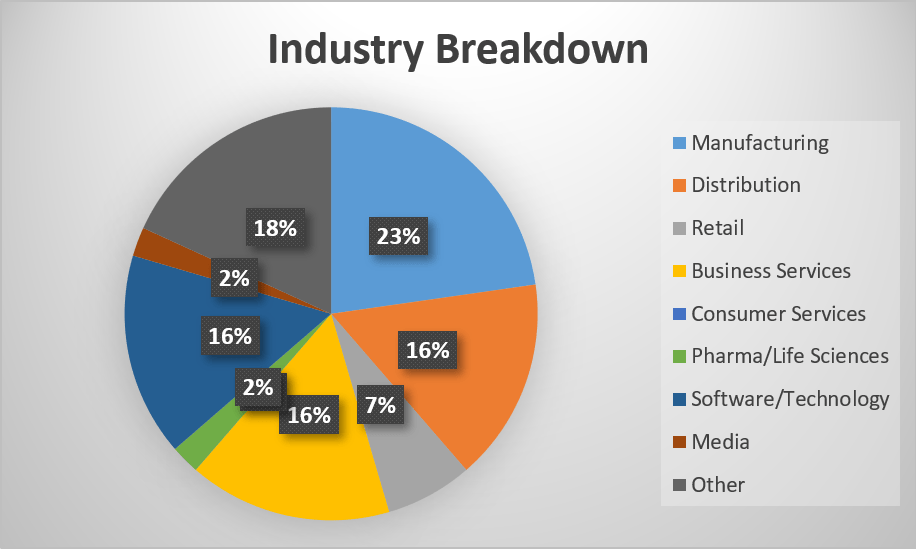 Small to midsized enterprises (SMEs) are vital to our economies they succeed through hard work and entrepreneurial spirit but, like all of us, have been dramatically affected by COVID-19. The graph below indicates that most of the Business direction survey respondents have 200 employees or less.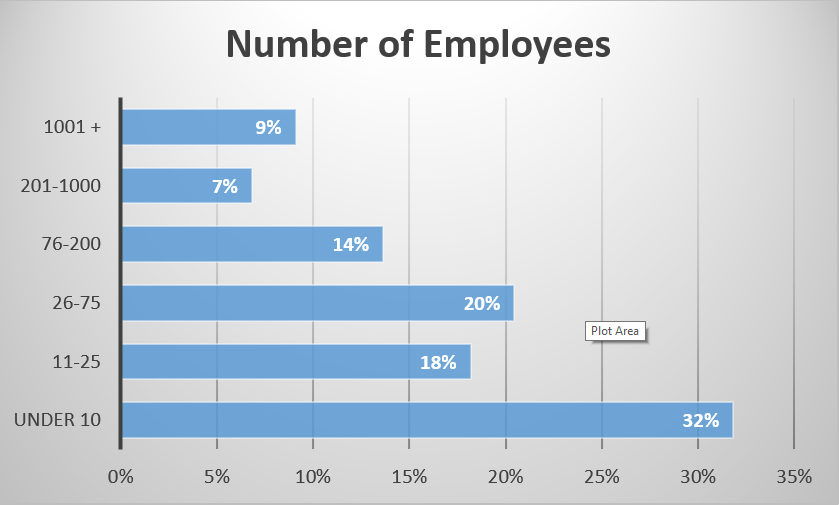 The Impact of Coronavirus on Businesses and Employees
From the survey, respondents indicated that the impact of coronavirus was substantial. Some companies reported a downturn in business. Around the globe, as governments work towards reopening their economies, businesses are working to with how to operate within the next normal. As future outbreak concerns loom, businesses look to improve their position to be ready for the next wave. The survey indicated that amidst this downturn businesses are primarily concerned with the following topics in rank-order: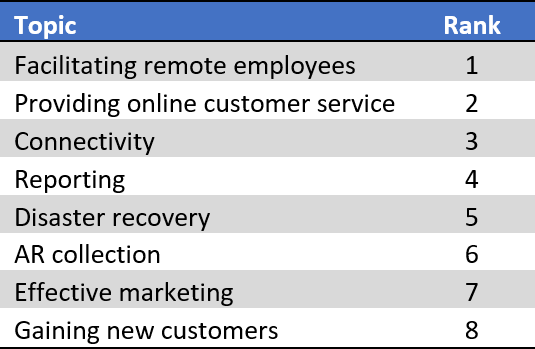 The top two topics on businesses minds include facilitating remote work from a workforce unable to work in the traditional office setting and providing online customer service.
Facilitating Remote Employees
Despite offering support for accounting, payroll, and payments, there are many functions that small business accounting software, or older ERP systems, are simply not built to handle. There are limitations for multiple users, remote access and integration to other systems that can be difficult or impossible to overcome. Yet, these challenges stand as the number one concern for businesses during the pandemic. Technology such as the Cloud allows businesses to be nimble in the face of changes and challenges such as this pandemic. Vision33 recently covered this topic in detail; you can learn more about how the Cloud can help meet the need for remote employee access to an ERP solution here.
Providing Online Customer Service
Depending on your industry, the cost of acquiring a new customer is between 5 and 25 times more expensive versus retaining an existing one. Providing quality customer service, despite the challenge, will go a long way in weathering the challenges and uncertainty in the months to come. As expected, the survey indicates a focus on customer service with 20% of respondents focusing specifically on providing customer service online
Customer service has certainly seen a change over the last several months. With many businesses operating from home offices, there's been a switch from in-store ordering to online ordering. With recent restrictions regarding brick-and-mortar stores, many businesses are seeking ways to give sales a boost. With an online web storefront, you can reach customers and continue to provide service despite the challenges.
Of the survey respondents, 25% are not presently selling their products online. However, many are in the process of considering the option. Connecting your business management solution, either on-premise or in the Cloud, to an eCommerce solution need not be a big ordeal. Along with Shopify, we recently co-hosted a highly-attended webinar about Vision33's Shopify Saltbox Connector – a pre-built eCommerce solution for seamless ERP integration. Vision33 has partnered with Shopify
Earlier this year Shopify's business has enjoyed massive profit growth of 43% in the first quarter of 2020 resulting in $257 million compared with the same period of 2019 which amounted to $180.3 million.
Unpinning Shopify's growth is an interest in automating and integrating inventory management, delivery, and fulfillment information between eCommerce and ERP systems. When running a lean operation tighter integration gives businesses the ability to redeploy a small staff to value areas rather than to entering data from one system to the next.
If you'd like more information on integrating with an eCommerce solution to improve your customer services during the pandemic, watch the Vision33 webinar Streamline Your eCommerce Presence.
COVID-19 Accelerates Businesses Move to the Cloud
If one thing is true about COVID-19, it is how it has accelerated business' decision making towards moving to the Cloud. Moving to software as a service model (SaaS) has many benefits Vision33 has discussed in the past: it offers businesses greater flexibility to support a remote workforce and enables them to rapidly deploy digital solutions as they adapt to the new normal. Most importantly for SMEs, the Cloud's lower total cost of ownership (TCO) over on-premise IT infrastructure maintenance makes it a strategic investment for the long term.
The survey revealed a split between businesses that currently run in the Cloud versus on-premise.
Of the businesses who run their business systems in the Cloud, here's the breakdown of software by type: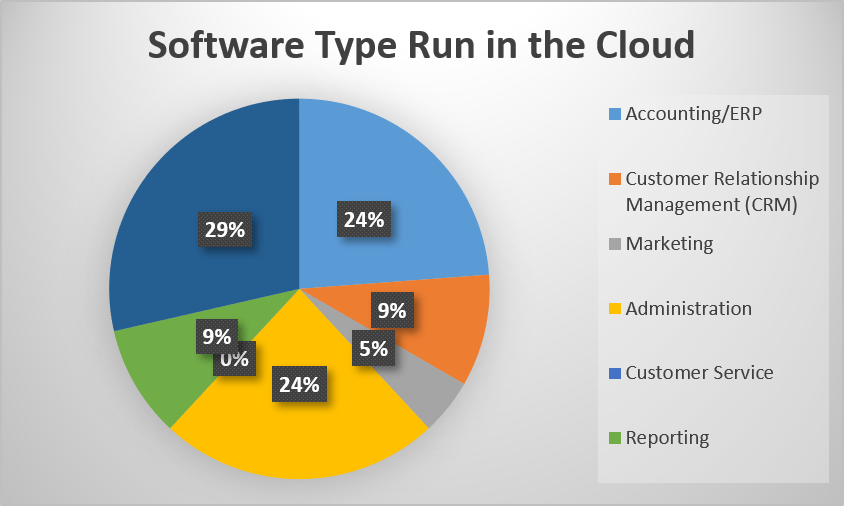 Opportunities for Change
When asked "What technology investments do you feel are most important to help your company to move forward in this new business environment?" Responses centered around the following areas:
Accounting/ERP
CRM
eCommerce
Customer Service
Reporting
Marketing Automation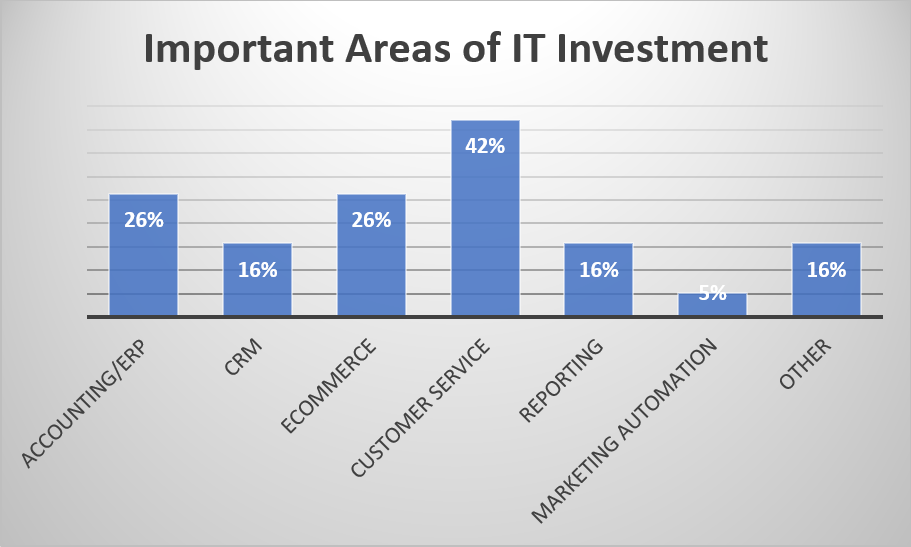 Interestingly, these are the areas we get asked about from our customers. Doing more with less investment in your IT structure is made possible with the Cloud because of speed, reliability, and lower total cost of ownership. While businesses have been impacted by COVID-19, there are many opportunities as well. Many of our customers who have prepared their business for the next normal through investment in Cloud enterprise technology are in a good position for both today and tomorrow.
While this may not be the last pandemic, it may be the last time we see the scale of on-premise versus Cloud leaning towards traditional IT infrastructure. And with good reason: the cost of transitioning to the Cloud has never been more affordable, and the business case for adopting Cloud solutions never stronger.
For more information about getting your business integrated, check out a few of our latest webinars on enterprise technology and how to streamline your eCommerce presence: