Here's what CRM software means for your business and how you can leverage it in the face of the COVID-19 pandemic. Learn more.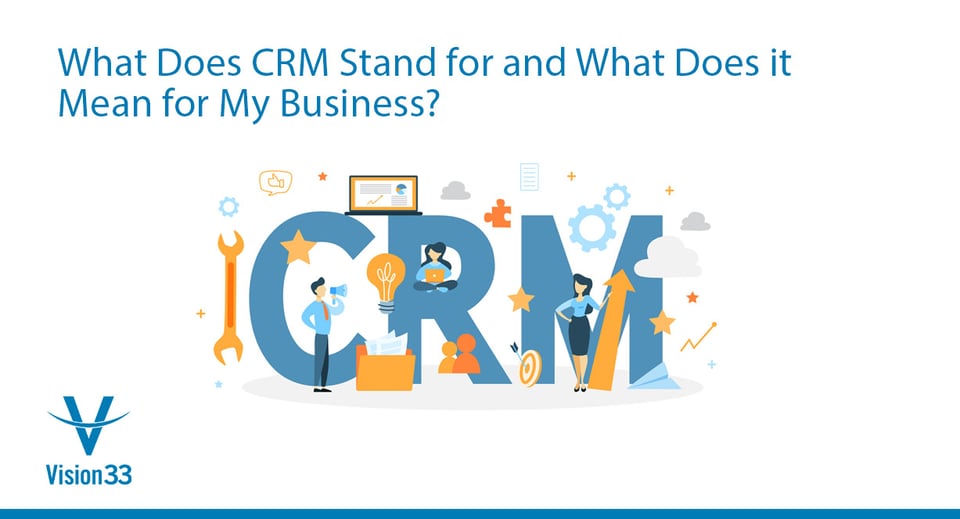 All businesses must focus on customer satisfaction to enjoy growth and success. Today, providing an exceptional customer experience need not be burdensome or require a massive capital investment – thanks to CRM software. Here's what CRM software means for your business and how you can leverage it in the face of the COVID-19 pandemic.
What CRM Stands For
CRM is an initialism that stands for 'customer relationship management.'
Global research and advisory firm Gartner defines CRM as "… a business strategy that optimizes revenue and profitability while promoting customer satisfaction and loyalty."
About CRM software and technologies, Gartner says they "…enable strategy, and identify and manage customer relationships, in person or virtually. CRM software provides functionality to companies in four segments: sales, marketing, customer service, and digital commerce."
For small to midsized enterprises (SMEs), CRM software supports the processes associated with this integration business function. In many industries, investing in CRM is a viable strategy for differentiating your product or service offering by providing an exceptional customer experience. If you're outgrowing your technology, it's hard to keep your focus where it belongs: on customer relationships. That's where CRM is vital.
CRM Software Features and Benefits
Maximizing customer relationships is crucial for success. So, which processes can your business support by adopting a CRM solution? CRM covers every function you need to build customer relationships across sales, marketing, customer service, and eCommerce.
As business automation becomes more prominent, CRM is a smart way to automate many of the processes your customers expect. Business process features and benefits you can expect from adopting a CRM software solution include:
Sales and opportunity management - Track opportunities and activities from the first contact to deal closing.
Marketing campaign management - Create, manage, and analyze marketing activities.
Customer management - Store critical customer data in one place; synchronize and manage customer contacts stored in Microsoft Outlook.
Service management - Manage warranty and service contracts efficiently; enter and respond to service calls quickly.
Reporting and analysis - Create detailed reports on all aspects of the sales process, including sales forecasting and pipeline tracking, using time-saving templates.
Mobilize your sales team - Have your salespeople manage sales information while they're servicing clients in the field.
Connecting the Dots
If you're outgrowing your business systems, you might find it difficult to keep the focus on your customer relationships. Adopting a CRM will fix that, allowing you to focus on your customers while growing your business. Learn more about CRM features to see how your business can map these processes to support better customer relationships.
Regardless of your industry, Vision33 offers enterprise technology solutions, including CRM software, to help businesses balance business growth while improving their customer experience. In a recent Vision33 webinar, we outlined how an ERP solution like SAP Business One, when used with the Vision33 Employee Portal, gives your sales team access to up-to-date customer information to provide a better customer experience. Click the link below to access the presentation recording today and find out how to improve your customer experience and differentiate your business during the pandemic.