What does EDI mean for suppliers in the automotive supply chain and why should business care? Watch the latest Vision33 webinar recording to find out.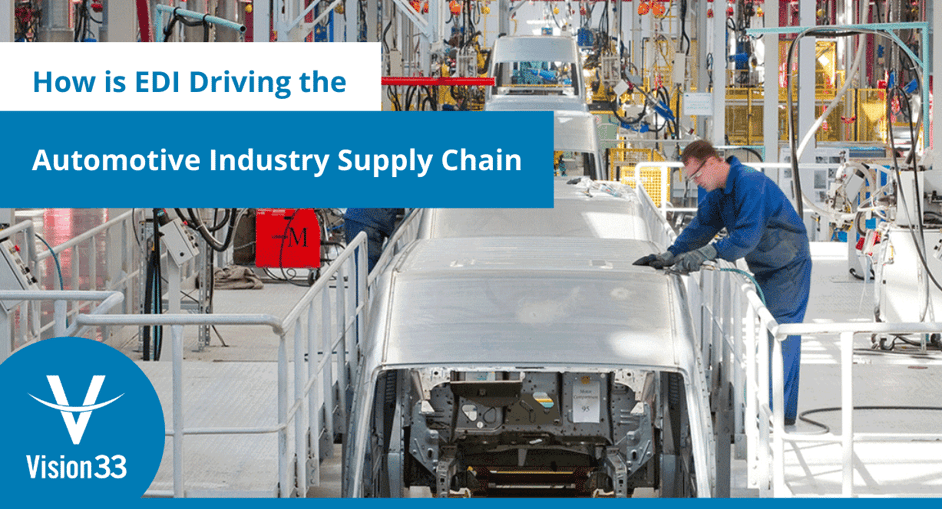 Depending on where your business is in the automotive supply chain, you may face different drivers for success. At the top of the automotive supply chain sits the OEM (original equipment manufacturers) that influences demand for automotive components and subsystems that reflect end consumer demand. However, in the middle of the supply chain, suppliers that are highly specialize in a automotive sub systems or component needs to be flexible to maintain profitability.
Today more than ever, businesses in the middle of the supply chain must find ways to better cooperate with other businesses. No longer is it a zero-sum game; by working together businesses can all benefit from greater data access about the orders and business transactions.
Whether you're considering entering the automotive supply chain or have an opportunity to move into position of a primary supplier to an OEM, you will have likely encountered the term EDI. But what is it exactly and why should your business care? Keep reading to find out!
What is EDI?
EDI or electronic Data Interchange is a computer-to-computer exchange of business data including electronic documents such as delivery schedules, delivery notifications, orders, invoices that conform to a standard. EDI facilitates communication between businesses throughout the supply chain. In the past, documents were transmitted manually; orders that came through were manually keyed into a business system – increasing the likelihood for human error. EDI ties together messages electronically so that your business can transact with customer or supplier in real-time. And not only that, OEMs require that businesses they partner with are compliant with it.
What are the Benefits to Adopting EDI?
EDI eliminates the transfer of paper-based delivery schedules, invoices to and from a supplier which take longer to enter into a business system and can often contain outdated information. Today, EDI eliminates these challenges by removing the need for print outs, transferring the data directly from one system to the next. Two-way messages between trading partners, customer and supplier, delivery schedules, delivery notifications, orders, invoices up and down the supply chain or logistics provides 3PLs (third party logistics).
Why Should Your Business Care About EDI Compliance?
Vision33 recently held a brief 25-minute webinar about EDI, titled Automotive Supply Chain Management - Meeting EDI Requirements. Vision33 has over 20 years' experience helping growing businesses meet strict industry standards through technology to build long term relationships with OEMs. Watch the webinar recording to learn why EDI compliance is a hot topic and can improve your supplier rating to stand apart from larger competitors.