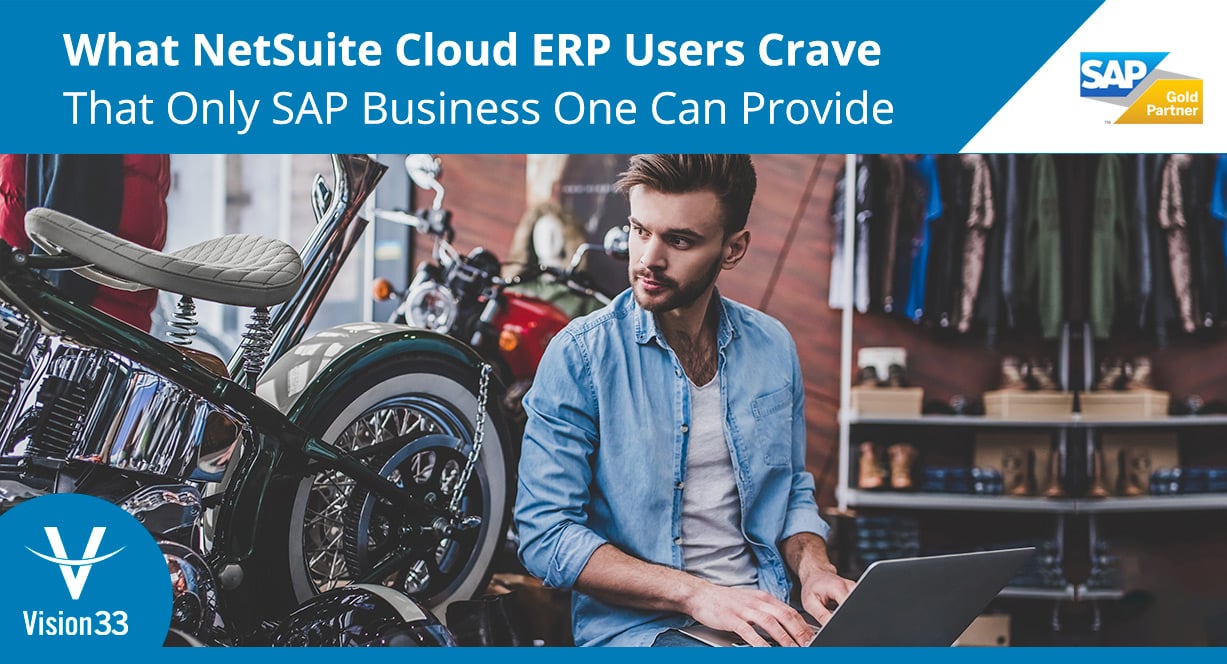 If you're evaluating your options for a cloud enterprise resource planning (ERP) solution, you're already aware of the many advantages the cloud offers over traditional on-premise ERP implementations. Benefits like fast deployment times, minimal IT investment, and lower total cost of ownership (TCO) are just a few of the factors that initially draw companies to consider cloud ERP. However, as you begin to consider your long-term needs, you'll soon realize that alternatives like NetSuite lack many of the features that you need to support your business today and into the future.
Vision33 has several customers that have migrated to SAP Business One from NetSuite. There are so many comparison articles on line and product grids. We decided to go right to the source and ask our own customers. What are the main differences they see between SAP Business One and NetSuite and how did those differences lead them to transition to SAP Business One?
When we listened to our customers, it came down to two very key areas.
System Performance & Speed Is Better with SAP Business One vs. NetSuite
While many businesses consider NetSuite to be at the forefront of cloud ERP alternatives on the market, performance issues were frequently mentioned, especially when you start adding modules to the base solution. Adding a few of the functions that come standard in SAP Business One and even with a high-speed internet connection, NetSuite can start to lag. More complex businesses can expect that this will have an impact on the system performance and overall time to run key reports. Customers want their data now and without any time lag.
Today, businesses that choose SAP Business One Cloud have the option to run it on SAP's proprietary HANA database. Storing data in main memory rather than on disk provides faster data access and, by extension, faster querying and processing. You can instantly access huge volumes of structured and unstructured data, including text data, from different sources.
NetSuite, by comparison, doesn't have an in-memory database powering it, nor does it have comparable analytic processing power, speed, or functionality.
Analytics Are More Powerful with SAP Business One vs NetSuite
Another consideration for your Cloud ERP solution is the reporting tool integration capability. SAP has invested heavily in in-memory analytics, which provides businesses with superior intelligence to analyze data, obtain insight into customer trends, and reveal the most profitable areas of your business. NetSuite can't compete in this arena; it does not offer an in-memory analytics database. Features like these are exclusive to SAP Business One users and present significant advantages to businesses.
Further, SAP HANA analytics can process a lot of data very quickly – offering easy, fast data migration, whereas NetSuite's limitation of 25,000 records prevents the tool from even coming close to SAP's ability. Add to that – the latest product launch of SAP Analytics Cloud that can easily be integrated with SAP Business One and the reporting capabilities are endless. Customers can create business scenarios and through AI can predict future outcomes.
For more information on these and more comparison features - read Vision33's SAP Business One VS. NetSuite: A Software Comparison Guide.