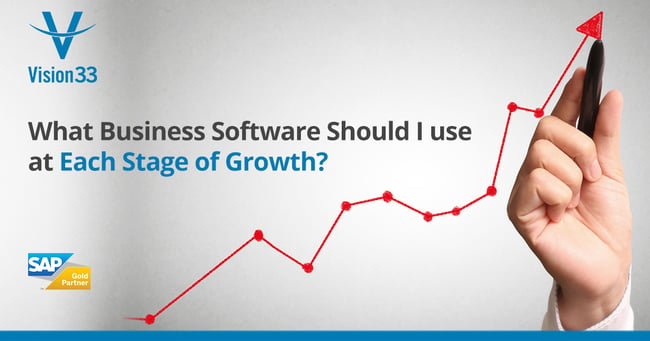 You're a growing SME. Evidence shows that businesses achieve their goals for growth by using transformative technology. But at what stage of business growth should you be using spreadsheets, accounting software, and business management solutions like enterprise resource planning (ERP). We asked Cindy Jutras, enterprise expert of Mint Jutras in a recent Vision33 guest speaker series webinar hosted by Carl B. Lewis of Vision33, and this is what she had to say.
Start-Up Business
In the beginning, a typical small business owner in pure start-up mode will primarily invest resources into the operational foundation of the business that will directly build the business. For example, if it's a manufacturer producing a physical good, then the business owner would invest in the facility, the equipment, the machines, the people to make those products. Less of a concern is the back office and the front office that support that business because, like many of the entrepreneurial spirited business owners in North America, the owners are very hands-on. Management is done by walking around, that's how it starts in very small companies. Maybe they get by using Microsoft Spreadsheets and paper-based processes or file folders containing important documents saved to a local desktop or shared drive.
Small Business
Very quickly spreadsheets and paper-based methods become less effective and when they do, SMEs begin to look for accounting software such as QuickBooks. This enables a business to accept payments, manage their bills and carry out payroll for the employees on staff. There is some support for inventory management but primarily, the application supports the accounting function and minimal reporting.
It's no secret that QuickBooks isn't designed to meet the needs of small to midsized businesses (SMEs) beyond a certain point in their growth and business process maturity. The application works best for a business with couple hundred employees. It's not designed to ride with a business all the way to the top.
Small to Midsized Enterprise (SME)
Sooner or later, SMEs grow and need a way to manage contacts, opportunities, and their pipeline. So, to fill the gap, they install some free software perhaps, all the while increasing manual integration by keying in data from one system to the next (QuickBooks doesn't easily integrate with many other applications) and making use of spreadsheets to manage orders and inventory.
Pretty soon, none of these applications talk to each other and before you know it, as Jutras puts it "your back-office solution [is] held together by the software equivalent of duct tape and baling wire." At this juncture SMEs face growth challenges imposed by the software they use to run their business. However, as Jutras' research reveals, there's a disconnect.
It is at this stage of growth and maturity where an enterprise resource planning (ERP) solution makes sense; however, SMEs aren't necessarily aware of the impact of business management solutions can have on their capacity for business expansion. Step one is for SMEs to recognize the impact and the realized benefits of an integrated suite of modules that support key business functions in achieving future growth. Watch the webinar to learn more about the realized benefits exceed the expectations of SMEs that enable continued growth by adopting and ERP solution.