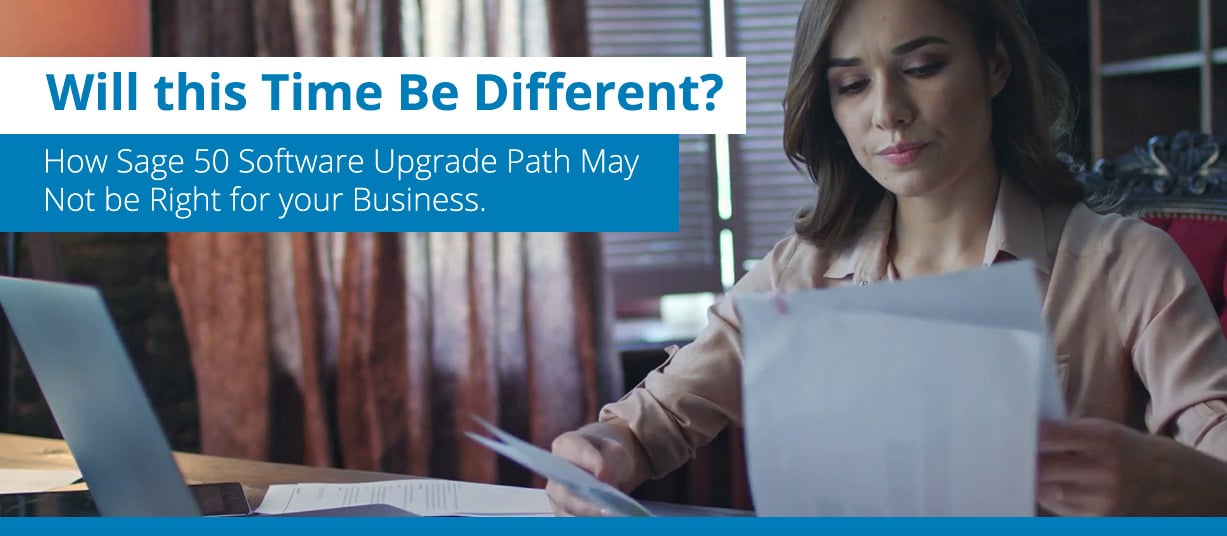 Has your business outgrown Sage 50? Are you planning your next move? You could upgrade your Sage product – but you shouldn't. Here's why this route isn't optimal for fast-growth businesses.
Upgrades are only incremental to the initial Sage 50 product, so following the Sage product upgrade path requires more frequent upgrades as your business grows. Also, incremental upgrades are only helpful if you want more accounting features or more concurrent users' licenses. The Sage 50 software upgrade, therefore, offers a stop-gap solution to your growth challenges by extending accounting functionality and enabling better invoicing, AP automation, payroll, etc.
But that's only helpful in the short term.
Many small to midsized businesses that partner with Vision33 have experienced the challenges associated with frequent, costly upgrades to their accounting software. It's one reason businesses try to stay ahead of their growth and their need for more than accounting tools.
Why Scalable Business Management Software is Important.
A successful, competitive business requires an affordable, scalable platform to streamline business processes and improve decision-making. Scalability allows your business to get ahead of its growth, so you aren't reacting to poor system performance, a lack of real-time reporting, and limited support for new functional areas necessary for growth.
By upgrading to an ERP solution, many functions you need tomorrow will be available natively in the solution. Sage 50 doesn't offer support for the business functions you need as standard. Choosing SAP Business One instead equals a cost-savings on customization and third-party program integrations later.
Learn how to get ahead of your business's growth in From Sage 50 to SAP Business One: Choosing the Right Path for Business Growth today.